Member
Join Date: Aug 2004
Location: Chicago
Posts: 75
Craigslist Impala CHEAP
---
---
Greg. 1995 Buick Roadmaster Sedan with 163,000+. Mods: Descreened MAF, 160° thermostat, Home Depot Intake, Swiss Cheesed airbox, TB Bypass, Impala suspension, frankenstein 2.5in. Dynomax exhaust with Summit Turbo mufflers and Corvette starter
WOW!!! Wish I was not so broke.
---
I used to be indecisive but now I don't know
---
96 9C1 LT1 with all the bolt on crap (Gone 1/08 to 9C1 heaven aka junkyard!)
95 9C1 LT1 New toy as of 6/09 (this one is now heading same direction as the 96)
95 9C1 LT1 The new black mariah! SOLD
95 9C1 LT1 Will be my 13/14 winter project
04 GTO SOLD
Quote:
Originally Posted by BewbZowt(+ Y +)
Here's how it works: If I can see them, they are real.
yup its a scam thats why its so cheap
---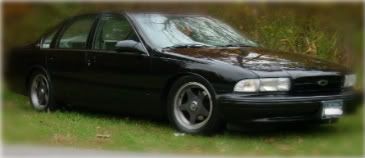 1995 impala ss new lt1 long block, hooker aero chamber mufflers, 2.5" exhaust, Air intake, tb bypass,no cats, hotchkins lowering springs,6k Hids,
Member
Join Date: Aug 2004
Location: Chicago
Posts: 75
It's always never too good to be true.
---
Greg. 1995 Buick Roadmaster Sedan with 163,000+. Mods: Descreened MAF, 160° thermostat, Home Depot Intake, Swiss Cheesed airbox, TB Bypass, Impala suspension, frankenstein 2.5in. Dynomax exhaust with Summit Turbo mufflers and Corvette starter
Member
Join Date: Oct 2008
Posts: 49
it is a scam its in the houston craigslist classified
Senior Member
Join Date: Apr 2009
Location: Tampa, FL
Posts: 378
---
96 White RMS, 146K and counting
93 Hardtop Formula, bolt-ons, tune, etc.
Posting Rules

You may not post new threads

You may not post replies

You may not post attachments

You may not edit your posts

---

HTML code is Off

---