Senior Member
Join Date: Oct 2009
Posts: 1,052
south FL INC bbq/get together thingy!!dade,broward,wpb,keys DOWN SOUTH MEET
---
LOCATION: CB SMITH PARK/ located at 900 N. flamingo road, pembroke pines,fl
click on linky below for directions and info and a large map.
http://www.broward.org/PARKS/CBSMITH...irections.aspx
TIME: i will be there early around 9:30-10am to reserve a good spot will last till you want to leave or till park closes lol.
DATE:LOOKS LIKE NOV 12 OR 13 JUST DECIDING IF IT WOULD BE BETTER SAT OR SUN.)
well wanted to see how many people locally in the douth florida area would like to plan out a bbq day at the park,and other stuff.
the last time i did this was about 3 years ago and i held to was about 2 years ago maybe more when we first started the inc chapter down here, we has it at CB SMITH PARK had a great time and good bbq,some drinking chilling and football tossage happened, as well as photoshoot and some modding.
would be good to here some input from you FL guys that would like to make a trip down here to the meet. last time we put up a show of about 25-30 cars. i know we can bring some more out to the party.
HERE WE WILL NOT CHARGE YOU TO PARTICIPATE OR AND ENTRANCE FEE OR ANY CLUB PARTY FEE OR ANY FEE WHATSOEVER.
JUST BRING YOUR OWN PART, FOOD,MEAT,BURGERS,SODAS,WATER,ICE,CHIPS,COOLERS,PL ATES, NAPKINS WE WILL try to organize so that people dont bring the same thing. bring your kids,family or girlfriends or wives.
would like to plan it for a SAT or SUN to an upcoming month or two would be good to work it at CB SMITH park or AMELIA EARHART PARK. very large area to park and show cars lots of shade and bbq pit included, with al ittle muscle we can just jack picnic tables from areas of park to make large meeting area.
come on guys show that INC love if youre down here in FLORIDA> AND JUST SO YOU KNOW THERE WONT BE ASSIGNED PARKING SPACES, OR DESIGNATED PLAYING AREAS LOL.i think you all know how to act and should not need to be told how to party as other SS club chapters seems to think is correct and fun.
UPDATE: WE WILL HAVE SOFASST AT THE PARTY TO CELEBRATE THERE CLUB B-DAY AND SOME MEMBERS OF GOFASST as well everyone has been told to bring some stuff, would be good to get a list going to see who can bring what so that we wont have excess amounts of one thing lol.this will definetly be a low budget big fun party i have even OPTED to help change some window rollers (just might have to bring your own rollers) if someone helps me pull door panels off, i will be bringing some tools along for some small modding.
any input would be great
LIST OF GOODS TO BRING TO PICNIC:
HOTDOGS/ OR ANY OTHER TYPE OF MEAT (DADEZSS)
POTATO CHIPS TO SNACK ON (SSOCLEAN)
PAPER PLATES (94SSled)
NAPKINS (94SSled)
CUPs (94SSled)
SODAS (SoFasst Crew)
COOLERS (sOfASST cREW)(me)
WATER (SWAGON)
ICE
MUSTARD (SSOCLEAN)
KETCHUP (SSOCLEAN)
BEER
CHARCOAL (SPROCKET)
LIGHTER
LIGHTER FLUID (SPROCKET)
RADIO for some type of music
CAKE (capricegurl is handling this part i hope)
FOOTBALL
WE CAN EVEN DO SMALL MODS THERE AS WELL WHICH I WILL BRING SOME TOOLS AND OFFER TO HELP.
I will be bringing like 3 boxes of burgers and burger buns
bbq unit is at the park so no need for that.
---
Last edited by FREIGHTLINER00; 11-06-2011 at

11:13 PM

.
if everything gets organized with a decent notice i'll come across and try and drag some guys with me
---
-92 ltz, T5 trans, R.I.P. 4/19/13
-94 9c1, sprints with 22's
-96 civi, the "behemoth"SOLD
-93 Fleetwood, SOLD
............FLA INC..............
Senior Member
Join Date: Oct 2009
Posts: 1,052
i usallu set this up with time and organized just wanted to get a feel for all who are interested in getting together dont want to set a date yet until i see interest. i have at least 10 cars i can bring of close friends and people.
Ok good I'm In I can get like 10 cars together some you may all ready now and like I tell people to bring like $10 of stiff like FOOD AND DRINKS and then we all can enjoy are self for a lil of nothing
And if we get this started in octorber I can get a lot of food for a lil of nothing
i posted this on the INC FB so members should be coming in
---
'95 DCM < unladylike *been down since jan 17th 2010*
'95 DGGM 383, 100 shot *RaceCarWithAC*
2013 F250 LIFTED on 37's
2012 Accord
'95 BBB
SOLD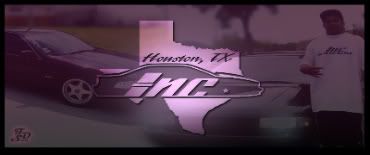 Not an INC member but always down to meet more B-Body owners
Interested, depending on the date
---
96 BBB SS
Bolt-Ons, Superior Racing 4L60E, Edge 2800, MADTUNER Reflash....Still Slow
Senior Member
Join Date: Jan 2009
Posts: 107
Senior Member
Join Date: Oct 2009
Posts: 1,052
FREELOADERS WELCOME! if you cant bring food bring music,girls,cars whatever.

organized is one thing but having rules in a gethering is just plain absurd?i have no control over nobody as you should have enough control to do so yourself nuff said.

and thats what it should be the 1st 2bbqs were a mix of inc and sofasst and NON AFFILIATED FREELOADERS but what was cool was the fact to be able to relate and bring others onto this forum so they can learn about the ohh wonderful big body and a chance to catch tips from others as well.

lets just say ive been out of the pic for a while since myspace was popular(hence i have no FB lol) so if you guys can do your part over on FB and other places were BIG BODY RIDAHHHS HANG then no prob, even people with transplanted lt1s should come as well as all the lsx swaps lets not single out anyone as that wouldnt be correct.

as long as you can TRY to bring something theres no pressure would be good to do a get there early and pick a good spot enough room to put all the cars in line and not be to cramped thats why i am thinking cb smith and since we wouldnt be renting a pavilion there is no need to ask for a FEE to come to gathering lol it not like were going to yellow tape around the area so others cant come in. like i said we will ge there early gather as many tables from around that we can some bring seats and chairs if you want, coolers with ice,or empty theres plenty of gas stations near by and they let you come in and out as many times as you want. i think admission is $4 per car.


this is an event for IMPALA SS,CAPRICE,FLEETWOOD,ROADMASTER AND WAGON not just impala's and carpice's TRUST ME WE HAVE FUN IN MIAMI WHEN WE GE TOGETHER.

I like CB smith park as its pretty well put for people from down south and up north to meet up in the tri county area easily accesible via i-75 which you can reach from 826,gratigny parkway,i595,sawgrass,i-95 and the turnpike. plus they let you park on the grass as we have done in the past as they have no rules there.
---
Last edited by FREIGHTLINER00; 09-19-2011 at

06:42 PM

.
I can get about 13 cars together Need a date
Posting Rules

You may not post new threads

You may not post replies

You may not post attachments

You may not edit your posts

---

HTML code is Off

---