Pics of Nitrous install
---
Show me pics of your nitrous installs.
IE: Where did you mount your solenoids, How did you mount your bottle, how did you run your lines and where did you put your switch's?
No photos??
Cmon Guys lets see em. Don't be shy.
Very nice Bottle install there.
saw the pic of the switches from Nitrous outlet.... Nice
Senior Member
Join Date: Jun 2007
Location: Iraq again by way of Omaha
Posts: 1,053
here is a pic (not the best pic) of the engine bay.. solenoids are on the back of fuel rails.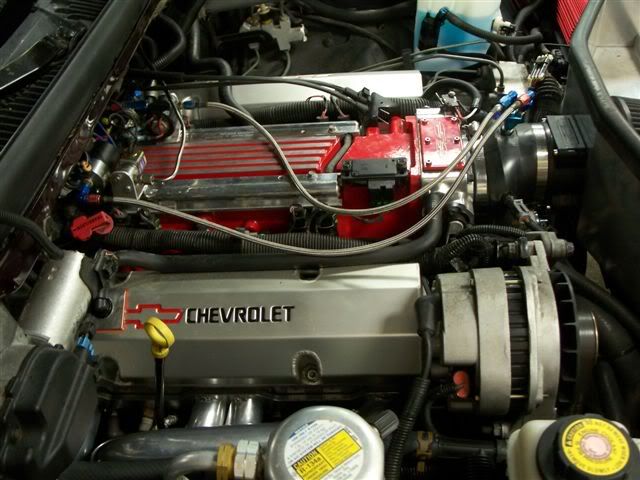 the activavtion switches are totally hidden in the center console. only indication is the blue LED lights above the shifter.
nitrous guage.
---
95 DCM SS
383 from Mike Harris with Ai topend
Level 4 from Shane with Edge 3700
443 RWHP NA
545 RWHP 100 shot
ISSCA # 2390

Senior Member
Join Date: Nov 2000
Location: Ontario, Canada
Posts: 360
---
1994 LT1 9C1, 383ci, GM846, 30lb. SVO's, Corvette dress, CIA Tri-Y headers, Export pipes, RAISS, 17x9.5 Eagle Alloys, 285/40-17's all around, Eaton posi, 3.73's, cloned to BBB, Purple Pearl flames, Shaved handles, Euro clears, Tint, Eclipse, Nakamichi, Lightning Audio, 3-10" subs in a sealed box takin' up the trunk..... oh, and a Nitro Dave's 200 shot coming down the pipe !!
2009 Z06 ....... plain old black ....
Caprice -LQ4 motor,, Nitrous outlet stuff.. Roger
Now we are getting somewhere.
Dsstrbd that looks great. Makes me wanna go start my install all over again and try to reach that level.

2 ton do you have a bottle opener? Nice install BTW
Posting Rules

You may not post new threads

You may not post replies

You may not post attachments

You may not edit your posts

---

HTML code is Off

---