Please don't encourage him to post in complete sentences or provide any clarity as to his goals. His doing so would destroy the entertainment value of this thread. Thank you.
---
Nodding Tiger Mod
Quote:
"im not in english class"
possibly an option you may want to consider
Zing!
---
Do not go gentle into that good night.
rage, rage against the dying of the light!

haha. im sorry that i dont care how i talk on here. and im glad there is people on here that can help but they dont need to tell me how to talk. all i asked was there like a ONE STOP SHOP thats online i dont care if its stock stuff aftermarket all of it would be nice. the site i used to go to thats how it was set up. i do need some stock stuff and then a lot of aftermarket stuff as well. when i had my camaro i could go to one site and it was all there. as for waht im looking i need door panels all of them. i want carpet. i need all the front a-arms sway bars any bar i can get. tie rods that are better then stock just stuff that wasnt taken care of b4 i got the car....
I could be wrong, but...... the simple answer to your question is no, there is not a "one stop shop" for Impala stuff - stock, stock replacement, or performance. Keep in mind this is a limited market of enthusiasts. I don't know the exact production numbers, but there was somewhere in the neighborhood of 69 flobidy-jillion F-bodies made, so of course there are great sites dedicated to supporting those car owners. I have owned my current Imp for 3 years and in my searching for stuff, I have not found the single point contact for all needs.

For the immediate needs you're looking for:
Door panels - salvage yard or parts car
Carpet - there is a website advertised here for carpet, forgot the name at the moment
A-arms and sway bars - see the sticky in the suspension section. good info there
Tie Rods - local auto parts store, Moog problem solver
Of course there is always the used market

For other cool stuff - Street trends, clear image automotive and others i am not thinking of off the top of my head.

Good luck.
---
Jonathan
96 Impala SS, DGGM, 2nd owner, 101k miles, #39736 of 41934, Build Date 22 November 1996
96 Caprice Civi L99, bought it new for my Uncle, recently re-acquired
92 Honda Accord 2 door, 353k miles, daily driver
06 Honda Accord 4 door, wife's car
06 GMC K2500 CCSB, 6.6 Duramax/Allison
84 Chevy K10 regular cab, SWB, 305 w/4 spd granny, family truck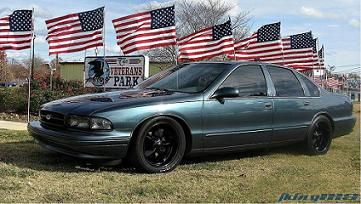 ---
Last edited by jking1118; 04-04-2012 at

08:28 PM

. Reason: grammatical corrections
Senior Member
Join Date: Jun 2011
Location: Dayton , Ohio
Posts: 6,074
Website
---
I gave you good advice. I'm sorry, you are obviously unwilling to make an effort to making your posts easier to understand,and follow. While your style of writing is entertaining,it is difficult to "decode" what you're wanting to find. You might try using the "search" function in the vendor area,or "google" Impala SS parts.
and i have said thank you. i was just looking for a better place then ebay, summit, jegs and the ones they have said. i did google impala ss parts and i can find some but i was just asking if there was a better place to look was all
Like they said, it's not the question but the literacy. You should care about how your writing looks to others because most people decide how seriously to take you, at least on forums where text is god, by how clear you are.

Anyway, there's not a one-stop-shop and while it is a relatively small group it's not that small. I would think if a good business person set about with a few products of their own and a decent bit of start-up capital to buy inventory...and if they handled customer service competently...that person could have a thriving little business. So far it seems nobody has met all those qualifications.
---
Do not go gentle into that good night.
rage, rage against the dying of the light!

Try Street Trends. I think they pander to illiterate. Besides, they will give you the treatment YOU deserve
Posting Rules

You may not post new threads

You may not post replies

You may not post attachments

You may not edit your posts

---

HTML code is Off

---