How to fit big wheels on your b-body: 18" to staggered 22's and more!
---
This will be the new sticky for plus sizing. Its gonna take a while to rebuild, and any contributions are welcome.
CALLING ALL BIG WHEEL OWNERS!
NEW RULES
Lets keep it clean and concise.
THIS IS NOT INTENDED TO BE A PIC THREAD.
If you've got anything bigger than stock 17"s, Post ONE or Two good pix of your setup and all available specs: Size of wheel, Offset or backspacing, Tire size, suspension mods, what you had to do to make them fit, and who's car you stole them from.
I'll post pics and info for anyone's car I can find.
Gentlemen, we can rebuild her. I'll go first:
This was the most radical setup I ever ran. 20x9's on the front, 22x9.5's on the rear. The wheels had a +18 offset, so I used 1/4 spacers front and rear to get them just right. On the front, this gave good turning radius, on the rear, I had about 1/2 inch clearance on both sides. It rubbed my dual exhaust, but a hammer fixed that. Tires were 255/35r20's front and 265/35R22's rear.
---
_______________________
My S10 gave its life to bring me back home to a B body!
91 Caprice with 108, 800 miles!
Almost every wheel and tire can be answered by clicking here!
Found this one
---
Memeber: DJ SS
Wheels:U2-U35
24X10
+13 offset
275/25/24 pirelli nero tires
stock height
no mods = shocks, extended control arms, etc
Member: ShowSS12
Quote:
I am runnin 22x9.5 U2-55b wheel I am on bags and am running a 255/30/22 tire.
I'll have to dig up the offset, but I will say it the max you can get if u wana tuck some rim up front I am working on bringing the front down and still using the inner fenders....
Mod says they are a +15, IIRC
STAGGERED 22'S!
Member: 1-CLN-SS
Quote:
I run 22x9 with 265/30/22 and 22x11 with 315/25/22 lowered with no rubbing problems.Not sure of the backspacing but i think its 6 inches front and rear.
Member: Wiltthestilt
Quote:
Great idea firewood. I will throw in my 2 cents.

Having gone from 20x8.5, 20x10 to 22x9, 22x11 I can say with moderate certainity that you are going to rub at some point, especially if you are running sprint springs all around. Maybe I just have bad luck, but I have done a decent amount of work to eliminate most of the rubbing, but times during heavy loads, bouncy roads, or large dips, I still rub a little bit. I have rolled the rear fenders (not visibly noticable), and taking off the trim on the front wheelwells.

With that said, lets talk about the fun stuff! Don't listen to the haters, a well designed and properly fitted 11" wide wheel will fit without any notching.

I am running 22x11 with 15mm OS in the rear and the fronts are a 9" at 20 mm. Toyo proxes 4 265/30/22 and 305/25/22 in the rear.

Without further ado, here is my car. I know I am missing great amount of details, so just go ahead and ask in this thread if you can think of them and I will try to help. However, Firewood knows a great more than I do! (No he doesn't!- Firewood)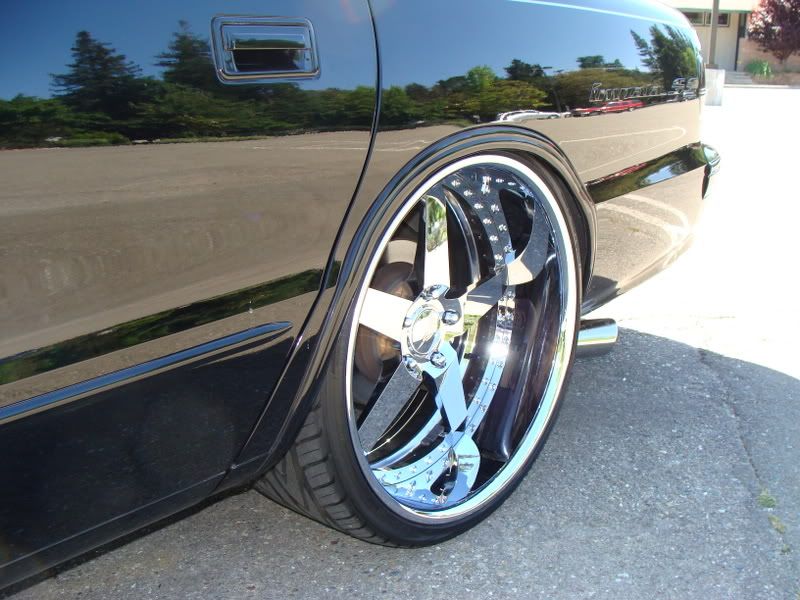 ---
_______________________
My S10 gave its life to bring me back home to a B body!
91 Caprice with 108, 800 miles!
Almost every wheel and tire can be answered by clicking here!
I can try to help a bit firewood
on my Dggm im running 265/35/22 all around 22X9.5 with a offset of 15 and its drop i forgot the name of the springs but they are a 2 inc drop all around,it does rub a bit in the driver side rear do to the body shiftin but its not to bad and i removed the front wheel moldings so no rub.
on the DCM its all stock same rims no rub anywhere hope this helps a bit
---
95 DGGM SOLD 115K
95 DCM DD SOLD 89k
96 DCM SOLD 77K
95 DGGM NEW TO ME 30K
96 BBB 383 SOLD
95 DCM SOLD 165K
95 DGGM NEW DAILY
Senior Member
Join Date: Jul 2008
Location: Virginia
Posts: 469
Pretty simple setup. 22X9.5's in the rear with 20X8.5's up front. 295/30/ZR22 rear tires and 245/40/ZR20 fronts. The car is lowered 2.5" in the back and 2" in the front. No rubbing and no problems. Nothing fancy
---
World's first single turbo LSx B-body
Mods:
TSP 408 LQ9, WCCH Stage II L92's, EPP cam, 91mm turbo, A/W IC, Alky meth injection, SD tuned, TH400 RMVB, Denny's 4" Alum DS, Speed Tech front UCA/LCA w/ QA1 coilovers, Baer fronts, BMR DS loop, rear extended UCA/LCA, front/rear sway bars, CIA Trans CM, Hurst line lock, Auburn LSD w/ 3.73's, Afco rear coilovers, COR triangulation braces, TCI Flexplate, & Hipster T-Brake
Needs installing:
LPE 2-step
Future mods:
ARB, 9", 6pt cage
22x9.5 +13 Offset 255/30/22 Tires
24x10 +10 Offset 275/25/24 Tires
Sprint Springs with 1/2 coil cut on the front springs.
To minimize rubbing up front I cut the mounting section off the front fender molding (section where it screws into the fenders) off along the upper arch of the wheel well. I also removed the front bumpstops and added energy suspension flat bumpstops. Will be swapping out the monroes for belltech drop shocks soon cause the monroes are terrible with the car lowered this much.
Thank you guys!
Update on the above car:
Quote:
My car is all springs no bags. In order to tuck the back on 24's you will need the right offset and a 275/25/24 tire. Mine is a +10 offset but im more than sure a +13 or will work. A (+15 MIGHT) +18 will most likely hit the inner side of the wheel well when you turn or go up inclines.
That's an older pic with ST springs in the front cut this is with the sprints in the front cut.
Ive gotten it a little lower in the front even since that picture. Next project is to cut my inner fenders to I can turn without shaving a thin layer of rubber off my front tires each time.
---
Last edited by Firewood; 11-30-2009 at

06:50 PM

.
Bagged on 22x9.5 +15 off set 285/30/22. In this pic its not notched and has stock front spindles, removed front wheel wells.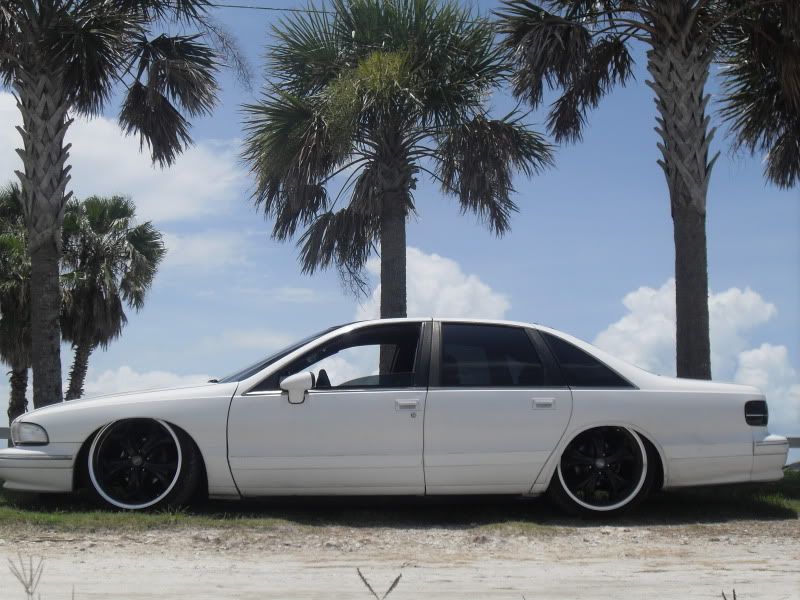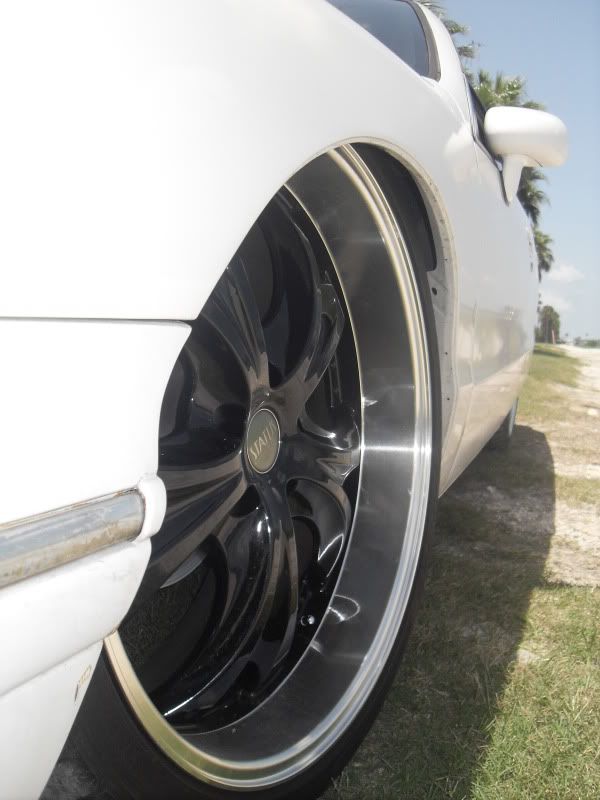 ---
Last edited by Firewood; 08-22-2009 at

09:26 PM

.
255/30/22
22x9.5
+15 offset.
No suspension mods
Stock height
Fit with the skirts no problem, I cut them because I wanted to.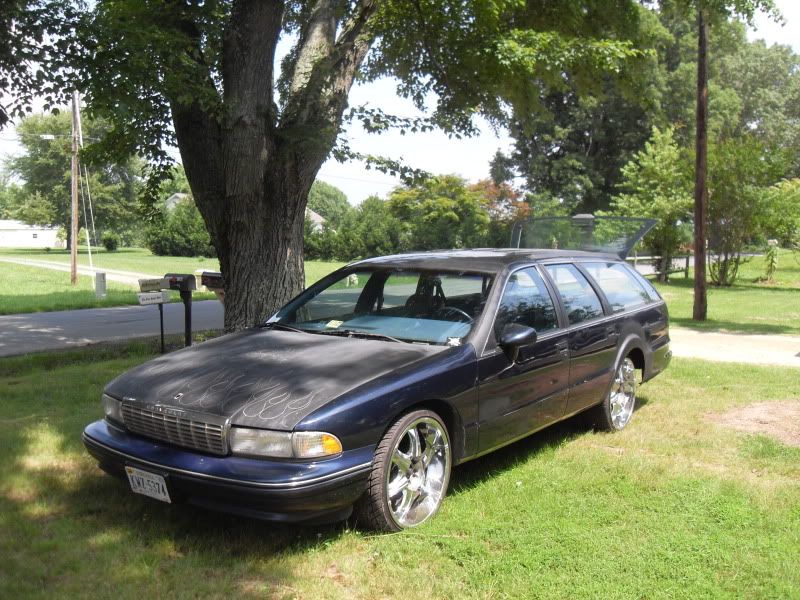 Update.
1.75" spacer in the rear brings the backspacing to about 4.05" on a 9.5" rim.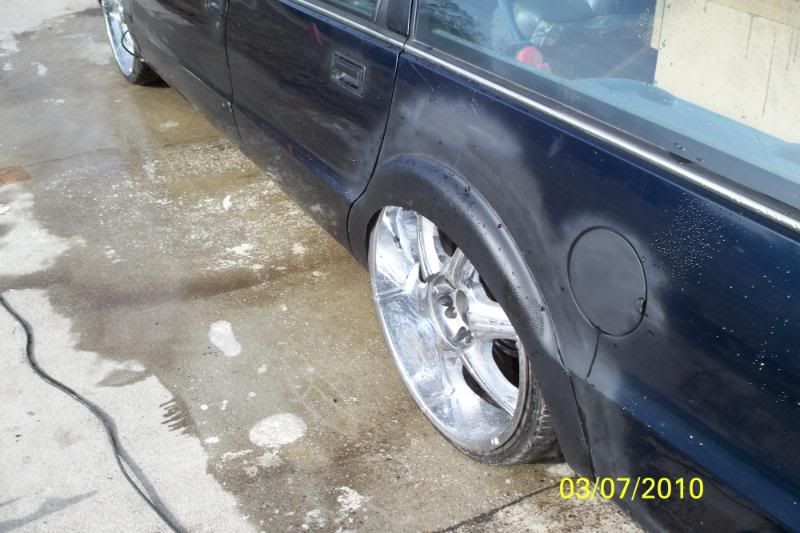 RIght at the razors edge of the fender flares. If I had tires from the front it would hit on the flares.
I cant run a tire any bigger then a 255 it appears.
---
Yeah, its held on with gum, staples and tape, only because I ran out of 5 50 cord.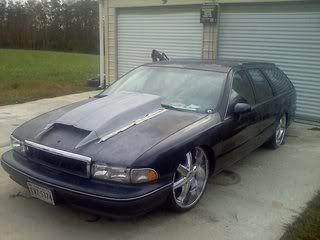 ---
Last edited by killerzracing71; 03-15-2010 at

11:24 AM

.
the wheels wilt has is E-Forged E75 wheels...
---
1996 Chevrolet Impala SS #41,690
22" Color Matched TIS Rims,Custom 2 Tone Interior,Lambo Doors, 2" Cowl Hood,Smoothie Bumpers,Billet Grill, 2" ST Lowering Kit,LED Tail Lights,PCM Tune,7" Alpine Multi Media System,10"Clarion Flip Down,Custom Trunk, 5% Tint, Smoked Taillights,Smoked Headlight,S-Class Mirrror's,Langness Spoiler,Chromed Out Engine Bay & Interior...
http://www.myspace.com/bagged_orange_camaro
http://www.cardomain.com/id/lildavid04
22x9 U2 55
+13mm offset
285/30 Lexani LX9000
Extended Upper and Lower Rear Control Arms
ST Springs Front
SS Rear Springs
Monroe SS Shocks all around
Rubs up front while turning hard while moving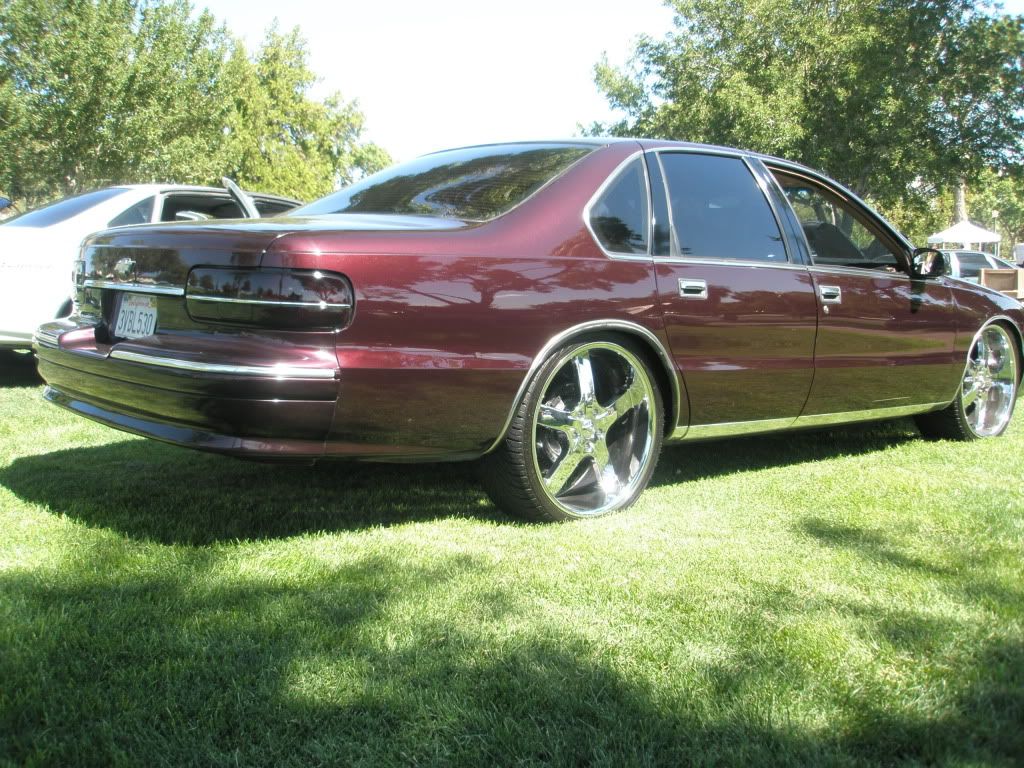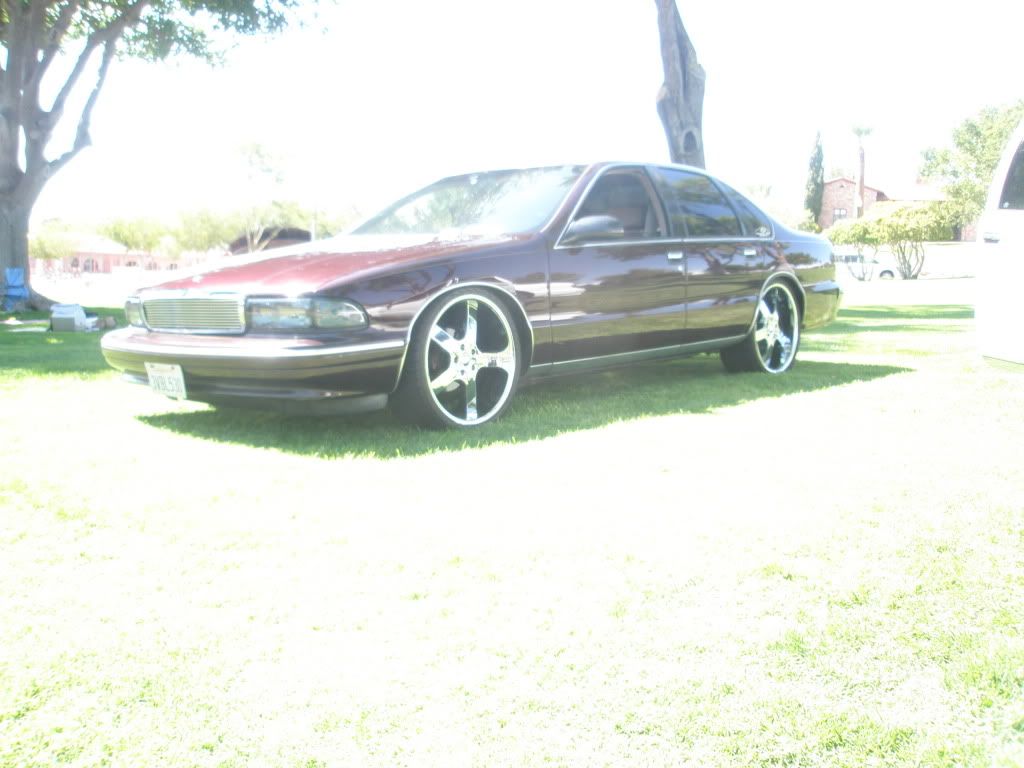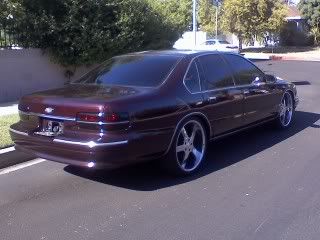 ---
96 DCM Caprice B4U
96 RMW Collector's Edition *Sold*
www.cali-ss.com
Posting Rules

You may not post new threads

You may not post replies

You may not post attachments

You may not edit your posts

---

HTML code is Off

---