Senior Member
Join Date: May 2010
Posts: 452
Will Asanti AF-122's fit?
---
Anyone know if Asanti AF-122's fit on a 94 impala ss without having to do any modifications? If not what would have to be done?
---
94 WX3 BBB SOLD on 6/10/2011
theres different bolt patterns...if buying new then u shud be able to get it in our bolt pattern...if used it depends on the bolt pattern...our cars use 5x5 aka 5x127
---

-1996 BBB


Senior Member
Join Date: May 2010
Posts: 452
theyr used so let me see if he knows whats the bolt pattern or what car it came off?

he said came off a bmw 745 if that helps.
---
94 WX3 BBB SOLD on 6/10/2011
Not going to fit without mod
---
INC NATION
Senior Member
Join Date: May 2010
Posts: 452
what would it need to be, redrilled?
whats an estimate of what it would cost for this mod. Trying to find marcus cause i know him and his son have asantis as well.
---
94 WX3 BBB SOLD on 6/10/2011
Marcus converted his car to a BMW bolt pattern with new hubs i think those wheels would be a 5x4.5
---
1996 Impala SS DGGM-Blueprinted and balanced 355, forged wiseco's, Level II heads, LE cam, U2-55ed, budget headers, 2500 stall, built 4L60E,CAI,PCMforLessed, Sprint springs, Walbro 255
1996 Impala SS DGGM (moms)-chrome stockers, flows, charcoal carpet
2006 Suzuki GSXR 750
Impala SS Owners Association of Hawaii (ISSOAH)
Originally Posted by Cracka Ass Crackuh
"Yea. You're wearing my underwear backwards. SO the hersey highway is on the front with easy access to the rear"
yup jus look on the back of the rim it shouls say 5x120 or sumthing like that. bmw745s are 5x120 if im right
---
Don't Watch Me Watch TV Its Safer..
[IMG]
---
Yeah, its held on with gum, staples and tape, only because I ran out of 5 50 cord.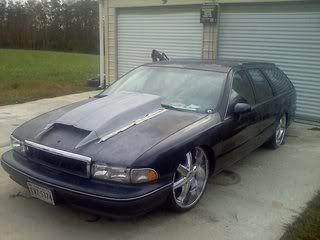 Senior Member
Join Date: Nov 2006
Location: Central Florida
Posts: 3,118
The redrill may be out of the question if they are chromed and you want to go with a chrome finish. The AF-122 wheel is an exposed lug bolt patter wheel (i..e. no caps to cover lugs) If you are looking to go with a polished, painted face or poweder coated finish it will work but the holes will be oblong or you will have an additional 5 holes which won't look right per se'.

changing out the hubs may be an alternative but that will still cost some extra $$ and down time. Good luck.
Senior Member
Join Date: May 2010
Posts: 452
heres a pic 0f them if helps.
---
94 WX3 BBB SOLD on 6/10/2011
Posting Rules

You may not post new threads

You may not post replies

You may not post attachments

You may not edit your posts

---

HTML code is Off

---