Nationals t-shirts and posters reorder - 2015 AND 2014
---
Attention ISSCA members and all Impala/B and D body enthusiasts. You asked for it and you got it. We have decided to make another run of t-shirts from this years ISSCA National event in Bowling Green - the "Lord Vader....." picture below. Not only that, we are also offering a full size, high quality poster of the event artwork. All prices include shipping. Ordering is now open and will be opened up until September 22, so don't delay getting your orders in. Sep 22 will be a hard cutoff date, and we plan to have all shirts and posters shipped by the end of October.
We will also be offering the 2014 Nationals event artwork as a poster only. No t-shirts. This is the "Rat Fink and flames" logo below.
Ordering is now open. For 2015 (Lord Vader) t-shirts and posters, please follow this long:
https://issca.wufoo.com/forms/pbz16yi0bk2xo9/
Ordering is open for 2014 (Rat Fink/flames) poster only here:
https://issca.wufoo.com/forms/kr2delk1d64tkf/
Again, ordering closes on Sept 22, so get your orders placed!!! Please enter you ISSCA number on the order form, even if your membership is not up to date. If you don't have an ISSCA number, please enter 9999.
---
Jonathan
96 Impala SS, DGGM, 2nd owner, 101k miles, #39736 of 41934, Build Date 22 November 1996
96 Caprice Civi L99, bought it new for my Uncle, recently re-acquired
92 Honda Accord 2 door, 353k miles, daily driver
06 Honda Accord 4 door, wife's car
06 GMC K2500 CCSB, 6.6 Duramax/Allison
84 Chevy K10 regular cab, SWB, 305 w/4 spd granny, family truck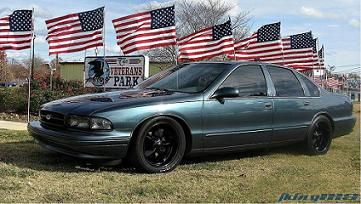 OK guys and girls. There is less than 1 week left to get your orders in. Make sure you don't miss out as we won't be doing another run of t-shirts for the 2015 Nats after this one.
Just two days left to get your orders in. Ordering closes tomorrow. Don't miss out.
Attn members. We apologize for the delay, but the 2015 Nats shirt reorder finally arrived Wednesday this week after a minor ordering issue. So for anyone that didn't get your shirt at the event and all new orders placed on the reorder, we now have them in hand. I am working on them this weekend to get out as many as I can on Monday.

We still haven't received the posters yet and are awaiting an ETA from the supplier.

We will also try to combine packaging for those that ...ordered shirts and posters, so just "shirt-only" orders are being shipped out this week.
Again, we apologize for the delay, and we are working through this. All orders will be made whole and complete.

Thank you. BOD
Posting Rules

You may not post new threads

You may not post replies

You may not post attachments

You may not edit your posts

---

HTML code is Off

---