Got P0441 code
---
Pulled the code P0441 Evaporative Emission Control
System Incorrect Purge Flow today at work. Any ideas for a common fix and where the purge valve is on the LT1. I can fix it if I know exactly what I need to fix it. Any help would be appreciated thanks in advance.
Common problems are the gas cap, or purge valve, and I think there is a check valve too. Both are on the passenger side of the intake. Make sure the hoses are all good. The canister is located under the battery. You access it through the wheel-well. Make sure the hoses are good going to it too.
---
Las Vegas Impala SS Club - SSincitySS.com
1996 Impala SS, Powerdyne Supercharger 6 psi, 3.73s, Snow Performance water/meth injection, Borla catback, F-Body MAF, Grotyohann long tube headers, Magnaflow cats, Hotchkis springs/front & rear sway bars, Bilstein shocks, Vigilante 3000 stall TC, Wilwood brakes, 20in Budnik Fontana's, and a couple of polished items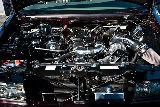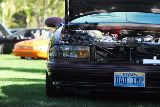 Start with purge valve. Really need a bi-directional scan tool to diagnose & repair properly.
Ok cool will check tommorow when it is light out again thanks for the help.
One more question from me, is the curved vacuum hose that runs from the solenoid on the side of the intake to the intake manifold available from GM still or will I have to make my own?
I believe the hose is still available since I bought one last fall. When my car threw the same code,it ended up being crappy vacuum lines on the intake.
---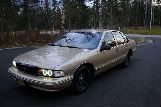 '96 Caprice LT1
48K Miles
1 of 2 made w/ option list, K&N Cold air, Custom tune by Bryan
'03 Ram 3500 dually QC Laramie Sport 4x4 w/built 47 series trans w/custom BD VB and TC, Cummins B series ,Volant Cold air kit/Ram air,Smarty S-06 POD,AirDog lift pump,Centramatic Balancers,FS-2500 By-pass filter system.SpynTec Free Spin Hubs
Yeah thats what it looks like on mine either they are rotted or kinked. Thanks for everyones input.
Posting Rules

You may not post new threads

You may not post replies

You may not post attachments

You may not edit your posts

---

HTML code is Off

---