As requested Roady Climate Control (C68) installation into Caprice or Impala
---
Hey there all
I have had a couple of gentleman on here curious about the installation of this into our Caprices and Impalas, since the crash this info was lost and I am pretty sure that I made a post regarding this about a year ago. I will try to remember all that I can to help out anyone.
As far as what you need,
1.94-96 control head, mine is a 96 as there are some internal differences, at least this is what I was told, and it works better.
2. Mixing valve, electric unit that goes in place of the manual unit on the duct housing
3. electric vacuum solenoid, in place of the manual tubes from the control switch.
4. interior temp sensor and tube that is run behind the glove box, tube attachs to the upper portion of the blower housing to cause a vacuum affect to pull in cabin air so the system can read interior temp for auto control
5. Sun load sensor, goes in where the twilight sensor is under the dash vent, you will need a dash vent also from a 95 or 96 roady and modify it to fit in our dashes, or cut a hole for the sensor and put it in place
6. Exterior temp sensor, mounted in front of radiator.
7. blower control module, goes in place of the original blower resistor module mounted next to the blower in the duct.
Now as far as installation goes, it is easier to accomplish if you have the whole harness out of a Roady and just take out the wires that you need, but you can do the installation with just the connector ends and a bunch of splicing.
You will have to have a fair bit of electrical knowledge and ability to trace out information on the wiring diagrams
Take the dash apart to ease the installation, including both the upper and lower portions of it.
you will be cutting a square hole for the interior temp sensor tube in this plenum here on the right side and route the tube towards the glove box.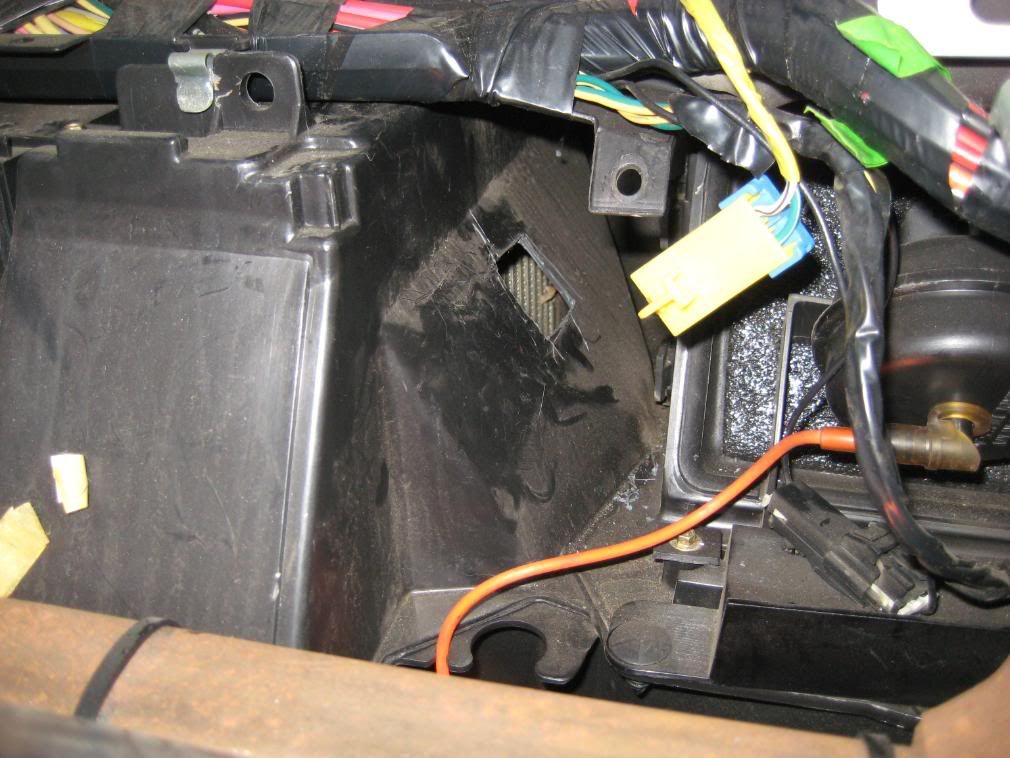 remove the original clitmate control assembly and the manual mixing valve that is shown here
Here is where this is mounted to it is about in the middle of the picture, has a post and a u shaped post coming out of the plenum
These are the posts that I added to mount the electric unit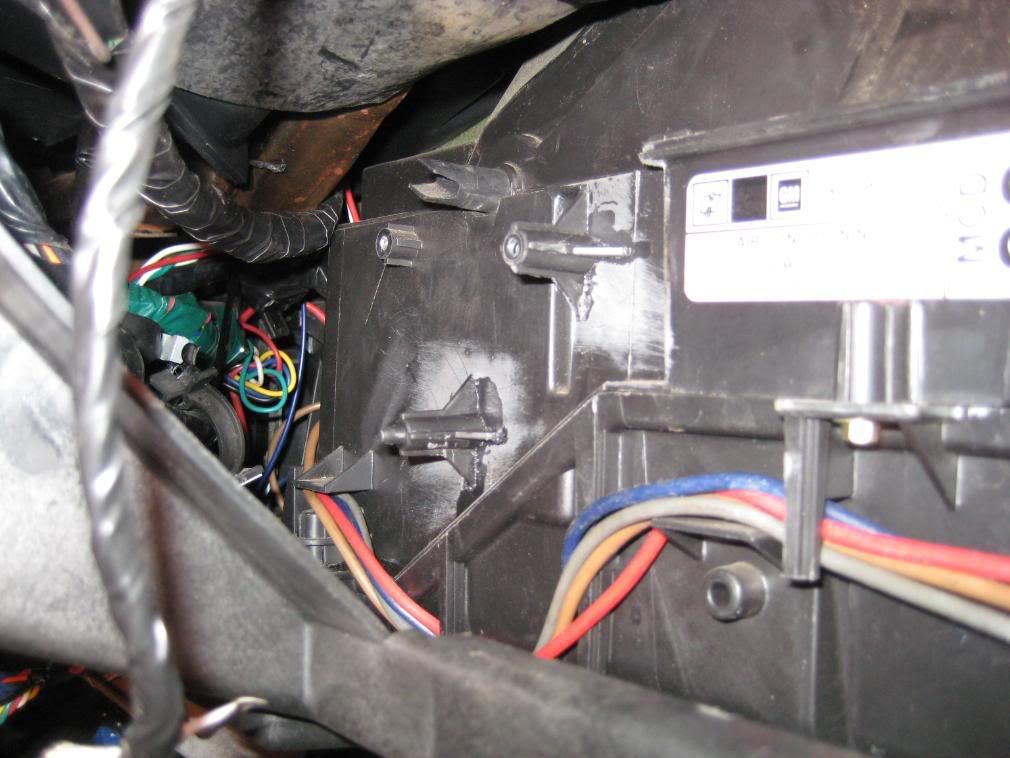 This is the vacuum control module, you take out the original distribution block install this one in it's place, I would suggest that you take the vacuum hoses of one by one and replace them with the new ones, they are all the same color coding.
Here is the shot of the harness that I made to go into the dash, I just measure everything where it needed to go and went from there. It will take a little looking at the schematics and figuring out what you can reuse. The defroster relay on the original panel is mounted to the back of the original panel, so I just used the relay for the hi blower setting down by the blower assembly.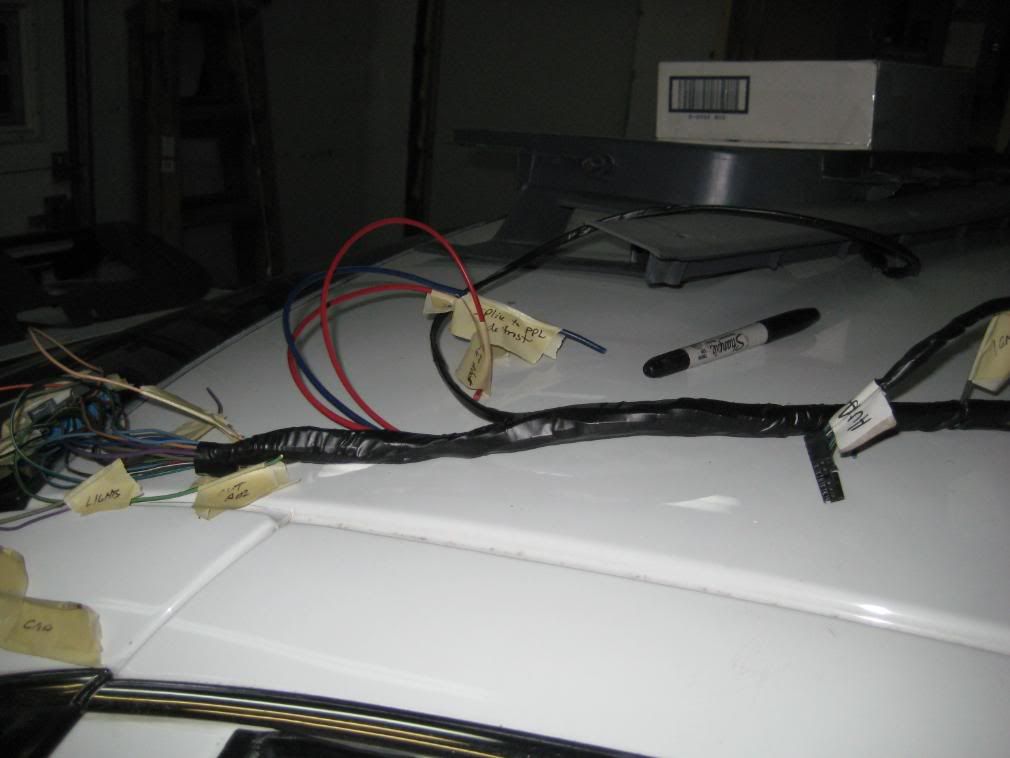 There are probably a hundred different ways to make the harness, so if you can get the harness out of a Roady I would do this as it would be 100 times easier than tracing out all the wires like I had to do.
Here is a shot of the climate control harness, I left in all the original wiring just incase I wanted to take it back to original
As far as the mounting in the original location, you are going to have to be creative cause the mounts on the new control don't work with our old ones and you will have to cut them off, I just cut apart the original control and used it's out portion and slide it on mine and mounted it to the dash
This pic shows how I routed the interior temp sensor tube
Also if you mount the vaccum module to the original location you will have to take a piece out of you glove box so that it will shut, or you can tie it up out of the way so that it doesn't hit it, if you don't want to mess with cutting the glove box. I cut mine, I will have to find a pic of that though.
This is how my mounted in the original location
Since then I made a sheetmetal bracket for my double din install and it came out like this.
I think that is it, if you have any questions please feel free to ask.
Mike
---
Mike
ISSCA member # 2344
Hoosier INC Member
1994 Chevy Caprice 9C1, 126,000 miles, T56, 4.10's

C6 Grandsport Brake Install
C6 Z06 Wheels
T56 Installation Manual
damn mike, that is alot of work...i thought about tackling this but im not good with wires lol
---
1996 Impala SS DGGM-Blueprinted and balanced 355, forged wiseco's, Level II heads, LE cam, U2-55ed, budget headers, 2500 stall, built 4L60E,CAI,PCMforLessed, Sprint springs, Walbro 255
1996 Impala SS DGGM (moms)-chrome stockers, flows, charcoal carpet
2006 Suzuki GSXR 750
Impala SS Owners Association of Hawaii (ISSOAH)
Originally Posted by Cracka Ass Crackuh
"Yea. You're wearing my underwear backwards. SO the hersey highway is on the front with easy access to the rear"
You are right, it is a bit of work, but not too too hard, I am thinking about trying to make a harness that is plug and play for those who want the setup, but don't want to do it themselves, I guess that I can evaluate that. I wish it was just plug and play, but this is GM, make pretty much the same car, but make everything inside totally different.
Mike
---
Mike
ISSCA member # 2344
Hoosier INC Member
1994 Chevy Caprice 9C1, 126,000 miles, T56, 4.10's

C6 Grandsport Brake Install
C6 Z06 Wheels
T56 Installation Manual
Senior Member
Join Date: Sep 2009
Location: Raleigh,NC
Posts: 144
did you hook up the serial data info so you could run the diagnostics on it as well?
I really want to do this in my 94 wagon. The Roadmaster has spoiled me...
---
Old cars, just like classic rock... 60s, 70s, 80s, and 90s!
Quote:
did you hook up the serial data info so you could run the diagnostics on it as well?
Yes but you are limited as to the diagnostics you will see, you have to have a Roady PCM load to make it work correctly or give you all of the features, I haven't screwed with it much since the install, I know that it works, well most of it anyway.
Mike
Diag codes, the whole list would be nice if anyone has them and not just the ones in the FSM, they were here but got eaten by the server, thanks
---
Mike
ISSCA member # 2344
Hoosier INC Member
1994 Chevy Caprice 9C1, 126,000 miles, T56, 4.10's

C6 Grandsport Brake Install
C6 Z06 Wheels
T56 Installation Manual
Nice write up! I remember seeing this before the crash, thanks for posting it again.....
---
"Da Factory Rat"
95 DCM Caprice LT1
---
Indeed nice write up bro, by chance do you know anyone who has the wiring harness's. I have that year a.c. unit but missing the wires though. I have been wanting to do this install for years. Any info would be greatly appriciated, Peace
---
95 DCM Impala SS, G2 Cold Air Induction,G2 power pulley kit w/ v-belt ,G2 throttle body plate, G2 air foil,G2 Valve Cover Breather,pcmperformance tune, 160 thermostat,Borla Full Stainless Steel Exhaust, tri-y headers, 12 way Bonnie, air pump delete, 91 Caprice tailights SSittin on TIS 06's 22's
# 3,683 of 18,365
http://www.cardomain.com/ride/229728...ellville-ga-us
Check the wiring diagram section of
12 sec ss
webpage for 94-96 Buick Roadmaster auto climate control.
---
Good info bro, thanks
---
95 DCM Impala SS, G2 Cold Air Induction,G2 power pulley kit w/ v-belt ,G2 throttle body plate, G2 air foil,G2 Valve Cover Breather,pcmperformance tune, 160 thermostat,Borla Full Stainless Steel Exhaust, tri-y headers, 12 way Bonnie, air pump delete, 91 Caprice tailights SSittin on TIS 06's 22's
# 3,683 of 18,365
http://www.cardomain.com/ride/229728...ellville-ga-us
Posting Rules

You may not post new threads

You may not post replies

You may not post attachments

You may not edit your posts

---

HTML code is Off

---