Discussion Starter
·
#1
·
I have been using the LTZ Caprice Hood Ornament for years and have had two of them blow off after a few years of service. It seems the glue used to keep them together is no match for the Georgia Sun and Heat. The last one was lucky enough to blow off and get caught under the wipers. I used two part epoxy to re-attach but that too, succumbed to the relentless southern heat and sun and now is somewhere on I-285 between my house and the Atlanta airport.
So, as always, Pandora's Wagon is at it again. Rather than just get a third emblem or some other cheaper, and easier option, I want to fill the hole. Sounds easy enough but if I'm going this far, I figure to do something I have always wanted like add an SS grill and grafting in someZ34 Lumina hood louvers I have been saving two sets just for this occasion; one just the louvers and trays, the other is an entire Z34 hood in case skin grafting metal was needed. (they kinda sit down flush with some tabs stamped out of the hood metal, so I thought a whole Lumina hood would be good to have on hand)
Here is a pic of my mock up: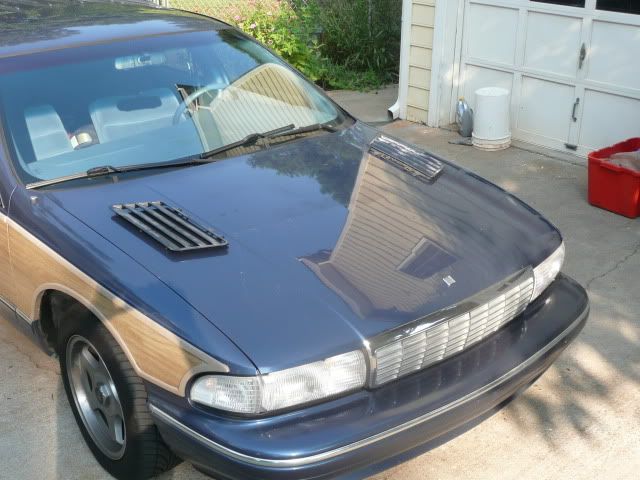 My question to anyone that has done this is; I know the trays dictate the side to side measurement but what is the best looking front to rear location? Also, what other issues should I be on the lookout for? Under hood bracing, hood shocks, water from rain, etc.
My ultimate plan is that these will be painted the same Adriatic Blue as will the SS grill so they will look factory.
Any help would greatly be appreciated.