After 23 years of collecting, it's time to let go and organize the cellar. For 21 of those years, I have had blue RMW's. I knew the only way I could clean up, was to get rid of the blue RMW's. That happened two years ago; now I have no excuse. Not going anywhere as I still have the Caprice Wagon & a Fleetwood.
Here's the first batch and second batch, more to come. I will be going to WagonFest in NY this July, so I can deliver there. If you want me to send, I can do that, shipping is extra. Big stuff, rather not send.
PayPal: "Friends & Family"
[email protected]
thanks
Tom
1. Accessory belt tensioner, 94 to 96----$45 shipped
2. 9C1 center caps, set of 4, 2 sets, ----[strike]
$30
[/strike] $20 & shipping
3. Driver side fly-a-way (2)----$45 ea. shipped
4. Rear wiper arm----$60 shipped
5. RMW set of blue cloth seats w/armrest (f & r) non limited----[strike]
$160
[/strike] $150
6. Spare tire strap----$25 shipped
7. Light switch & dimmer (2)----[strike]
$40
[/strike] $25 & shipping
8. Driver front door panel bezels (blue & gray)----[strike]
$25
[/strike] $15 & shipping
9. Passenger front door panel bezels (gray, blue[/color] & tan)----[strike]
$25
[/strike] $15 & shipping
10. RMW drivers rear stainless corner w/rubber, clips may not be there----$45
11. RMW passenger rear stainless corner w/rubber, both clips may not be there----$45 & shipping
12. Tail gate glass w/defrost ----$100 no ship, pick up or I will bring to WF
13. 94 to 96 RMW cluster 85K-----[strike]
$40
[/strike] $30 & shipping
14. Shade for moon roof.....$20 & shipping
15. Cruise control unit----$25 & shipping
16. Panel that covers rear wiper motor (blue)----$25 & shipping
17. [strike]Passenger front trim spear fair----$25 & shipping[/strike]
18. Driver front trim spear fair----$25 & shipping
19. Driver front trim spear ready for paint----$20
20. Driver side switches w/bezel (armrest)----$25 shipped
21. Chrome trim for tail gate, two small dimples----$30----& shipping
22. Cargo cover holder clips, 2 blue & 1 tan----[strike]
$10
[/strike] $5 each & shipping
23. Fan / radiator shroud for two electric fans----$45 shipped
24. Set of 4 Roadmaster wire wheel covers, complete with locks & key----$90 & shipping
25. Roadmaster wire wheel cover (2)----$25 each & shipping
26. Set of 4 RMS wheel covers (2)----[strike]
$50
[/strike] $40 & shipping
27. GM 15" steel rims (4) exc. condition----[strike]
$50
[/strike] $40 & shipping
28. Three key fobs----$10 each shipped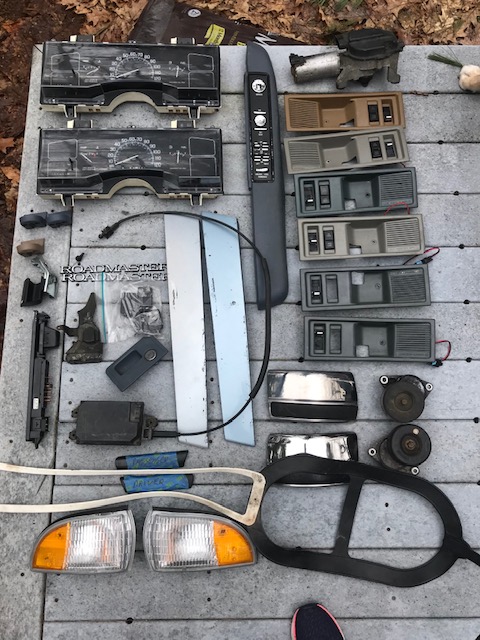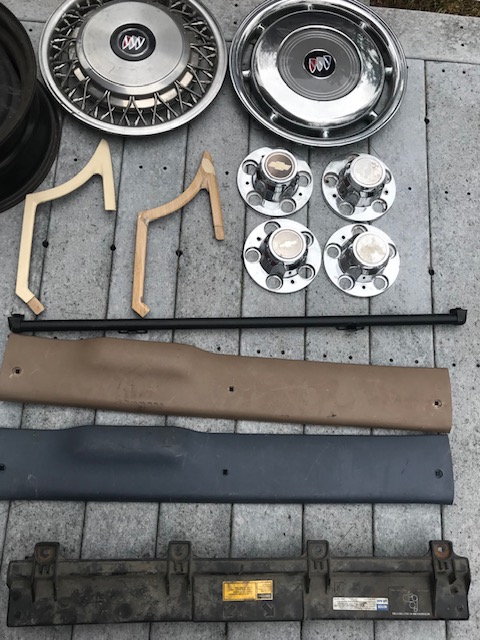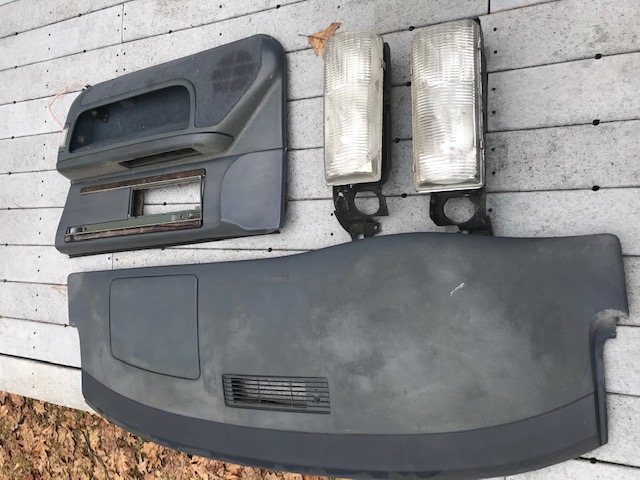 _________________