[editor's note: This is a transcript of the article I wrote for the ISSCA SScene for the winter/spring 2011 edition. I have made a few updates since that article went to print.]
Ever thought about upgrading your brakes but didn't have the cash to buy one of the nice but high-dollar big brake kits available? Want a little extra margin for occasional high-heat situations without radically altering your vehicle? You will find this article enlightening and enjoyable.
The impetus started back in 2005 at the "Mountain Madness" Impala SS Nationals which included a road race on a portion of Pocono International Raceway. I can honestly say that this was one of the most exciting driving experiences of my life – to be able to drive full-out and enjoy my 9C1's LT1 and suspension in ways not possible on the street. Before I drove the 3 hours to the Nationals, I carefully prepped the car by rebuilding the front suspension, installing fresh rotors and street pads all around and purchasing new tires. I followed up by doing the proportioning and metering mods to the proportioning valve, flushing the brake fluid and refilling with a high-quality synthetic, and had an alignment done. And off I went.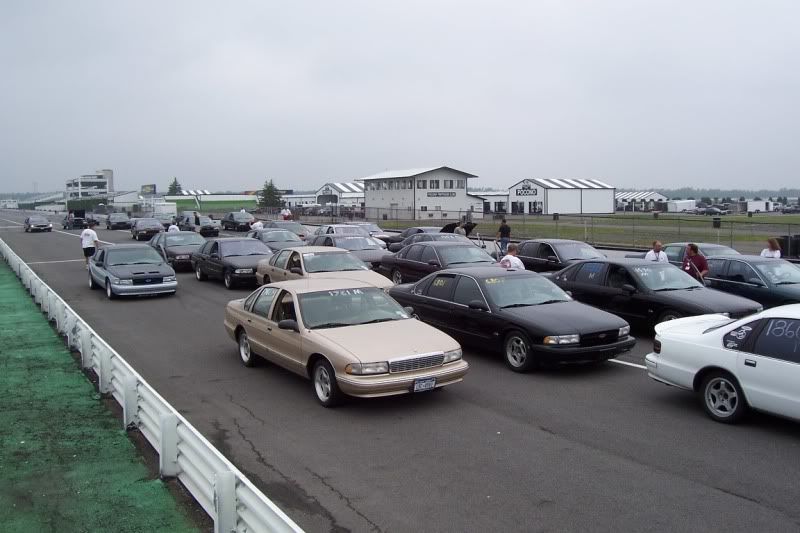 Figure 1
: Mountain Madness 2005 at Pocono with my Light Driftwood Metallic 9C1 in the foreground. Dave Wilson's LDM 9C1 is behind mine, and to the left is Chris Pustizzi's two-tone SWT SS.
Figure 2
: Another shot of Pocono 2005 with the B-cars ready to roll. Turn one is in the background.
The car did fine, but I remember how tremendously hot the front brakes were when I completed each 5-lap session (it feels a lot longer than it sounds!). I could hear a "shhhh" sound echoing off the paddock buildings, so I drove around the infield service roads at low speed for about 10 minutes to cool them down a bit and avoid putting hard spots on the rotors. All in all, a great day, but I never forgot those hot brakes.
Well, 6 years and several small children later, the 9C1 has served exclusively in street duty as a summer car, its racing days on hold for now. But this year, I was thrilled to be able to get my schedule lined up to attend the 2011 Impala SS Nationals in Detroit, MI with my father, who grew up in the area. By the way, the benefit of this event being held simultaneously with the Woodward Dream Cruise cannot be overstated – it will be worth your while to attend! As a plus for me, the Waterford Hills racetrack (
www.waterfordhills.com
) was where my Dad, while in high school, helped out a Chrysler engineer who raced in his spare time. What a great event to take him to! Then I thought about those brakes.