Discussion Starter
·
#1
·
This is on my Camaro but it's a Roadmaster LT1 so I hope no one minds. I had a fuel solenoid, the N2O hose and a bottle left over from an old NOS plate system, I also had a new Compucar N2O solenoid that I got from Ernie Wrenn. Ernie owned Compucar up until recently, he gave me the solenoid to use in an experimental fuel fuel setup for one of my gas turbines. Ernie is hooked on turbines big time, he should be showing up at the drag strip with a jet car next season. I had some free time so I made my own N2O nozzle and added it to the other parts I had and put it on my LT1.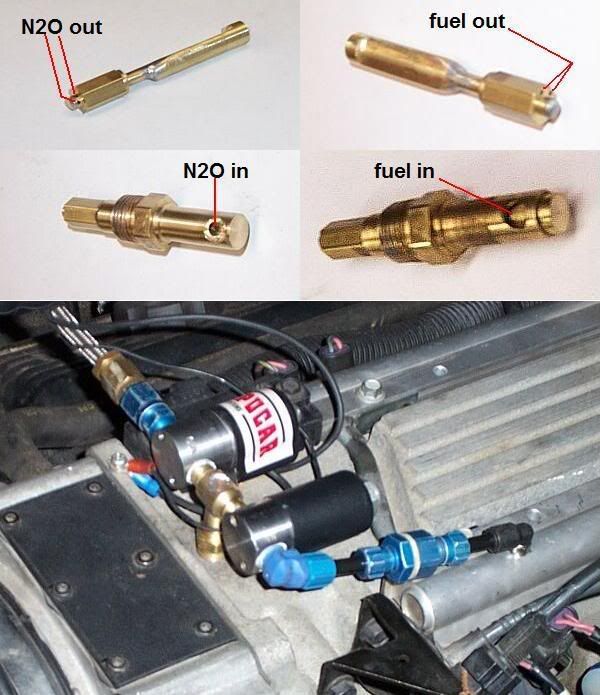 The nozzle should support about 200 horsepower. Inside the cross piece that the solenoids screw on to is where the jets go. I made the jets myself too. The fuel goes in and past the outside of the center core and out 2 holes that point down. The N2O goes in through the center core and exits through 2 holes drilled in the side of the little nub on the end. The N2O holes are in line with the fuel holes, when the N2O comes out it just shreds the hell out of the fuel stream. I found a jet calculator on line, I had the correct drill bits to make a set of 95 horsepower jets, .045 N2O and .025 gas.
My son and I just tested it, it seems to work pretty good, we hit the button in first gear at about 3500 and held it until we got up to about 100 mph. It definitly pulled a hell of a lot harder. I had datamaster going and as soon as I hit the button I could see the PCM pull about 10 degrees out. This is with regular gas and that's a little more than what it pulls out normally, it crept back until it only had about 7 degrees pulled out but it counted a few knocks so it popped back to about 10 degrees and hovered between 7 and 10 for the whole run. Does this seem about right or should I start pricing new pistons?
Both O2 sensors stayed rich so I guess I didn't go lean. I'll have to put some good gas in it and try it at the dragstrip. I have an ON delay I'll use with a WOT throttle switch. A little delay and it will come on right around 3000 rpm after I leave the line. I'm planning on a window switch in the near future and maybe a low fuel pressure cutoff switch. If it works ok then I'll make some 150 hp jets, and when I get enough money to break stuff I'll probably make a set of 175 or 200 hp jets.
I can remove the whole setup and change jets or whatever in just a few minutes. I made a little fuel filter that can be seen in the line between the fuel solenoid and the fuel rail. Don't let those little plastic hoses fool you, I've burst tested them at 200 psi, they're used in the lasers I work on and they last for years in some pretty harsh enviorments.
I still have that huge plastic first base from the Roadmaster, I guess I'll put that back on to hide the whole setup. Then I'll act like an idiot and insist the car has a Buick engine, time to sucker some rice burners.
:burnout: