Continuing where I left off in this thread:
http://www.impalassforum.com/vBulletin/showthread.php?t=232657&page=15
Decided to start a new thread for the whole project instead of continuing in my engine thread in the engine section.
Just a little breakdown on the car:
Forged 9.4:1 355ci with unported aluminum heads
Comp 224/224*, 0.575" lift and 113* LSA cam.
Twin T3/T4 50mm turbos
Hughes Performance competition prepped TH400 with transbrake and Pro Series billet 10" converter.
3.23 gears in stock housing with Eaton LSD, disc brakes, UMI control arms and LCA relocation brakets.
Denso 300lph in-tank pump, Kenne Bell Boost-a-pump, 63 lbs injectors and dual-feed fuel rails, F.A.S.T engine management.
Now for an update!
The wiring is 99% done! The complete harness is installed, I wired the LTCC in there and all looks almost facotry now
All I have to wire is the starter and the battery cables.
I changed the brake prop and meetering valves and bled the lines.
The Hughes TH400 and billet converter are installed.
I modified my fuel sending unit wiring so I now have 2 dedicated wires going to the fuel pump instead of using the stock harness with tinny wires. I have a 8awg wire going to the Kenne Bell BAP and 12 AWG wires going from the BAP directly to the fuel pump... shouldn't have any problems with fuel pump voltage now! cwm7 So that's done and the tank is on the car.
Exhaust system is also installed.
Left to do:
Fabricate a coolant expansion tank and heater hoses.
Vacuum and boost reference lines, boost pressure regulator, boost switches (for water/meth injection and BAP)
Install transmission cooler
Cold side piping modifications and installation
Get a driveshaft made
Install battery and cables, alternator, water/meth injection system, misc accessories, etc...
Comments, suggestions and questions are welcome
Here's a few pics
TH400: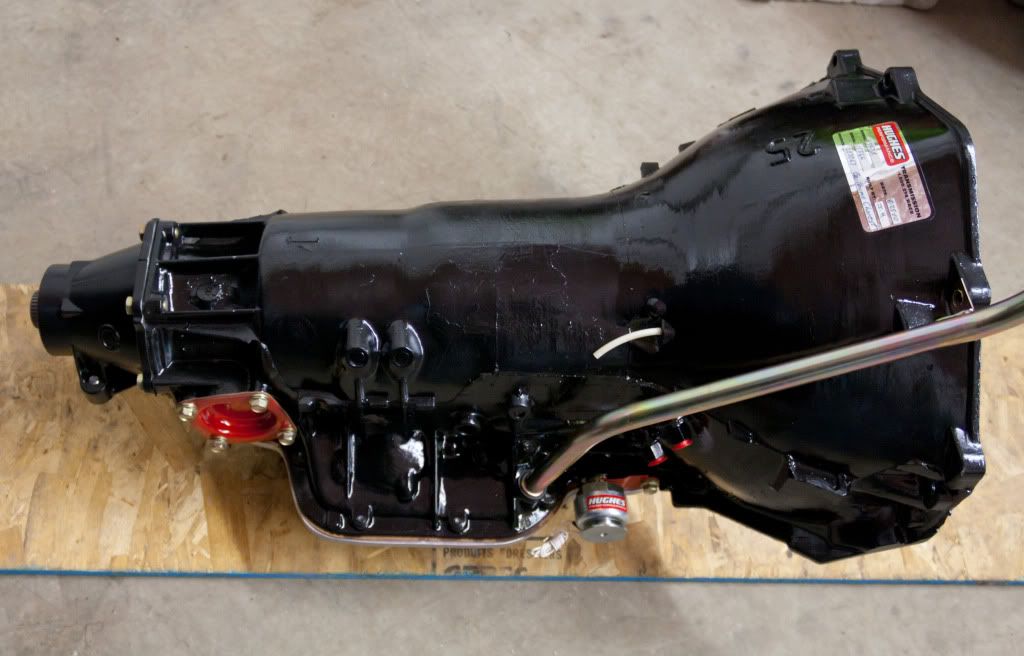 Torque converter:
Engine pic from last week: