Discussion Starter
·
#1
·
Ive been busy the past few weekends
.. Becides moving, and working, I managed to rebuild the front end of my car.. About a month ago I put on the SS wheels and some Votgland springs. Took it in for an alignment and they told me I needed 2 ball joints and a tie rod end. All the other stuff was original with 94K so I figured it was all soon to be due. My radiator had a leak, and my oil cooler lines were shot. I worked some major O/T to get the funds for parts, and got them all rounded up.
I did a new radiator (radiatorexpress.com), converted it to dual electric fans with both motors new (Dal), new oil cooler lines (GM), complete front end kit from Rustic, with ES bushings, 9C1 upper and lower body bushings including the radiator supports, Goodyear Highmiler hoses (Summit) (yes I put a new T and flow restrictor in) air pump delete, new Parker hoses for both power steering return lines, the pressure side hose looks to be in good shape. Threw in new NGK plugs while I had easy access, and cleaned my MSD wires. I installed new O rings on all PS lines and flushed the old PS fuild. I wire brushed the steering gearbox to bare metal, cleaned, primed and painted it black, POR 15'ed the frame from the firewall foward, and powdercoated all the suspansion and inner fender wells medium gloss black. I used all new GM bolts and nuts to reassemble the suspension. Even a brand new vanillaroma air freshner, cuz that's how I roll..
It's still at the alignment shop, but I'll post some more completed pics when I get it back.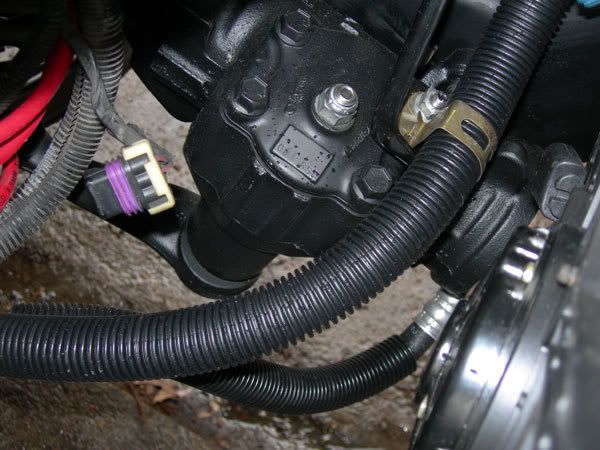 The bumper is hanging down because of unbolting it for the new body bushings,cushions