LS Swap Basics
Engine:
You can use any LS-Based engine (i.e. LQ4, LQ9, LM7,LR4, LS1, LS6, etc.) First we will go through the most common engine designations and specifications. These are just some of the more common ones. I'm not going to get into the LS3, LS7, LS9 battle because of the prices. If so needed, a lot of info from this could be used to help if you do decide to swap one of the above engines. If you want more info, check out
http://www.gmpowertrain.ca/Product/
.
GEN III ENGINES
RPO Displacement HP TQ
LR4 4.8L 4807 cc, 293 cu in 270 -295hp 285 - 305lb/ft
L33 5.3L 5328 cc, 325 cu in 285 - 295hp 325-335lb/ft
LM7 5.3L 5328 cc, 325 cu in
LM4 5.3L 5328 cc, 325 cu in
L59 5.3L 5328 cc, 325 cu in
LQ4 6.0L 5964 cc, 364 cu in 300 - 325hp 360 – 370lb/ft
LQ9 6.0L 5964 cc, 364 cu in 347hp 380lb/ft
GEN IV ENGINES
RPO Displacement HP TQ
LY2 4.8L 4807 cc, 293 cu in 295hp 305lb/ft
LH6 5.3L 5328 cc, 325 cu in 300 – 315hp 321 – 338lb/ft
LY5 5.3L 5328 cc, 325 cu in 315 – 320hp 338 – 340lb/ft
LMG 5.3L 5328 cc, 325 cu in 315 – 320hp 338 – 340lb/ft
LC9 5.3L 5328 cc, 325 cu in 310hp 335lb/ft
LH8 5.3L 5328 cc, 325 cu in 300hp 320lb/ft
L76 6.0L 5967 cc, 364 cu in 367hp 375lb/ft
LY6 6.0L 5967 cc, 364 cu in 385hp 400 lb/ft
LFA 6.0L 5967 cc, 364 cu in 332hp 367lb/ft
L92 6.2L 6162 cc, 376 cu in 402 – 403hp 415 – 417lb/ft
Prices vary widely throughout these engines and their sources. The best bang for the buck that I've found is the LQ4, which is currently what I'm running. These can be had relatively low mileage for about $1500 or even less with more mileage. It doesn't take more than a cam swap and some bolt-ons to get these to 400+ rwhp.
LQ4=9.4:1
LQ9=10.1
The years of Gen III are 1998-2005. Most Gen IV motors 58x reluctor wheels (except the 05-06 GTO; they ran an LS2 with a 24x reluctor wheel), and most Gen III have 24x reluctor wheels. Also, all Gen IV motors have the Cam Pos sensor on the front cover vice the rear of the block ala Gen III.
Now that you've made the decision on which engine to use, now you have to find one. Check
http://www.car-part.com
. This is a database of all major junkyards in the US and you can find just about ANY major assembly through it. Try and get one complete with the PCM, harness, and all accessories (i.e. PS pump, water pump, alternator, etc.). If it's in your budget try and get a trans through them also, they'll usually cut you a package deal.
Accessory Drive:
The Front Engine Accessory Drive (FEAD) is unique to each engine application (Truck/SUV, F-Body, Y-Body, GTO etc.) You can run any of these setups on any block, but you have one of three choices; run the complete FEAD from that car, Mix and match FEAD parts and space them out to match the crank pulley, or order an aftermarket set from Street & Performance (hotrodlane.cc). The only FEAD that will clear without any alteration of the factory crossmember is the truck/SUV FEAD, pictured here:
This setup has the relocated idler pulley that you would need if you were to switch to a car intake manifold.
If you aren't running AC, you can use any of the FEADs listed, as the compressor is the only part that interferes with the crossmember. If you choose to use the F-Body, GTO, or Y-Body FEAD with the AC compressor, you'll have to notch the frame as shown below:
The other things you will notice about this B-Body frame below..
Notch for Oil Pan.. Most likely a Fbody pan was used that was in stock form.
There is also a notch for the headers.. My guess is they used Fbody style long tubes.
The other thing to notice is the support bracket that comes from cross member and goes to the frame has had a portion of it removed , this is also for clearing the headers at the point where the tubes come together at the collector.
You can see the notch just in front of the motor mount.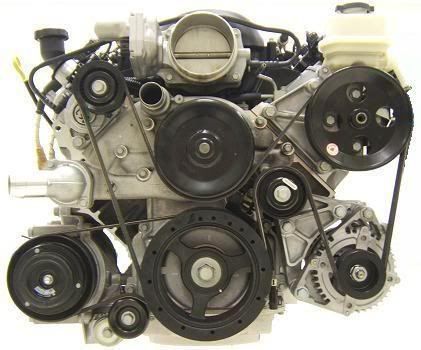 This is the GTO FEAD for comparison,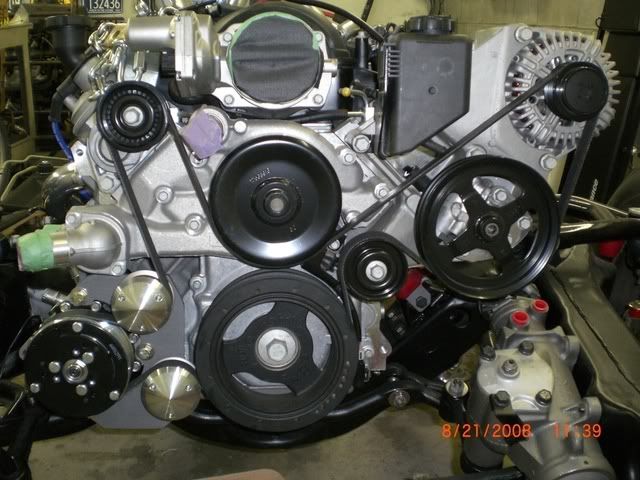 and the Corvette FEAD. The AC Bracket in that picture is a handmade piece by the owner.
The AC bracket for the truck accessories needs to be cut to clear the motor mount adaptor. When you try to put it on you will see how much you need to cut.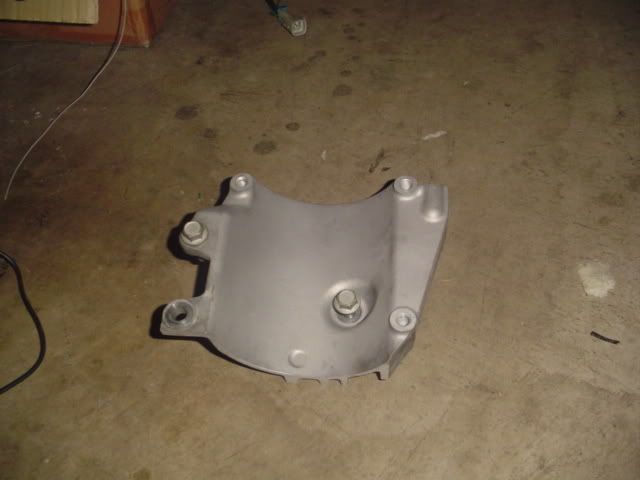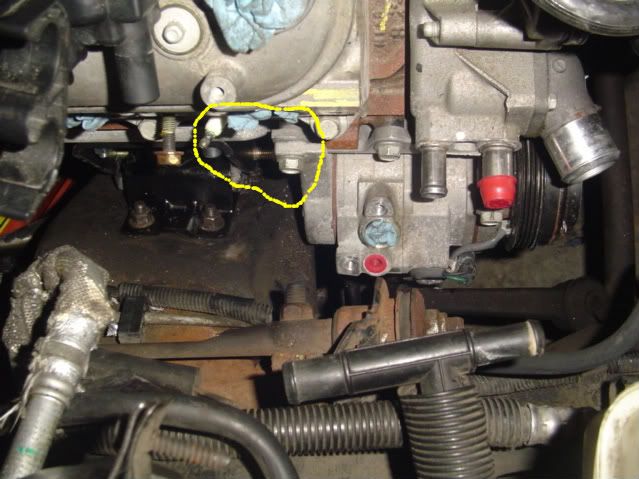 Here you can see the balancer depth differences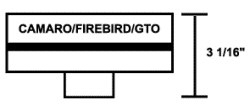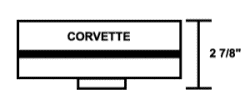 In the 2 following pics, you can see the motor mount adapter plates.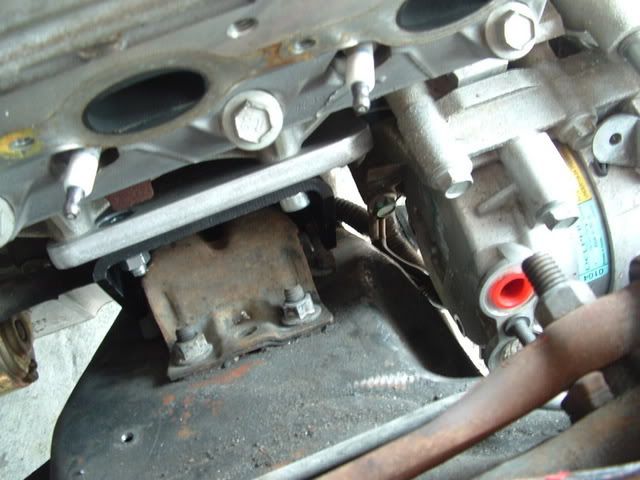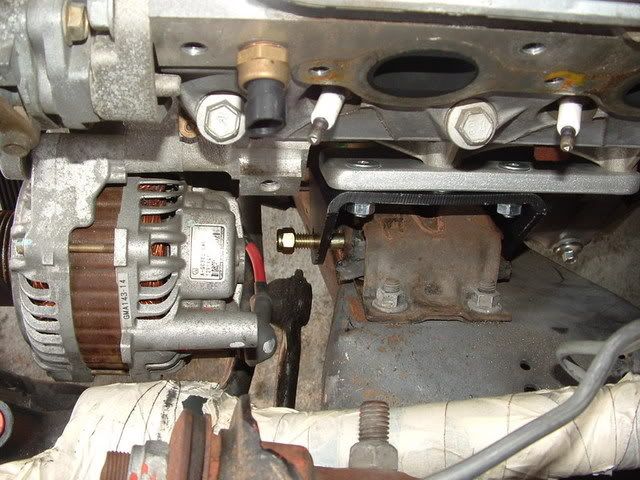 PCM:
PCM's come in many different shapes and sizes. The most common are the ones with Red/Blue connectors and the Green/Blue connectors. They are usually classified by service number. The most common ones are shown below:
99/00: Service Number 09354896 - used for manual throttle cable TB
This computer was chosen because of its availability on the market. It was used in 1999 and 2000 Chevrolet trucks as well as 1999 to 2002 Camaro Firebirds.
01/02: Service Number 12200411 - used for manual throttle cable TB
'03: Service Number 12576106 - electronic throttle
'04: Service Number 12586242 - electronic throttle
If you desire to keep the Electronic throttle features, it would be easier to pick a PCM that came from a vehicle that was originally equipped as such (i.e 2002+ Silverados, Tahoes, Yukons, etc). Using either Drive by cable or Drive by wire is really up to the owners preference, but I think DBW would be better on high horsepower apps. You will also need to get the Vehicle Anti-Theft System (VATS) turned off in the PCM and turn off emissions related codes. If you don't get VATS turned off, the vehicle will only run in 3-5 sec intervals, due to the PCM not getting the correct values from the Body Control Module (BCM).
Harness:
Your harness has to match your PCM. A few of the sensor locations are specific to Gen III or Gen IV engines, namely the KNOCK Sensor, CAM POS sensor, and the MAP sensor. You won't have to worry about this if you get the harness from the donor vehicle. There were a lot of minor wiring changes throughout the years, but for the most part they seem to be native to the color of the PCM connectors. You can get your factory harness modified through
Speartech
,
Wait4Me Performance
, or I'm sure other forum members will be willing to help out. Prepare to spend between $300-$450 if you go with either Speartech, or Wait4Me. Just be sure to tell them everything you can think that would be related to the harness (If you plan on keeping AC, want cruise control, etc). They can also turn off the necessary features (VATS, emissions codes) for you to use your PCM with this application. Be prepared to pay anywhere from $150-$250 for that also.
Tranny:
You can use any LS-Based transmission. The most common ones are the 4L60E 4 speed automatic and the T56 6 speed manual. . The 4L60E can be found in anything from 1500 Series Silverado's to Full size Yukon 2500XL's and of course, the F-Body family. DO NOT try and buy a Corvette transmission. It's not worth the trouble to try and get it to work mounted to the block, seeing as they are rear-mounted anyway. Not so common is the 4L65E, which came in the 2004-2006 Pontiac GTO and the Silverado SS. This comes with 5 pinion planetary's that makes it marginally stronger than the 4L60E. The 4L70E comes in the Trailblazer SS and the is marginally stronger than the 4L65E. If you can find a 4L70E, that's what I'd go for, seeing as the TBSS and the Impala SS and Caprice are in the same weight class. If not, a 4L60E will do fine.
You can also keep the LT1 4L60E if you feel so inclined. You will need a flexplate spacer (GM Part Number 12563532) and 6 bolts (GM Part Number 12563533). If you use the dished flexplate from a 4.8/5.3, you'll have to put the assembly together as such: Crank, Flexplate, Spacer; if you use the flat flexplate from the 6.0L, it'll go together like this: Crank, spacer, flexplate. If you have a Pre-1996 (1995-earlier) 4L60E transmission, you will also need to make some changes to the wiring harness inside the transmission to keep from throwing codes. If you've already put on a set of extended rear control arms, you should be fine with the stock driveshaft. Always check your pinion angle before you decide to deem it roadworthy.