Discussion Starter
•
#1
•
Only my 2nd day in "Sexy Black" and some idiot in a Porsche cuts me off and ......
As you get off the highway to go to my kids' school, you have to be in the right lane to turn right. I found myself in the middle lane, and no matter how much I sped up or slowed down, this dude in a Porsche kept pacing me and not letting me over - all the way to the point I came to a full stop so he'd finally go and be out of my way.
He also came to a stop. Empty road in front of us - about 8 more car lengths to the light - and lots of cars behind us. He motions for us to roll the window down, so Blase did.
The guy says, "Hey man, I just HAD to tell you how much I really LOVE your car!" Then he sped off and zipped around the corner. I yelled "thanks!" in return - and Blase just sat there in disbelief and finally says, "Dad. That dude, that just did THAT..... dude ..... HE was in a PORSCHE!!!!"
Talk about a 180 from where I thought it was going! It totally made my day, and I'd picked up these wheels last weekend on the stupid cheap - so I went and had them thrown on after work.
I. AM. IN. LOVE. ..... which is no surprise. I halfway planned that I'd dig the car, but I just can't get over how much the rest of the world seems to notice it and give me love about it too.
Anyway, here's the new love in my life, "Sexy Black" in her new shoes.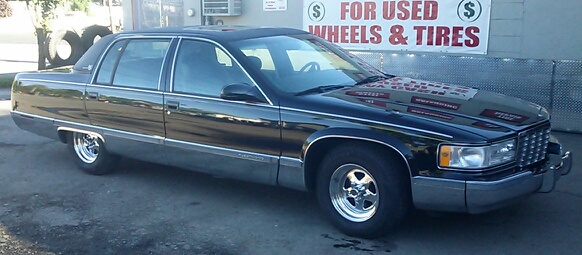 I can't help the name, but I can't think of a better one either. Alls I know is that every time I approach her since the day I first looked at it - I hear Timberlake in my head singing, "I'm bringin' Sexy Black!" - then I agree with him.
Thanks for the look,
John