Discussion Starter
•
#1
•
I am putting an engine together and am wondering how this part is attached.
I think it goes on the back of the block for the #7 plug wire but not sure exactly how: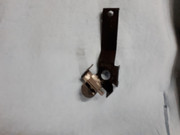 The manual diagrams are a bit unclear, and wondering if there might be more than one method for running that back wire.
I have a couple of the support channels, and one has a tab on the end as per the manual, and another does not. I'm wondering if that one came on the L99?
If anyone has a photo of the area around a stock #7 plug wire that would be great!