Discussion Starter
•
#1
•
1992 Caprice Wagon
The case seals on my R4 compressor were doing what case seals on an R4 compressor do best: Leak. So after 3 years of flawless performance, I decided it was time to do an overhaul.
An R134 conversion was off of the table. I have never done of these before. I have owned cars that had them done, and they positively sucked in South Florida heat/humidity, and performed better once converted back to R12 spec with R12 Substitute.
Substitute of choice? Envirosafe ES12 Industrial R12 substitute. Although a lot of people dump on propane-based R12 substitutes, I have been using this for years. The complete refrigerant package is not a whole lot more flammable than R134 itself is. When my old ES12 charged BMW was wrecked due a drunk driver years ago, my condenser was obliterated along with the first 3 feet of my car. No fire, no explosion.
Parts? Advance/Toughone New compressor with Lifetime Warranty, suction/discharge hoses/manifold, variable orifice tube, Envirosafe oil, new o-rings, and rubber suction line insulation. I also added R134 style screw-on ports so I can charge/read the system using my R134 manifold set. I also replace the high-pressure cutout switch with a switch that turns on an electric fan at 275 psi high-side, and cuts out at 210 psi. I haven't added the fan yet, but I will. Being what it is, the system pretty much never sees that kind of pressure, so maybe completely unnecessary, other than for safety.
I did not flush the system, as the compressor never had any problem with its hard parts, and the whole system was clean as a whistle when I opened it up. GM itself recommended against flushing these systems back in the day, preferring to install filters instead. I did neither, since the system was clean.
I did not install any fancy new condenser, as every parallel flow or piccolo parallel flow condenser I came across was half of the thickness of the factory one. There's no way parallel flow is so efficient that it can make up for being half of the size.
6 oz. of ES12 is equivalent to 18 oz. of R12, and 3 6 oz. cans certainly did fill my 3.4 lb. system to nominal pressures @1200 rpm with a blower fan blowing on the condenser.
I covered the metal parts of the suction line, and the evaporator line at and beyond the orifice tube with rubber insulation made for home AC suction lines. If they use them on home suction lines exposed to ambient temps, then I should definitely use it on a system exposed to 150F underhood temps. I snatched an accumulator/drier insulation jacket from a Suburban to use on my accumulator.
Results? Even when the sun is beating its hardest through the untinted windows of my wagon, the cold is absolutely offensive. It's practically racist. *:lol: *Vent temps are about 48 degrees at a dead standstill 98F/90% humidity, and drops into the bottom of the 40's when moving. Max AC must be used conservatively. It takes only a few minutes for the drain to form a large puddle under the wagon, and leave a stream running across the street.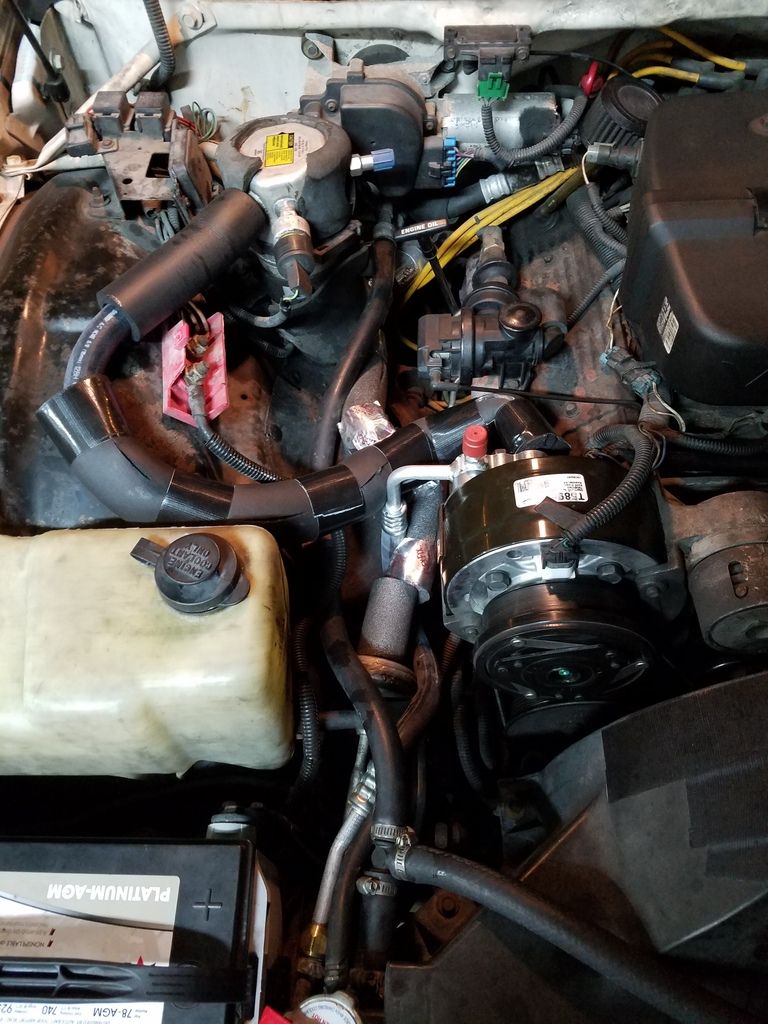 I'm going to be working on having a friend of mine fabricate a double-row parallel flow condenser, using two of the too-thin units that they sell for our 91-93 cars. At 1.4 inches total thickness, it will be very close to the 1 3/8" thickness of the factory condenser.
Overall, I'm very happy.