Discussion Starter
•
#1
•
Hey Everyone,
Well, being out of the game for 2 years was really hard, sold my White 95 9C1 back in 2005.
Commited to getting out of debt, then saving up enough $$ to buy mint SS and thought this x-mas would be perfect! I found a couple that were so so then stubbled across this one...WOw, what a beauty i tell you.
Now for my challenge:
I appologize in advance as I know very little about sound systems, amps, or subs
Add simply said "custom sterio" which didn't phase me as i thought it was only a new head unit that played MP3 or something like that. Was I ever wrong when i went to see it and what a nice "custom" system it is!! Original owner of this ride was the owner of many expensive cars who basically kept them as toys, shined them once in a while as he barely drove them and for this one, he decided to have some fun and install a system in it.
when I went to see the car, the head unit worked (turned on) however none of the speakers in car or subs would work. Not to sure what it was (I think a "relay" maybe or the breaker was off possibly?
when I went back to purchase car, all was running unbeleivable and sound was sick, bass thumping like mad and clear inside car. The GM dealer who sold me car bought it from original owner and best client dealership has, bad part is that he does not have any of the spec on this system, I know nothing of what's in this car!!!
All dealer told me was that if i was not using the car for a while, I should flip the little breaker switch to cut the flow of power to sytem as it will kill battery. I asked him how long "a while" meant and he replied a few days.
I got home with car first night i bought it and parked it outside around 10pm with switch "open" as I was going out next day. Went to take it out around 4pm next day and all i got when i went to turn key was "tick", nothing else at all. No crank, no attempt to roller over and start, nothing at all. Battery was full power.
We went under hood, closed switch, then reopened it and car fired up right away, no problem at all. Drove it around for a few minutes then parked it around 5pm for rest of night.
24 hours later (with switch left open) I went to start car and the battery was completely 100% dead. Outside lights barely come on, dash light barely visable and car wont even try to crank. Something is drawing insane power from this car and I don't know how to fix this
I don't have any idea what kind of system I have, meaning if it's good or not, how much power it draws or how I should move forward.
I like the system so I want to keep it, just want as much feedback on your thoughts after looking at images attached below.
For starters, this is what the system looks like with the trunk open. As you can see, there is also mirrors in the trunk lid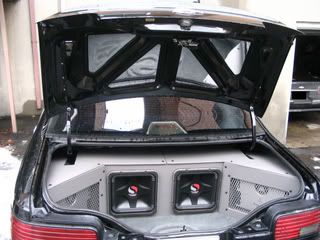 This is the flooring in the trunk, all custom done and gorgeous!!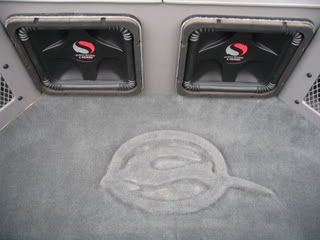 [ 02-03-2007, 10:51 AM: Message edited by: DREAMSS ]