Discussion Starter
·
#1
·
Well It is about time I started one for this car. And the car has already cost me blood. I cut my finger/hand with the grinder. My room mate Sarah was there and saw my hand and said I definitely need to go to the ER. Now she didn't tell me at the time. But she told me after that she could see the tendon. The Doc said I just missed it. Pretty darn lucky. I was cutting a bracket off as I was doing an LED light install in my bumper. I installed 4 inch LED's that are frenched into the bumper. The stock grill and bumper are being used as I like them better than what was on it when I bought it. Here are some pics. The first is the before pic.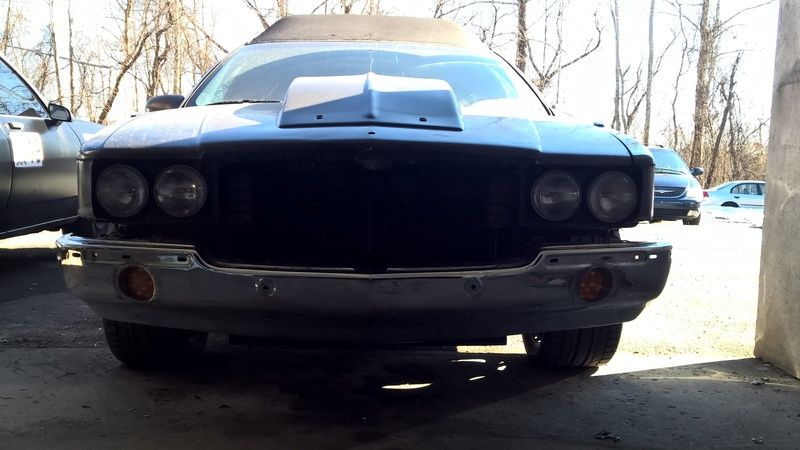 https://www.youtube.com/watch?v=wh1KuyuALQ0
Now Let me tell you a little more about the car. It is a 1996 Cadillac Hearse made by Federal and the model is The Heritage. It is fully loaded and has full power leather seats on both sides. It has an LT-1 that has been re-prom'd and has the Hooker Competition header with dual cats. It has a complete AutoMeter Phantom gauge cluster in the dash. It has stock the 14 bolt 9.5 rearend in it. The rear gear is now a Grizzly 4.10 unit with an Eaton Tru Trac diff. It also has UMI upper and lower control arms in the rear. It will have 17X9.5 wheels with BFG G-Force Sports 275/40-17 tires. I will be lowering it but how much I am not sure yet. I have to see if my Eibachs will work and if so how much they drop it. The car will also get some custom body work besides the cowl hood and bumper mods, when it starts getting warmer.