---
Well I just pick this up yesterday! Nice running 94 9C1 with lots of mods.
One thing, anyone know how to fix the falling window on the rear drivers side?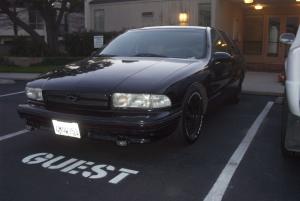 ---
man that thing looks clean. got a lot of stuff on its way to you to shape it up. try GM #0966-6748 window roller youll need 2 per window. its so sad you can actually google the part number with or without the dash and get articles about how common this problem is
---
Yeah, when I was searching for a Caprice, a few people told me about the problems. How much does it look like I spent?

Thanks for the compliment. Now your car is looking good!
---
damn you!!!! thats a sweet looking 9c1. Both my fronts are falling like that and bout 4 friends i know that have/had B-body's did also
---
Quote:
Originally posted by EkS:
How much does it look like I spent?
Since you're fishing for compliments, tell us what mods it already has and how many miles. Your pic ain't the best but the car looks nice.