Senior Member
Join Date: Dec 2005
Location: Las Vegas
Posts: 200
ZZR hybrid by ImpalaSStudio
---
It is titled as 92 caprice, I have clean title. But the driveline is all 94 9C1.
The donor car was ex TX trooper, worn out. I actually didnt want to buy it because taxi/police get a lot of body damage and bodywork is always bad. But I needed a show vehicle to show off my SSR parts, and built it. Then i realized that engine/tranny still good and started driving it everyday. Since Jan2012 I drove it everyday, not once it let me down.
I since made few changes - as you will see on the latest video taken Sept 2015
https://www.youtube.com/watch?v=O-raPh8Yfck
i have a hood with cowl scoop. I aslo installed a TV into tailgate trying to do some advertizing. There is also a skinny spare which I made out of real SSR rim by welding motorcycle rim to the SSR hub/spokes and mounting a motorsycle tire on it. I also have two SSR rims modded to accept 335/25/22 I attach a pic with them on the car.Right now there are 20" SSR rims all around, with rears widened to 12". They accept 335/35/20 The tires on the car are getting worn, two have little tread left on.
Overall the car is in good shape,no big damage, but lots of stone chips on the front.
The estimated weight of it is abut 3500. It has Edelbrock shocks and Impala springs, so it rides tight. It has some rattles coming from tailgate and front retractable spoiler. I don't know how to download the spoiler action from my website, but you can see it on SSR page, at the very bottom.
http://zzrstudio.com
it is electric powered.
AC is cold, but the heater is weak. It always been that way and I did not bother because it's warm in vegas. It has two batteries with a selector switch so that when it is parked main battery does not drain if I run the TV. There is a pinhole in the overflow tank, so when it get's hot it drips coolant. The tank is from 2000 Vette and needs to be replaced.
THis is a video from 2012
https://www.youtube.com/watch?v=AHDqq_EOpW0
This is how it was built (short version)
http://youtu.be/Tomz8DiHxYM
Take $3500 cash, car is in Las Vegas
---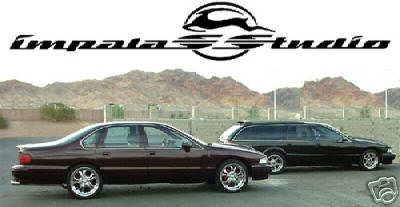 George Bagera,
ImpalaSStudio
, 35 ImpalaSS and clones built, currently BLK 95 Wagon & DCM 94 Clone
I think you built a better SSR than Chevy did.
Senior Member
Join Date: Dec 2005
Location: Las Vegas
Posts: 200
Quote:
Waaaaaait.... $3500? I thought I read $35,000!
Yeah $3500 , thank you for the nice words.. I usually get comments on it like "it must be a $50K car". It looks pretty good, but the truth is - as a vehicle it is just an old Caprice.
I hurts me to sell it like this but I don't have a choice. It's better to sell it, someone might enjoy it rather than part it out. Either way I cannot keep it.
George
ImpalaSStudio
---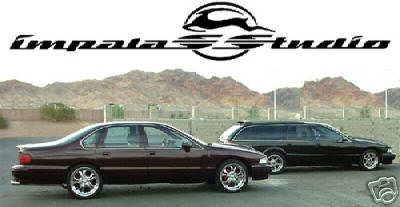 George Bagera,
ImpalaSStudio
, 35 ImpalaSS and clones built, currently BLK 95 Wagon & DCM 94 Clone
Senior Member
Join Date: Feb 2001
Location: Medina, Ohio, USA
Posts: 953
Ssr
---
I love my 2005 SSR with the 6.0 engine and 6 speed. Your car is absolutely tits up. Love it. Nice job man.
I think it would be a nice addition to my corral. Is it really 3500 dollars or is that a mis print. Can I see more pics of the chassis? Why are you selling it. Please email me at
[email protected]
.
---
Charlie Costello
---
Last edited by Charlie Costello; 02-11-2016 at

02:23 PM

. Reason: added text