Senior Member
Join Date: Nov 2004
Location: Cherry Point, NC
Posts: 340
Street Trends vs Special Tech?
---
Friends, I am thinking about replacing my entire front suspension (Will keep the Herb Adams sway bar and the new Koni shocks). I want to replace the upper/lower control arms, ball joints as well as the steering parts.

I have been researching both Street Trends and Speed Tech. Both appear to have great upper and lower control arm packages, both priced nearly the same.

Has anyone here used either or? If so I would very much appreciate you remarks/advise.

It appears the entire change over would run about $1,600.00 in parts. Street Trends offers a complete front steering rebuild for about $300.00, then $579.00 for both upper control arms with ball joints, $639 for the lower kit and $39.00 for the tubular spring cushions.


Will these kits lower the cars any? I hope not!

Larry
---
Last edited by Deputy347K9; 10-15-2015 at

07:49 PM

.
I have never heard of "special tech" before. If you mean "speed tech," then the parts found on the street trends website and the speed tech website are exactly the same. As for lowering, I have never used the speed tech products, however, I think the ride height should remain the same as stock as long as you are using stock height springs and spindles.
I have been researching this project (complete replacement of upper/lower control arms, coilover shocks and all other front end parts) for a couple of months. I believe I will be doing my business with Street Trends. I have found Jason and Brandi extremely helpful, no high pressure tactics and very knowledgeable about the Impalas. The overall cost will be about 2K once completed, praying the results will be worthy. With a twenty years front suspension I could not imagine nothing less than an eye opening event!

I have done my homework regarding any potential problems regarding difficult issues such as the upper control arm bolts, thanks to Fred I have another set with new NOS GM nuts.

Will post some pics once I start the job, probably wait until Oct/Nov. I use the Marine Corps base hobby shop as it's much easier on a lift. Oct/Nov seems to be a slower time for the Hobby Shop. They have every imaginable tool you could want. New state of the art alignment machine, machine shop, ten lifts, each designated work area has it's own tool box, tool room for special tools, parts store and much more.
Senior Member
Join Date: Nov 2006
Location: Central Florida
Posts: 3,130
I've had and have been riding on Speed Tech upper and lower tubular control arms for over 5 years. The stance and handling of the control arms is like no other. One of my favorite mods.
I have no clue or data on what the Street Trends version of the control arms is or might be. I would imagine it's something close or perhaps the same but cant say for sure.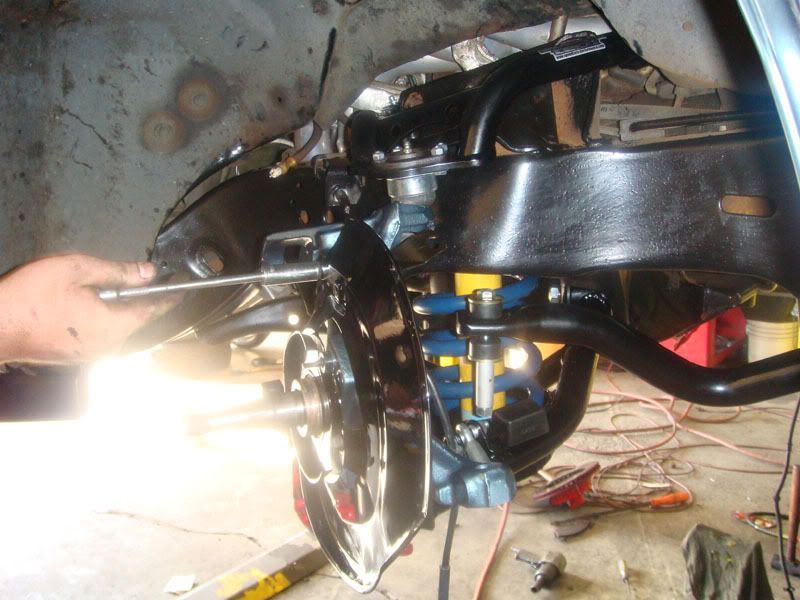 Torque values
---
Gentlemen, in full swing of collecting all the necessary parts for a "complete" frontend overhaul. Using Street Trends for my source of parts such as tubular upper and lower control arms, coilover shocks and general frontend parts.

I fully realize the torque values relating to the upper and lower ball joints is extremely critical and I believe someone said there was a bulletin or change to the values around 95 or 96?

When I moved south I somehow lost my set of 96 service manuals, have a 94 set that shows the following torque values.

If you see anything wrong or you know of a change please let me know!

Upper ball joints 125 foot pounds
Lower ball joints 100 foot pounds
Nuts for lower control arms 92 foot pounds
Nuts for upper control arms 92 foot pounds
Nuts for upper control arm pivot shaft 70 foot pounds (for bolts that go through frame)

Most thankful
Larry
Member
Join Date: Mar 2011
Location: Los Angeles
Posts: 67
From '96 manual:

UBJ nut - 61 lb-ft, tighten to align cotter pin hole
LBJ nut - 83 lb-ft, tighten to align cotter pin hole

LCA bolts - 114 lb-ft if torquing the bolt, 107 if torquing the nut (don't ask me why...)

UCA pivot/bushing bolts - 92 lb-ft
UCA shaft/frame bolts - 70 lb-ft
Thank you very much for the response. The difference really surprised me! The only two changes of all the parts is the upper and lower ball joints.

1994 has the upper ball joint nut torqued at125 foot pounds, 1996 has it 61 foot pounds, less than half!

1994 lower ball joint nut torqued at 100 foot pounds, 1996 manual has it at 83 pounds, 17 pound of torque difference. So close not much of a concern,

The first one is a concern, difference of 64 pound of torque while using the very same parts? Any of the pros want to chime in on this?

I better find someone to swap manuals with!

Larry
Street Trends
---
Thought I would close this thread out with a positive note regarding "Street Trends" out of Carlsbad, California. A good number of years have gone by since I last ordered anything from Street Trends though I do remember everything was as described. Before I placed my order today I wanted to speak with Jason regarding questions I had about the tubular control arms as well as the coilover shocks. Jason spent a good solid half hour explaining everything I had asked. Genuine interest in what I was doing to my Impala as well as swapping stories about other mods each of us has done. His wonderful bride, Brandi, took the actual order and was extremely generous with a discount and free shipping. I don't believe I will tackle the job until January February time frame, will take pictures for posting when I do.

I want to thank everyone for all the help regarding torque values and advise.

Larry
Posting Rules

You may not post new threads

You may not post replies

You may not post attachments

You may not edit your posts

---

HTML code is Off

---