---
I just got my Hotchkis springs and my Bilstein shocks and they are both going in on Friday. I just wanted to share. None of my friends really care about this kind of stuff
Ill post pics of the car after the install.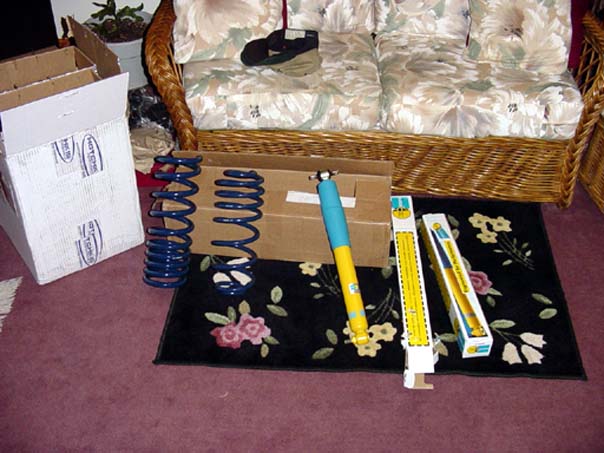 ---
Which Bilstein shocks are you putting on?

KW
---
the heavy duty Bilsteins. Most people seem to be using that combination.
---
Hey, post some pics if you can. I am putting the same combination on Saturday night hopefully.
---
SSmoothCherry, where in Maryland are you. If your pretty close we can meed someplace so you can see what they look like on the car
---
How long did you have your Hotchkis springs on order??? I cancelled my order this last Saturday after a
105
day wait... I just ordered up a Set of Vogtlands the other day. ERRRRRRRRRR looks like I woulda had my springs this week if I woulda held out.... but FRIGGIN Hotchkis has lost a customer for life over this deal. They need some business classes.
---
I got mine from nolimitsmotorsports.net. It took a little over a month for them to come in. 105 Days!!! That sux
---
Hey! I'm still waiting on mine
Ordered on Dec 6th. If they dont show up by Saturday I canceling too!
---
bigjs63
You may not need helpful hints but installing springs was a learning experience for me:
I had to raise the car enough to place jackstands under the front door joint area with two clicks extended up. Otherwise, there was not enough room for my floorjack to fit under a near fully lowered A arm.
I removed the lower ball joint by using a 2 1/2 lb mall & smacking twice/thrice on the steering knuckle to ball joint area after the ball joint nut was loosened & Jack in position [Chevy mechanics do it this way too]. The old springs will just pop out when you lower the A arm [be careful].
I used an internal spring compresser on the Hotchkis front springs which helped a lot. Schucks had it for rent $6 a day, Doorman brand with four small "J" hooks. I bought a 3/4" x 2" long steel sleeve at Lowes Home Improvement's hardware section. I used the sleeve as a spacer to prevent the compresser screw shaft from ending up too high and contacting the frame. Placing the lower [lowest] "J" hook on the coil immediately above the spring end & it's paired "J" hook 180 degrees from the spring end worked perfectly. The top "J" hook was on the last big coil as the finer progressive section is too tight. I clamped down enough so that both "J" hook housings were about one inch apart; this compressed the spring about 2 1/2 inches. With the spring pushed up into the frame & half way into the A arm, I used a piece of wood to hold the arm so I could manuver the jack into place. The spring will be easy to rotate for indexing [coil end between the two small holes on A arm]. I had to use my 20" long 3/8" drive extension to pry the coil end into position before raising the jack.
The second spring took only 30 to 40 minutes and no scratches on the spring; can't say as much for the first spring as it was used for a learning curve...
Spring Installed Pic
Good Luck---George
P.S. Got my springs in three weeks from Mike @ No Limits Motorsports.
---
Bigjs63 I live in Waldorf, Maryland in Pinefield. That sounds good man. I am dropping my car off to get tinted Friday night and picking it up saturday on my way home from work. So Saturday evenings cool. Just e-mail me.