Senior Member
Join Date: Mar 2006
Location: Chico, CA
Posts: 145
a). Apply more anti squeal paste (red stuff). If it is still moving then it isn't pasted on there
b). bend the clips down with the pads off the caliper, then test fit until perfectly snug. You can't get them snug enough to not move and get that little click with staking them on the caliper like the manual says.

good luck.
thank goodness this one was saved from the server meltdown.
---
96 BBB basic mods and H.I.D.s, daily driver 183k miles and still pulling strong
Fading Odometer Fix w/ pics

if the pads seem to shift while braking. does that mean they will be loose if the car is parked? in other words, will i be able to wiggle it... i THINK mine shift too while braking.
---
96 BBB basic mods and H.I.D.s, daily driver 183k miles and still pulling strong
Fading Odometer Fix w/ pics

I sure hope you guys are talking about the same click/clunk I'm hearing when I tap the pedal at low speeds. I'll check it out this weekend.

+1 for stickiness.
---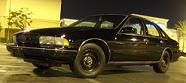 96 9c1 LT1 - Home depot Intake / Home plate delete / TB By-pass / Performabuilt L1 / 2k converter.
91 9c1 LO5 - Broke the bell housing / Thrashed and Canned :-/
Thanks for the props. Glad it can help. You'll notice I didn't mention anything about bending tabs on the install. Although I realize many do this (even religiously) and it can be necessary at times, honestly, I've never done nor needed to do this on all the vehicles I've ever worked w/ (an extensive list). For the fronts, new pins and proper application of anti-squeek (I swear by CRC DBQ) invariably always solve any issues I may have.
Quote:
...I've changed my front pads, bent the tabs, applied anti-squeal goo to the back of the pads, and replaced the pins and bushings but when I apply the brakes and the car's is about to stop, I hear a loud, single click coming from the front brakes. It sounds like the pads are shifting but other than bending the tabs on the pads and putting anti-squeal goo on the pads, how can you stop the pads from moving?...
Have you checked the ABS sensors for some type of abnormal wear/residue buildup. I'm just stabbing at this, but a single click may be traced to this area. When I did the overhaul, I cleaned all the sensors and even put a dab of Ceramlub on them.
3 Year Update
---
*UPDATE*

Shiny and new is awesome, but what happens w/ some time and wear?...


All that's been done since the overhaul has been a complete brake fluid purge and swap w/ new.
Junior Member
Join Date: Sep 2012
Posts: 5
Ive done the galant disc change on the front and im after doing something similar on the rear. Does anyone know if any discs fit machined down hubs so the disc fits on the outside with the existing callipers? Im not looking for bigger really, just ive got 2 hubs that have been machined down and i need to do the rear bearings, so thought while im at it i will see if i can find any discs that will fit on the outside.
cheers
Senior Member
Join Date: Mar 2012
Location: SE PA
Posts: 932
the thread provides excellent info and for those of us that want to use AC vs the raybestos i wanted to confirm this is what i need
front
AC 18k265 (2 kits) = 8 washers (large/small), 4 bushings, 2 clips
AC 18k219 (2 kits) = 4 pins
rear
cardone brackets 1411222 x 2
AC 18k872 = 4 bolts, 4 bushings, 2 H clips
wagner H5059 (2 kits) = 4 pins 4 bolts
edit: after talking to a local parts place, they said the brackets arent available but then he told me new calipers come with them. so now i dont know what to do as i never took off a caliper nor bled brakes
---
2014 Impala LTZ; Sold and miss my 95 DCM 262K thanks to all who helped me over the years!; 87 caprice became my snow car in 2000 and it was laid to "rust" in 10/07 with 338K. Rebuilt trans at 308,000 (lasted pretty long I think); new radiator 330,000 (they said it literally disintegrated when they took it off)
---
Last edited by luckydriver; 01-11-2013 at

01:48 PM

.
Junior Member
Join Date: Jul 2014
Posts: 2
1995 Impala ss front brake caliper pin tap sixe
---
Can anyone tell me what the tap or die size is for the above?

I snapped the caliper bolt and had to drill out now need to chase with a tap but do not know the size?

Any help thanks
Canadian built can some metric and some US threads
caliper bolt thread repair
---
7/16-20 is the correct tap size
You may find that you cannot properly re-tap that hole. Some have done a heli-coil repair (I don't recommend), and there are aftermarket caliper bolts with oversized threads just for the purpose of fixing a situation like yours.
Dorman 13891
(replaces original thread (0.4375") with a M12 x 1.25 (0.472") thread bolt, which is designed to self-tap into the damaged hole.
Short of that, replacing the knuckle (spindle) is the alternative.
---
Bill Harper
ISSCA #127
[email protected]
Posting Rules

You may not post new threads

You may not post replies

You may not post attachments

You may not edit your posts

---

HTML code is Off

---