Senior Member
Join Date: Feb 2009
Location: Winnipeg MB Canada
Posts: 354
Plug wire harness part
---
I am putting an engine together and am wondering how this part is attached.
I think it goes on the back of the block for the #7 plug wire but not sure exactly how: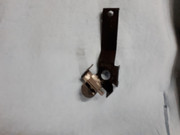 The manual diagrams are a bit unclear, and wondering if there might be more than one method for running that back wire.
I have a couple of the support channels, and one has a tab on the end as per the manual, and another does not. I'm wondering if that one came on the L99?
If anyone has a photo of the area around a stock #7 plug wire that would be great!
That bracket isn't for the plug wires, it's for the o2 sensor wiring.
Senior Member
Join Date: Feb 2009
Location: Winnipeg MB Canada
Posts: 354
ok great thanks - I 'll check out the manual for more info on that
Bolts to the side of the block by the knock sensor and the o2 sensor plug is held in place by the little gray piece still attached to the bracket.
The upper part with the hexagon is for another plastic wiring retainer.

@ least that what the part looks like to me...
Senior Member
Join Date: Feb 2009
Location: Winnipeg MB Canada
Posts: 354
Senior Member
Join Date: Feb 2009
Location: Winnipeg MB Canada
Posts: 354
Posting Rules

You may not post new threads

You may not post replies

You may not post attachments

You may not edit your posts

---

HTML code is Off

---