Senior Member
Join Date: Sep 2012
Location: Staten Island, NY
Posts: 1,672
It's still unlikely.
---
2001 Corvette ZO6
1995 Impala SS - H/C/I - BBB
---
Last edited by TGO; 05-15-2019 at

12:07 PM

.
Senior Member
Join Date: Sep 2005
Location: (718)-
Posts: 1,387
Quote:
… if your battery goes dead, or your laptop falls off the table, or anything else that boils down to carelessness - that's your own fault.
Quote:
There's always a greater-than-zero chance that even if no mistakes are made and all conditions prior to flashing are as ready as they'll ever be, the pcm could still fail.
Quote:
I'm pretty sure everyone is in agreement on that.
It's still unlikely.
If the batt goes dead, or the laptop falls, or anything else that boils down to …
… even if there is no one to fault, no cause, and nothing to blame …
(per my experiences so far, despite no indirect fault or direct cause, having literally nothing and no one to blame,
my
odds of 'bricking' an OBD1LT1 pcm ≈
1 / 500
or
0.2%
)
Having a spare pcm on hand in advance turns the argument about fault vs blame vs responsibility from a long angry one, to a brief moot one (pheu! Close one!).
A spare used 16188051 pcm costs
≈
$100
A spare used 12200411 pcm costs
≈
$100, but are actually easier to find sooner than 16188051 or 16181333
A spare TorqHead 12200411 pcm costs
>
$100 yet
<
$565, and definitely takes longer to replace than either of the above
Guess my only quibble left is, why doesn't TorqHead explicitly cite the price of a spare TH LS pcm?
---
They are NOT Lying to You
You are Not Lying to Yourself
You are Being Lied to - BY Your Self
… Alone
1g1bl82p7rr127841 … RIP,IP …
Senior Member
Join Date: Feb 2001
Location: South Central Texas....By Way of the South Side of Chicago!!!!!
Posts: 20,250
Quote:
No. My post implied exactly what it said. That being if your battery goes dead, or your laptop falls off the table, or anything else that boils down to carelessness - that's your own fault...….
LOL....yeah.....that's the ticket. LMAO
KW
---
1996 BBB SS, 398ci Solid Roller LT4,
TorqHead 24x Conversion
1995 DCM SS, LS3, V-max 90mm TB, Lingenfelter GT1-1 cam, Headman 1 7/8 LT Headers, 2 1/2" cat-back, 3200 Circle-D TC, 3.73 gears -- 493HP/434TQ @ the wheels (
Daily Driver
)
2014 Chevy SS; Low Lash Solid Roller 429ci LS3 -- 548HP/464TQ @ the wheels....
Hey, just wanted to tag on this thread that as of June 2018, Megasquirt can run LT1s with an optispark. I think the assembled unit is around $550 as of when I'm writing this, obviously doing the wiring harness would add some time and cost, but that's a well-established system that can handle almost any combination.
https://www.diyautotune.com/support/...t-lt1-lt4-l99/
---
"The unexamined life is not worth living." - Socrates
Quote:
Quote:
If you used the EFIConnection setup with the TH harness/pcm??
The only thing you'd have to change maybe the crank & cam sensor wiring routing/length?
That would be my thought...use the harness that TH supplies for the coils, and sensors, and possibly shorten/lengthen the crank sensor as needed. Cam sensor length should be good since both products put them in similar proximity.
I really like this front cover from EFIconnection, as everything is self contained, and gets rid of the water pump drive hole that I don't need...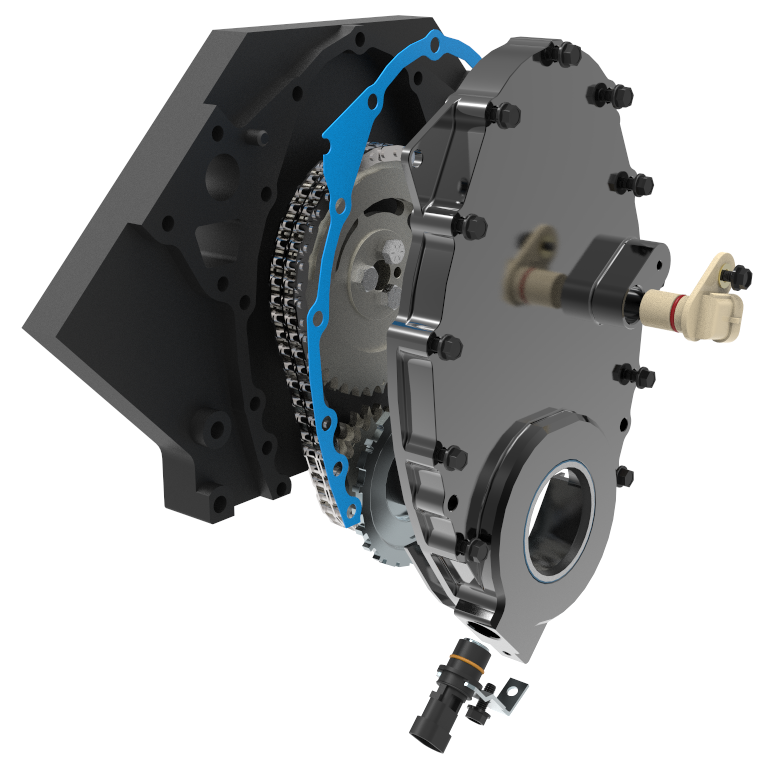 I may have to explore this option a bit more. You could piece together parts from both kits and be in it for only a few bucks more, and have a sleek looking system!
How do you import pics into the body of your posts instead of as thumbnails ?
I would like to know the process.
Thank you for your time.
---
K&N Gen II Cold Air Intake, HB Removed, Jet Airfoil, TB bypass, Stealth Brake Biasing, Cat Back Exhaust w/ side by side crossover.
Posting Rules

You may not post new threads

You may not post replies

You may not post attachments

You may not edit your posts

---

HTML code is Off

---