---
Whats the paint code for 95 FWD I think they call the color calypso green also do you use the same paint on the trim of the vinly top heres a pic
it seems like this is a common spot where paint comes off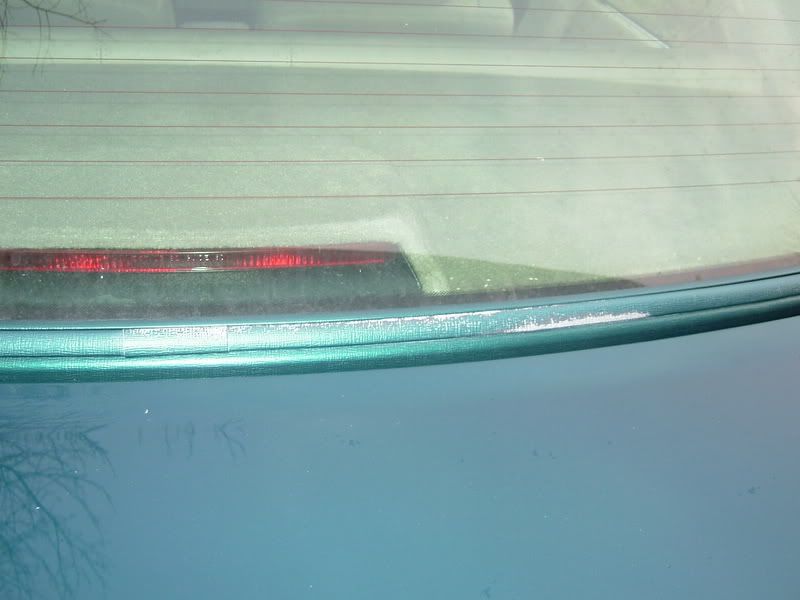 ---
here i found a post when I asked the same question.

[ 03-07-2007, 07:24 PM: Message edited by: MrCadillac (Magnum) ]
---
Quote:
Originally posted by Yada yada Huh??:
</font><blockquote>quote:</font><hr />Originally posted by MrCadillac (Magnum):
Sorry, I have no clue. Never took a pic of the SPID, and the buyer totalled it! Maybe I can ask him for the code. Can you get a pic of a SPID, and point out the code? I have been looking for touch up for my Red one, And donno which code I need. The site I was looking at(some factory paint chip deal), didn't have my caddy's...
Visually look at the SPID label, the very bottom of it gives you the series of paint information.

Generally what you will see is Base Coat-Clear Coat(a two-stage paint system that consists of a base color coat, followed by a clear coat over the top for protection and to enhance the shine of the color), the numbers that proceed(to the right of) WA are the colors of the car. In this case WA9924 for Medium Marblehead Metallic(Also known as Granite Metallic. The numbers following the first set are the secondary(If the car is a factory two-tone, then first would be the lower color, and the secondary would be the upper color),Accent Color(Only applies if a stripe was Factory applied), Vinyl Top Color(again only there if applicable), and the final number would be the interior color.

Example SPID


The break down of the paint codes(Lower left going down, with the interior color at the extreme right) for the Label above is this:

BC/CC= Base Coat and Clear Coat finish
WA9753= Bright White
WA8555= Black
Now the interior color actually recieved a paint code instead of WA Number( the number and letter off to the right), along with the Decor level(IE. Cloth and Vinyl front seats, with Vinyl/Cloth and Vinyl rear).
30D
30=Medium Dark Adriatic Blue and the D designates the combination of Cloth and Vinyl fronts, with Vinyl rear(?)
</font>[/QUOTE]
---
Bumping this one back up. I know we have a coupe Calypso owners here. What is the paint code for the Calypso Green?
---
Paintscratch.com (who is generally a good source for such info) has this:

Dark Calypso Green Metallic Clearcoat: 92/WA115A
---
Thanks! [img]smile.gif[/img]
Mike
Posting Rules

You may not post new threads

You may not post replies

You may not post attachments

You may not edit your posts

---

HTML code is Off

---