---
IS DYNOMAX A GOOD EXHAUST FOR A 94 FLEETWOOD NOT LOOKING FOR A LOUD SOUND JUST A LIL DEEP PURR
---
Yeah the Dynomax is pretty quiet. But it's gonna have to be extended a couple of inches since our cars are a bit longer... I'm going with the Dynomax pipes and Hooker Aerochamber mufflers on mine next. I not doing the resonators. I will post pics when i redo the exhaust...
---
I've got the Dynomax catback on my car. You know it's there, when you want to hear it.

As for the extra inches, use it as an excuse to add an X-pipe.
---
I thought I would chime in here, I have the Dynomax pipes, and an H pipe, but the H pipe was cut directly inbetween the pipes, there was NO extension added, just a pipe welded inbetween the two pipes. The only extension added was for the stainless steel tips in the back where they put a pipe on each side so you could see the tips easily. Im running Flowmasters I think Series 40, no resonators or cats, I love the sound of it.

I dont see how the 3 inches would be necesary, it fits just perfect.
---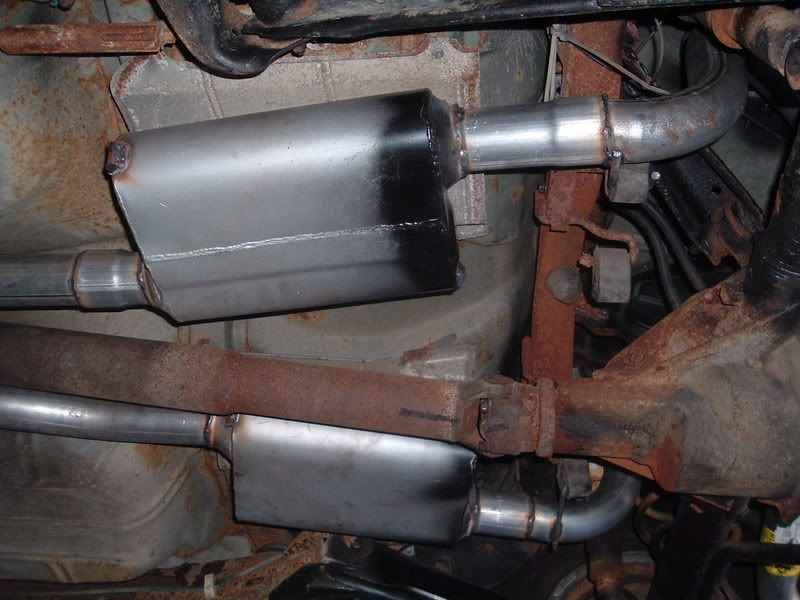 Anyone know what those mufflers are? Besides being Flowmasters?
---
Quoted 2-B1G-w00ds "....The only extension added was for the stainless steel tips in the back."
It certainly appears extensions were added fore and aft of your mufflers. Plus, I would think your cat-deletes pretty much turned the job into a custom fit all the way back.
You need to add almost 6" to a B-body catback when hanging on a Fleetwood in order to maintain correct orientation and clearances going over the axle. That's why an H or X kit does the trick relatively easily.
I think I know what you were driving at, but I see the wording throwing a newb off.
http://www.cardomain.com/member_page...page_id=275198
Posting Rules

You may not post new threads

You may not post replies

You may not post attachments

You may not edit your posts

---

HTML code is Off

---