---
So as some of you may remember, I put my fleetwood into a tree in august(look at the sig), and it was beat up pretty bad.
Parting Thread. Story link in this thread
It was a lost cause, with a bent frame, and a very messed up passengers side. I began striping the car, and was cited a weekago for a "junk" car, that violates township ordinance. So I finished striping it, and took it to the scrap yard. Not the junk yard where old cars sit for 10 years, but the scrap yard, where they sit for a lil while, then crush them into a box. [img]graemlins/
4.gif[/img] I had no other choice... We already had it on the trailer, and the junk yards were already closed. It had to be off the trailer that night. so, hereare some pics of the 94 Fleetwoods last days as a Fleetwood, before it is turned into toasters.
turn away if you have a weak stomach [img]tongue.gif[/img] .
[ 11-16-2006, 12:21 PM: Message edited by: MrCadillac (Magnum) ]
---
No wheels the correct bolt pattern? Thats ok! Just weld them on!
Don't worry! that engine is an Olds 307!
Dashboard and wiring? What dashboard? no wires?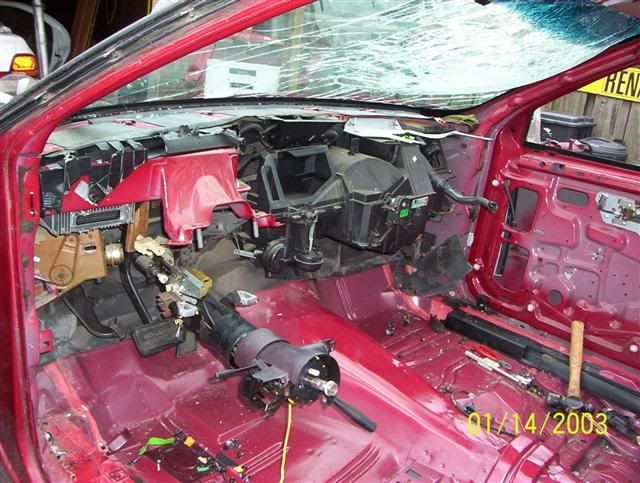 off to the yard we go!
Need a hand getting it off the trailer guys? no? alrighty then!
Uhh... where ya going with that? Oh... over there...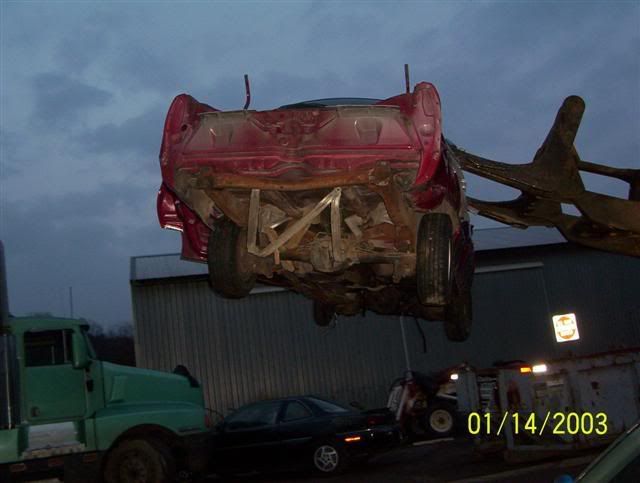 i ended up with many many more pics, but I think you get it... I ended up geting $108 for it in weight. Wanna know how you can get the weight down to 2900lbs? do this to it! The trunk had a bunch of scrap, like the radatior, front bumper, batterys, other crap we wanted to toss. so the car itself really weighed more like 2500lbs.
So. Anybody need some parts? [img]tongue.gif[/img]
[ 11-16-2006, 05:13 AM: Message edited by: MrCadillac (Magnum) ]
---
Aw man, you brought a tear to my eye remembering a few I've had to do that to.
[img]graemlins/
4.gif[/img]
It's sorta like taking pics at a funeral for normal folks. Why is it about 130% of FWDs always go in headfirst and always take out all the good nose stuff? Damm that TC and understeer!!
[img]tongue.gif[/img]
---
Always breaks my heart to see another one crushed. [img]graemlins/
4.gif[/img]
But there is some comfort knowing many parts will help keep other FW's (including mine
) on the road.
...pauses for a moment of silence...
---
R.I.P.
---
Yes it is VERY sad to see it go. But I am glad it's finally gone. it was depressing to see it everyday in it's missiry. I'm glad the Red Buick Never met the Red Cadillac, they may have gotten in a fight! Or worse yet, the Caddy rub some "luck" on the Buick.
I had a moment of silence for it one day. I told it how sorry I was, and wishing I could bring it back.
Guy 1: There it is, that old cadillac.
Guy 2: It's not that old... wow...
Guy 1: Ah, a wreck-a-lac. Why ya taking pictures of it?
Me: Cuz that was my car. My dream car.
Guy 1: Ohh... so it was your car. I see.
[img]graemlins/
4.gif[/img]
Today I parked the Silver Buick where the caddy sat for the past 2 months. And It felt weird as hell! Almost like I was on a haunted grave. I had to move the Buick, it just didn't feel right.
---
[img]graemlins/
4.gif[/img] Caddy
At least you didn't go to organ donation bank
---
Wow, that does suck to look at. Oh, the humanity!!!
I'm surprised you didn't salvage the rear end? I guess it would be a big clunker sitting around...
Best of luck on the new project vehicle.
---
Corey Why didnt u get the gas tank straps..!!!
---
I was very pressed for time Matt. My dad decided "it goes TOMAROW, at 3 PM!!" so I got up at 5:30ish and started ripping parts off. If I had anouther hour, the straps woulda been mine! I know, they were rust free, what a shame. I almost didn't get the gas tank off. The guy pulled up, and I was just droping it. And the Rear End: I needed to beable to roll the car. Plus, a 4 channel ABS rear wasn't gonna help me out a ton. But like I said, had i not been so pressed on time, I woulda put it on the trailer and taken it off.
The reason my dad all bitchey about the thing(and what an ******* he was being!!), was cuz our city ordinance cited us for the "junk" car along with others, and was to fine us per car very soon. So my dad was being an ass about it. Nothing I can do now... as I wanted the rear and the tank straps... [img]graemlins/
.gif[/img]
Posting Rules

You may not post new threads

You may not post replies

You may not post attachments

You may not edit your posts

---

HTML code is Off

---