---
Well, im starting a project thread for my trunk build. Fleetwood is being called project slow steps, for two reasons; 1: Im broke and in college. 2: its DAMN cold here in MA!!
So this is what ive got done so far, alot of cutting and recutting. This is just cardboard so far.
This is of the trunk half way closed....it clears!!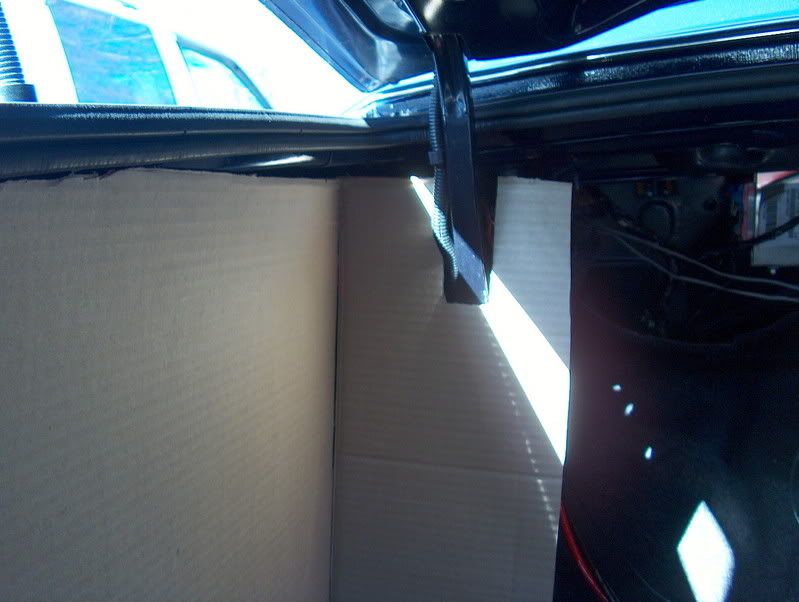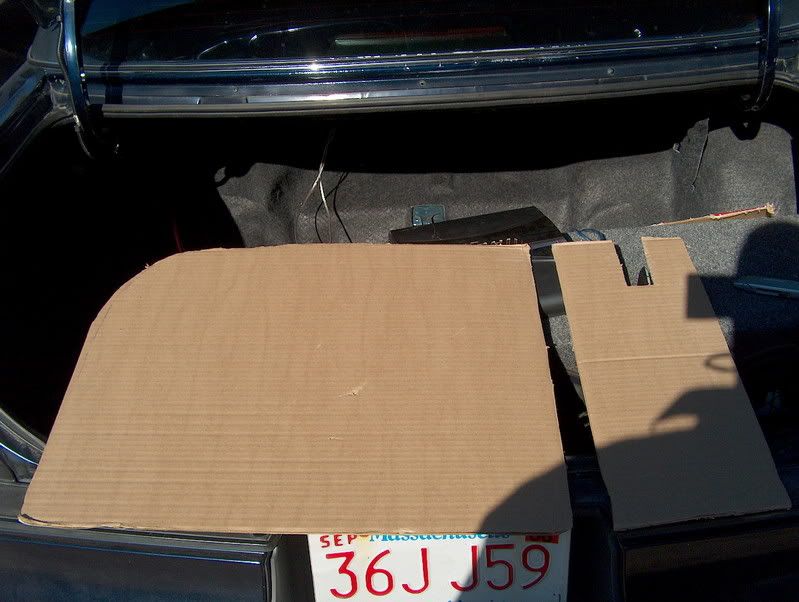 [IMG]
---
this last pic is of the drivers side which fits good, and the orig. mock up for the drivers side, seeing if its the same as the passenger side. Only dif. is a little clearance more clearance on the pass. side because of the lisc. plate lock on the drivers side.
Now, before anybody says anything about the LowRider sticker, its coming off. I am NOT going for that look with my car, it was just cheap and i thought it was cool at the time. that was a negative!
---
i was gonna say, with that sticker on there you're gonna stick out like a sore thumb...
---
Hey another MA owner... so whats the panels for?
---
Well, im hopin it looks like the trunk fik that is made for the Impala SS. Just to clean it up a bit, maybe stop some of the bass from hitting the quarter panels also....man does it rattle....
---
I too started a trunk project with my 96 Fleetwood a few years back. It took a while to get things where they are today and I am finally pleased with the result.
The rear deck was cut out and a new fiberglass one sits in its place. This way the cab is completely sealed off from the trunk thus eliminating unwanted rattling and noise cancellation.
I have 1/0 gauge wire running to the trunk. There are three 1 farad capacitors to help keep the headlights from dimming each time the beat hits.
It is a Dolby digital 6.1 sound system with optical cable running from the head unit to the digital processor in the trunk. All the music is stored on an 80 gig Kenwood music keg. Altogether the system has 18 speakers and outputs 4,800 watts.
---
NICE! Keep posting pics of the project.
---
Cool man, I did the same
thing
in my old fleetwood. I'll see if I can find some finished pic.
Good luck with the project and keep us posted! [img]smile.gif[/img]
Posting Rules

You may not post new threads

You may not post replies

You may not post attachments

You may not edit your posts

---

HTML code is Off

---