---
Mattias,
You need:
Metra Model: 95-2009 double din dash kit
This is the correct double DIN kit for the Fleetwood, and a bunch of other cars...
Metra 70-2001 Radio Wiring Harness for GM 94-04
Wiring kit for aftermarket radio
TO
factory radio connector plug. You will wire as the guide with the kit
AND
your radio's wiring dictates. I STRONGLY suggest you get the
Posi-Loc connectors
I have spoken of before, eliminating soldering and tape. Your choice of abuse however.
Look up prices on Amazon US and here is the Metra 2014 Catalog link:
http://metraonline.com/files/catalog...R_COMPLETE.pdf
Richard Snipes
4501 Safari in Jax, FL
---
So many projects, so little time, so little money...jist hope ta improve..
Member
Join Date: Nov 2010
Location: North Phoenix, AZ
Posts: 80
For my car I had to make my own brackets and wiring harness which isn't as much work as it sounds like.

The brackets are just rectangular pieces of metal bent back with some holes drilled in, just be sure to measure correctly.

The harness is pretty easy, just clip the pigtail off of the back of the factory radio and solder the wires to your after market radios harness. The hardest part will be to find the diagram to get the wires right, I have a the factory service manual but I'm sure it's also available online somewhere.

I think there was one wire that doesn't need to connect to anything, just tape it off.

If I can find my pictures when I get home I'll post them.
---
96 R1P

Member
Join Date: Sep 2005
Location: Estonia
Posts: 91
Buy simplest iso connector for your stereo (if you dont have one with your new player) and connect wiring to car - diagram is here:
1995-96 Cadillac Fleetwood Stereo Wiring
Constant 12V+ Orange
Switched 12V+ Yellow
Ground Black
Illumination Gray
Dimmer Brown
Antenna Trigger Pink
Front Speakers 4" x 6" Dash
Left Front (+) Tan
Left Front (-) Gray
Right Front (+) Light Green
Right Front (-) Dark Green
Rear Speakers 6" x 9" Rear Deck
Left Rear (+) Brown
Left Rear (-) Yellow
Right Rear (+) Dark Blue
Right Rear (-) Light Blue
http://www.the12volt.com/installbay/...etail/430.html
Amazon seems to have all I need incl the posi-loc. I have never seen them over here. Now the hunt to the stereo starts...
---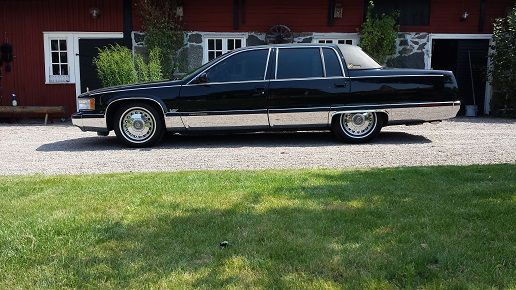 1996 Fleetwood Brougham "Polly"
http://www.garaget.org/?car=359296
Posting Rules

You may not post new threads

You may not post replies

You may not post attachments

You may not edit your posts

---

HTML code is Off

---