Where are these damn mice getting into my HVAC from?
---
Like the title says, where are they getting in?

1995 Fleetwood.

I've pulled the blower and cleaned crap out of it 2x in the last week. Today, whatever acorns and stuff were in there managed to break a couple of fan blades.

I'd love to cover the opening with some mesh or screen or something, so this doesn't happen to the new blower I'm installing right now.

Thanks!
The fresh air vent under the cowl?
---
______________________________________________
96 BBB Impala SS - Stock with bolt-ons 12.82 @ 106
96 DGGM Impala SS - 496 BBC 10.13 @ 134 all natural, 9.69 @ 143 on the gun
Quote:
The fresh air vent under the cowl?
Didn't know there was an inlet there. I'll look.
I've looked all around, all I see is the drain tube for the condenser.

The inlet on top of the cowl looks to be pretty sealed up, with some mesh between the plastic grates.

Any thoughts guys?
Senior Member
Join Date: Jun 2011
Location: Dayton , Ohio
Posts: 6,722
Where are these damn mice getting into my HVAC from?
---
There's another opening into that area from the bottom/side. You may have to remove the inner fender to access it though. Many install a screen across the cabin opening. I've mounted a cabin air filter there which should keep varmits out as well as clean the air.
---
Winner 2001 Road Course (prep. class) Detroit,MI
Winner 2006 Drag race (SS class) Indianapolis,IN
Quickest event reaction time .013sec. (final-round)
Class Winner 2014 Charlotte,NC. 2016 NOLA car shows
Winner 2019 Road Course (prep.class) Pittsbugh,PA
Don't look for a small hole. It is big enough a cat could get in there if it wanted, or so it seems.

1slow96, how do you keep the cabin filter from getting saturated, clogged, and stinky/mildewed?
---
Jonathan
96 Impala SS, DGGM, 2nd owner, 101k miles, #39736 of 41934, Build Date 22 November 1996
96 Caprice Civi L99, bought it new for my Uncle, recently re-acquired
92 Honda Accord 2 door, 353k miles, daily driver
06 Honda Accord 4 door, wife's car
06 GMC K2500 CCSB, 6.6 Duramax/Allison
84 Chevy K10 regular cab, SWB, 305 w/4 spd granny, family truck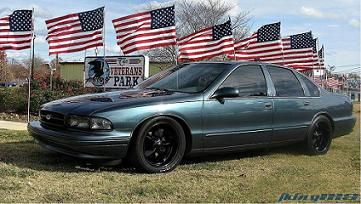 I'll start digging now. Thanks for the direction.
Here's the latest little bastard, I suppose I should be grateful he didn't get shredded and stink everything up.
What a way to go, it's like the Gravitron on steroids...
I understand.
---
Last edited by jking1118; 09-25-2014 at

04:41 PM

.
I installed one of the filter kits on my car. If you don't want to do that, you could just take the metal screen off an air filter and put the screen over the opening. I read somewhere where someone had "sandwiched the screen between the cowl and the air box but that seems like a lot of work.
---
================================================== =============


'95 Caprice SS conversion - Bonny Buckets - 96 Column, Shifter and Console - 3.73 Gear and Herter tune - Z/28 Cluster - Blazer OH Console - Green/Pink bushings - Chromed Impala Wheels - Eibach Springs and Bilstein Shocks - Corvette Engine Dress - the list goes on and still more to do...it never ends.
Posting Rules

You may not post new threads

You may not post replies

You may not post attachments

You may not edit your posts

---

HTML code is Off

---