Finally pics of my Cadi Flower car
---
---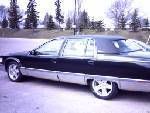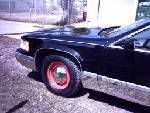 1994 Fleetwood sold in 2005
1996 Fleetwood Brougham from Fred, CAI, 2.5" x-pipe w Flowtech Warlocks, 1.6 crane rr, beehive springs, Alex pcm w Lt4 KM, 18x8 235/50/18's - wrecked
1995 Fleetwood limo rusted, recycled
1995 Fleetwood, (for sale)
1994 Fleetwood Flower car
2005 Triumph Rocket III 2300cc
Cool! I didn't know you had grabbed that. Stop in next time you're out my way.
---
Old cars, just like classic rock... 60s, 70s, 80s, and 90s!
Senior Member
Join Date: Feb 2009
Location: Winnipeg MB Canada
Posts: 354
Wow I didn't even know these existed, too cool!
It's like an El Cadimino, or a Cadchero!
Quote:
Wow I didn't even know these existed, too cool!
It's like an El Cadimino, or a Cadchero!
Was thinking the same thing.....Cadi Camino, but forget the Ran"Chero", that's a Ford.
But that is a cool looking and different car. The 5 Star wheels give it a completely different look and looks good. Reminds me of the Impala/Camino that I saw at Carlisle many years back. Think that was a Hendrick car.
---
================================================== =============


'95 Caprice SS conversion - Bonny Buckets - 96 Column, Shifter and Console - 3.73 Gear and Herter tune - Z/28 Cluster - Blazer OH Console - Green/Pink bushings - Chromed Impala Wheels - Eibach Springs and Bilstein Shocks - Corvette Engine Dress - the list goes on and still more to do...it never ends.
Senior Member
Join Date: Jan 2001
Location: St. Louis
Posts: 7,636
Quite nice looking near oem look. I've seen a couple that had somewhat cobbled up looking hardware and fitment.

Hey what was that show with the Chrysler Imperial pickup? Didn't it have a longhorn rack for hood ornament?
---
\'96SS SOB: SSRI, Herter Tune, Tri-Y II, , 3000 Edge, F/HO bars, METCO extendeds with CV MMC, Bilsteins, currently Vredestein Ultrac Sessanta (315/35 rear). Finally, wait for it... LT-4 knock module!
\'96FWB BUW-Butt Ugly White: PCMPerformance tune, HDFA w/ swissed filter, 1/2 SLP s.s. catback with H- and Flow Super 50s, oem opti rebuilt 3 times, SS Bars, METCO LCA, Airlift 1000, Monroe SS, PowerTrax No-Slip, CTS wheels with +1 rubber. Finally, yes again... LT-4 knock module!
The rear door lower panels look a little odd, not being blended into the body. The concept is interesting, and must turn some heads.
---
1991 OCC 461 (.030 over 454) BBC, 3.23 posi, flash to pass, drop spindles & springs, Impala rims, Hydroboost, Recaros, MOMO/wood SW w/QR, custom wood shift knob, Pioneer DEH P77DH
1992 OCC now with 5.7 tbi, DEH P77DH
For a parts list, check
https://www.impalassforum.com/vBulle...ion-parts.html
It was sold like that new as a funeral flower car. I have no confirmation but I was told there was about 40 built in 1994, many less than there was funeral coaches. When they quit making the 2 door Deville's in the 80's, they now make them with the 4 doors. Since there is no trunk, the former back seat is now where the groceries or whatever else I take in the car have to go.
---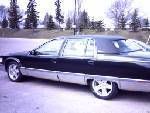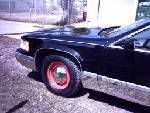 1994 Fleetwood sold in 2005
1996 Fleetwood Brougham from Fred, CAI, 2.5" x-pipe w Flowtech Warlocks, 1.6 crane rr, beehive springs, Alex pcm w Lt4 KM, 18x8 235/50/18's - wrecked
1995 Fleetwood limo rusted, recycled
1995 Fleetwood, (for sale)
1994 Fleetwood Flower car
2005 Triumph Rocket III 2300cc
Way cool. Flower cars rock.
---
Neil P.
1996 Federal hearse. CAI, Delphi 3.5 MAF, Aluminum elbow, airfoil, coolant bypass mod, 36lbs injectors, LE 223/231 110 LSA cam, Trickflow pushrods, Comp Cams rocker studs, Lunati 1.6 roller rockers,double spring kit and lifters, F-body heads, Cometic MLS .027 head gasket, Hooker headers, Cloyes timing chain, PowerBond balancer, EGR, air pump and AC delete. Solomon tune. CPT Pro-Race trans, 9.5 inch 3200 stall converter, 9.5 inch 14 bolt rear, 4.10 gear and TruTrac helix gear diff
I'd love to see the storage space in the rear door area. I need one of those now!
---
1995 BMW M3, 1972 Buick Skylark, 1979 Chevy stepside 4x4,1979 Chrysler 300,1968 Cadillac Eldorado,1971 Cadillac Eldorado convertible,1978 Cadillac Eldorado T-top,1984 Cadillac Eldorado convert,1985 Cadillac Cimarron,1993 Cadillac Fleetwood, 1996 Cadillac Fleetwood Hearse,1998 Cadillac Eldorado,1970 Ford Country Squire wagon,1978 Lincoln TownCoupe,1998 Lincoln Mark VIII, 2000 Lincoln LS,1991 Mercedes 500 SEL,1969 Mercury Marauder x100,1989 Nissan 300zx,and 1988 Plymouth Colt Vista.
Way cool.I see hot chicks in a rolling jacuzzi......just sayin.
Posting Rules

You may not post new threads

You may not post replies

You may not post attachments

You may not edit your posts

---

HTML code is Off

---