The FLEETWOOD plus size wheel thread
---
It just occurred to me that the wood section doesn't have a single sticky. I would like this compilation thread to be one... but first we need contributions.

The reason i ask for only larger than stock is because if you want to see smaller you can just go to cusstom.com and look at about a billion spoked lowriders. That and i'm sure we've all seen stockers. I don't care how long this takes, i do realize traffic here is slow but it's all us fleetwood lovers got! So even if you've already posted your pics, post em again here and make this a good sticky! and no links that are going to be dead in the near future damnit lol

ready set go. and please atleast put a number referring to the wheel diameter. if u want to list the wheel/tire specs even better.
XLR 18s mmm
18" Monterey Evolution
22" Boss 304 (i think)
---
Last edited by CustomCaddys; 11-07-2010 at

03:28 AM

.
fleetwood
---
These will be on my car this summer,,in my garage for now 22 asanti af124
---
96 Fleet LTx ..CPT level 3 4l60,edge 3000,3.73 ,eaton,bilstiens,spohn f&r sways,lca\'s ,cia headers ,Delteq MSD *** 4,noair pump,cat,egr,pcm forless obd1 conversion,ramit cai,x pipe,borlas,mooged,ssbc calipers and rotors,walbro,asanti 22 staggered af 124 ,riv console,garys cables,prtd LT4 int ,396 lunatti crank,ross pistons coated,AFR rev kit......
be sure to post pics up busa!
18" Oz Nova (one of my fav cars)
---
Last edited by CustomCaddys; 11-07-2010 at

11:13 AM

.
17" chrome impala wheels
Some tech info: You can go pretty big on a fleetwood as long as you arent scared to modify your skirt retention hardware, and keep your offsets between +10 and +18 for up to 10" wide wheels.

Not uncommon to see 22's and 24's tuck right under a 'wood. It's late tonight, but I'll go through and pull some fleetwoods out of the rockford thread in the wheel section later.

Unless someone wants to beat me to it.
---
_______________________
My S10 gave its life to bring me back home to a B body!
91 Caprice with 108, 800 miles!
Almost every wheel and tire can be answered by clicking here!
thanks for the suggestion Fire.. i'm through the first 20 pages so far. found 1 with escalade 22s and a big lifted purple thing lol.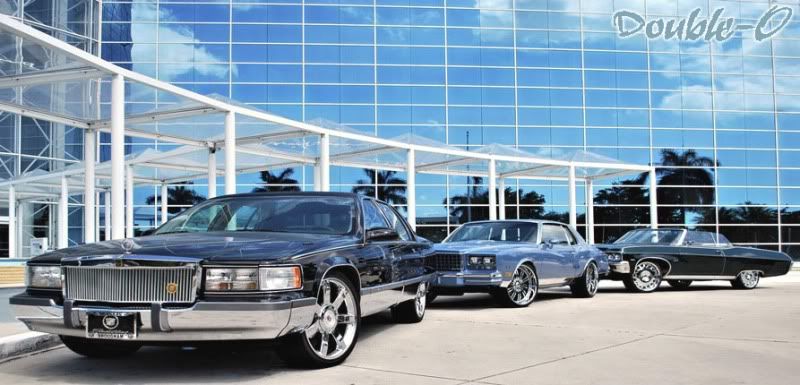 through pg 30
mystery 22s?
Posting Rules

You may not post new threads

You may not post replies

You may not post attachments

You may not edit your posts

---

HTML code is Off

---