Replacing all underhood non-cooling hoses
---
If you still have your OEM under hood vacuum and emissions hoses, you may want to consider replacing them with this silicone hose kit. I found the set on eBay some time back and have changed over the hoses on the Fleetwoods and Roadmaster wagon. No vacuum leaks anymore.
For proper hose clamps which will not damage these hoses, and are superior to the used factory clamps on the 9C1 hoses we find for sale, I found what I needed at West Marine. If you have a store locally go and look at the clamps. They are not often in stock as folks are too cheap to buy the smooth clamps.
If you have the Corvette dress kit, they will provide the longer brake vacuum hose at no extra cost, if you ask. Installaltion is simple with the hoses clearly labeled and a photo reference installation guide. Well thought out and a good product in my opinion.
Ran across the set, still available on eBay, the other night, so thought I'd share in case anyone is interested. Here is the auction info…
LT1 94-97 Silicone Vacuum Set, Cadillac Fleetwood, Buick Roadmaster,
Impala SS, Caprice 9C1. Custom Fit, Made in the USA.
Auction:
261014662842
Link:
http://www.ebay.com/itm/261014662842?ssPageName=STRK:MEWAX:IT&_trksid=p398 4.m1423.l2648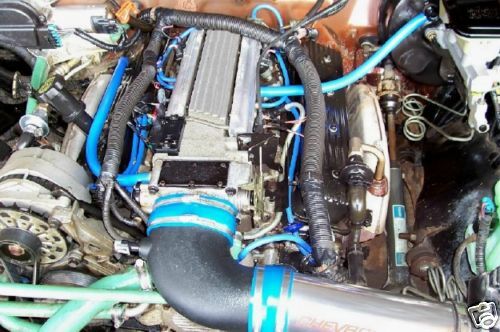 If you buy, tell them you read about the set on the impalassforum.
Richard Snipes
4501 Safari in Jax, FL
---
So many projects, so little time, so little money...jist hope ta improve..
---
Last edited by 4501 Safari; 05-30-2012 at

10:23 AM

. Reason: additional information...
That's not a bad price for all the vacuum lines on the motor, you would probaly pay more for the rubber ones at a dealer or auto parts store.
---
94 DCM FWB V4P w/ sunroof
Intake, Exhaust, 280 XFI, NSA 1.5rr w/ Bullet Vs2700 Springs, Built 643 heads/intake, L67 32.2lb Injectors, Mild Trans, Edge 3600, SS Springs, Belltech Drop Shocks
Wrecked.......
94 DGGM Z28 M6
1962 Imperial Crown 4 door hardtop
Senior Member
Join Date: Sep 2004
Location: Sonoma County, California
Posts: 1,026
iF YOUR IN A "SMOG TEST" state, consider black colored hoses. Some Smog Techs get nervous when they see bright colored stuff.
---
God Bless America!

1996 Impala SS DCM

1996 Impala SS BBB

1995 Buick Roadmaster Sedan

2014 Chevrolet VOLT
2016 Chevrolet Cruze
(SOLD) 2001 MagRed Corvette Coupe
1986 Corvette Coupe
2000 Ford Excursion 4x4 7.3 Diesel
1979 \"Bandit\" TransAm 403/at
1988 Lincoln Mark VII LSC
1986 Ford F250 6.9 Diesel 4x4
I have the blue ones installed on my caddy and bought a set of black ones for when I get my caprice goin. Everything just as Richard stated. Great product.
---
77 Chevy Caprice Classic
80 Chevy Caprice
81 Buick LeSabre Coupe
84 Chevy El Camino Conquista
94 Buick Roadmaster Sedan
07 Cadillac CTS
I bought a set from the same guy about a month ago. I bought them in red and decided I wanted the blue instead. He had no problem with switching kits and he's very fast with his replies. Great guy!
---
Winning a race in a Vette with you and a buddy is awesome. Winning a race in an Impala with you and 3 other friends is BADASS

94 SS Borla shorties, Eaton posi 3.73 gears, Spohn Performance sway bar, Energy Suspension body bushings and end links, Bilstein HD shocks, Eibach springs, Inland Empire 3.5" DS, Gary's Battery cables, K&N intake, EGR delete, B&M tranny cooler with radiator bypassed, 160 degree T-stat
No fitment issues...
---
Just to add an additional two cents...there are NO fitment issues with the hoses in the set. The tubing walls are thick and will not collapse. They make a 90 degree bent without a problem. Probably the best money I've spent on the cars. Truly a case of do it once and forget it. This is one of the few products I feel like is a worthy investment.

Searching for the correct clamps is worth the trouble. Do it right. Do it once.

Now if I could just afford the Samco cooling system silicone hose set in black! I think black hoses are great, not only for the OEM appearance, but only the savvy viewer will catch they are silicone.

As noted, the seller is really a good guy.

Richard Snipes
4501 Safari in Jax, FL
---
So many projects, so little time, so little money...jist hope ta improve..
Are these still available anywhere? I e-mailed the seller of the kits in the Bay link, but the last auction was in 2012 and I don't see these kits or anything similar on eBay.

I am pulling the intake on my '95 Roadmaster and want to replace all the old (and very cracked) vacuum lines while I am in there.
Senior Member
Join Date: Aug 2010
Location: Spartanburg SC
Posts: 176
Thanks for the reply. Yes, that is him. I e-mailed him a couple nights ago and very soon after his new auctions appeared on eBay. He told me that he has been away for a while so not creating new listings, but will be shipping again in early August.
I picked up a set in gloss black; I'm glad he's around because I have no desire to buy expensive NOS parts or take measurements and use bulk hose and fittings.
Definitely nice hose sets. I installed 2 sets on my Fleetwoods last year and have had no issues, except some minor discoloring of 1 or 2 hot spots in probably 40k miles or so on the one car. Those hoses were blue, and you'd probably never notice on black. Overall they've held up great.
---
1994 Cadillac Fleetwood Brougham (Light Adriatic Metallic) - 2 ProHopper pumps, 6 batteries, 13" 100 spokes, Firestone FR380, Edelbrock headers, Flowmaster, Magnaflow cats, K&N, Taylor, NGK...

1994 Cadillac Fleetwood (Medium Taupe Metallic) - sewer pipe, K&N, Hotchkis springs, KYB shocks, SS sway bars, SS rims, TransGo, DynoMax, Taylor, NGK, RM climate control, MP3...

2011 Buick Regal CXL (Silver Dust Metallic) - 2.0T 6-speed
Posting Rules

You may not post new threads

You may not post replies

You may not post attachments

You may not edit your posts

---

HTML code is Off

---