1995 fts-v :)
---
proud owner of two Fleetwoods, one black on black 1996 and a white 1995 Brougham, planning on making the 95 a little faster.
Just put a new optispark, WP, wires and plugs on it, bypassed TB, descreened the MAF, K&N cold air intake, cleaned the TB to have a good baseline.
car is near mint and runs VERY strong
It's probably been discused a million times here but i'm having trouble
to find Fleetwood specific threads, what would be the next mod?
I was thinking a set of shortie BBk headers, and 1.6 RR's, but read a lot
of iinfo that it's not just worth it. i've had tons of LT1 powered camaros, caprices, impalas, but recently found these two Fleetwoods wich are my favorites, (I live in Sweden so slim pickins)
I just want the car to run at it's peak, not afraid to swap heads / cam /intake etc since I work on my cars myself, what would be a good next step?
thanks for reading
---
1996 DCM SS on N2O
1996 Fleetwood BBB
1995 Fleetwood Brougham White
1994 Fleetwood Brougham Blue
1992 Sedan Deville Burgundy
1967 Fleetwood Eldorado
2008 Crown Vic Police
Din lyckos, jag har letat i månader efter en Fleetwood både i Sverige och USA! Sälja din svarta till mig?
---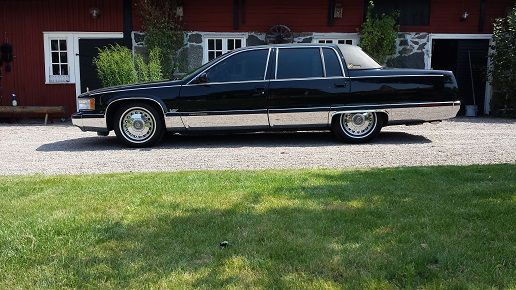 1996 Fleetwood Brougham "Polly"
http://www.garaget.org/?car=359296
Anything that's good for a Caprice or Roadmaster is good for a Fleetwood, too. Decide how far you want to go and how much you want to spend and start scouring build threads for any of the 94-up B/D bodies.
With that said; long tubes or don't bother.
---
Do not go gentle into that good night.
rage, rage against the dying of the light!

---
96 Impala SS BBB 104k (TOTALED)
96 Impala SS DGGM 63k -T56, 6.0 LSx 4.11's, PPM Springs on 285/40 Nittos
446RWHP/427RWTQ
ok, I'll look into this, meanwhile here's a pic of my 67 & 96
---
1996 DCM SS on N2O
1996 Fleetwood BBB
1995 Fleetwood Brougham White
1994 Fleetwood Brougham Blue
1992 Sedan Deville Burgundy
1967 Fleetwood Eldorado
2008 Crown Vic Police
Senior Member
Join Date: Dec 2004
Location: Pearland, Texas
Posts: 586
Nice Eldo!! Are you in the CLC?

Amongst our stable of vehicles, we also have a 68 Calais and 79 Seville.
---
Gene Beaird
95 DGGM SSSS, HAIL
96 BBB SSSS, HAIL 'WarPig'
2012 9C1 Caprice (my DD)
2010 Tahoe PPV (her DD)
92 B4C 1LE Camaro
85 Firebird, SCCA CP Solo II - 310 cu. in. LS1/TH350/Moser 9"
95 381 LT4/6SP Z28 Vert - 405 RWHP (Her Car)
Pearland, Texas
bought another Brougham, a blue 1994 so now I have one of
each year of the LT1
---
1996 DCM SS on N2O
1996 Fleetwood BBB
1995 Fleetwood Brougham White
1994 Fleetwood Brougham Blue
1992 Sedan Deville Burgundy
1967 Fleetwood Eldorado
2008 Crown Vic Police
Posting Rules

You may not post new threads

You may not post replies

You may not post attachments

You may not edit your posts

---

HTML code is Off

---