Zaino GP?
---
I know we are heading into the winter, But is anyone intrested in a Zaino GP? I have yet to talk to Kevin but I am curious if there is any intrest in starting one up.
As long as he ships to Alaska
---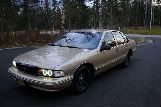 '96 Caprice LT1
48K Miles
1 of 2 made w/ option list, K&N Cold air, Custom tune by Bryan
'03 Ram 3500 dually QC Laramie Sport 4x4 w/built 47 series trans w/custom BD VB and TC, Cummins B series ,Volant Cold air kit/Ram air,Smarty S-06 POD,AirDog lift pump,Centramatic Balancers,FS-2500 By-pass filter system.SpynTec Free Spin Hubs
Senior Member
Join Date: Oct 2002
Location: Tacoma, WA
Posts: 887
I would be in
---
2006 TBSS
1996 Impala SS
---
"I prefer the tumult of liberty to the quiet of servitude."
Thomas Jefferson to James Madison, 1787
2002/3/4/5 Award Winner - Lake Mirror Classic
Web page:
http://www.cardomain.com/id/uwsacf
2009 BBB Lincoln Town Car
2007 BBB MSRT8 - The Phantom
2003 BBB Crown Vic Sport
1996 BBB Impala SS - The Shadow
1972 Chrysler Newport
Any money back guarantees. I've been a happy Zymol DeCarbon user for years.
---
Eric Seaman
1994 Caprice Wagon "Moby Dick"
1996 Impala SS 383
[email protected]
CC503 with 3.73's.
1.52 60' on drag radials
"Fastest NA 383 3.73 equipped car on the board"
ISSCA Member #2517
Zymol is great, but you won't need the money back guarantee. Zaino is a different finish from Zymol, but just as nice. On black, Zaino is better, IMO.
---
Martin
Corona, out by the coyotes, CA
96 BBB
Senior Member
Join Date: Jul 2008
Location: CO: 75°F (late April) day 1 / Tornadoes day 2 / Snow day 3 / 65°F day 4
Posts: 252
I'm interested in a GP.

What products would I need for a DCM and for a DGGM? And what quantity for about 4 times a year each?
i would be in
---

96 $$ BBB 68xxx Mile$ Few Mods
2005 CBR 600RR Red/Black Few Mods
2007 BMW 335i black/red Coupe 6 Speed




Posting Rules

You may not post new threads

You may not post replies

You may not post attachments

You may not edit your posts

---

HTML code is Off

---