Gary/Innovative Wiring Group Buy?
---
Are many of you planning on buying Gary's cables anytime soon? I am buying his battery cables and headlight harness no matter what; I want to install them during my March vacation. I figured I'd see if there was enough interest for a group buy.

Thanks for reading.
---
Last edited by DCM95RMW; 01-25-2014 at

09:04 AM

.
Member
Join Date: Jan 2010
Location: Staten Island, NY
Posts: 48
I'm in if we get enough people....
---
96 Impala SS BBB - Original Owner Custom Modified - Lost to Hurricane Sandy on 10/29/2012
96 Impala SS BBB - Purchased 12/23/12 with 38K on odometer
67 Impala SS - Custom Modified
Small vendor
Join Date: Aug 2002
Location: Kansas City, MO.
Posts: 3,589
I'm interested in another headlight harness.
---
'94 Jadestone Metallic RMW
I'd be in for a headlight harness.
---
Jason
1996 Roadmaster Wagon
1995 Caprice Wagon
Senior Member
Join Date: Sep 2011
Location: Dallas, TX
Posts: 289
I'm down for headlight harness
Headlight harness for me too
---
1972 Camaro RS/SS
1975 Caprice Classic convertible
1996 BBB Impala SS
1987 Caprice Classic (box Chevy)
It looks like there might be enough folks interested to start getting some traction on this, so I just e-mailed Gary for some details.

Which headlight harness are you guys getting? I have read that the two-relay is good enough, but part of me just wants to go for broke and get the four-way so there is no question that each of my bulbs will always have as much power as possible.
I need another set of battery cables and a MAF extension harness..so I would be in too.
---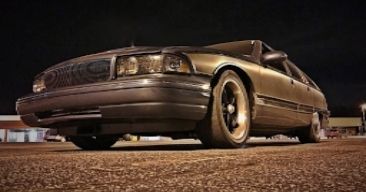 *
1995 Jadestone Limited RMW
<--- Click For Pics
CarISSMA Club Member / ISSCA #2027
Small vendor
Join Date: Aug 2002
Location: Kansas City, MO.
Posts: 3,589
2 relay for me.
---
'94 Jadestone Metallic RMW
Posting Rules

You may not post new threads

You may not post replies

You may not post attachments

You may not edit your posts

---

HTML code is Off

---