96 SS COLUMN AND BLAZER SHIFTER SWAP INTO 96 9c1
---
Can't seem to find any post with the exact writeup or diagram on how to wire the btsi and neutral safety switch. Can someone help me out? I appreciate it.
I did not want want to keep the stock column as I don't want a twisting column while I'm using the shifter I wanted more of a stock look.
Sent from
AutoGuide.com Free App
---
96 9c1 LS
X
Swap in the works
Quote:
Originally Posted by Z09B4U
I have the same questions but can not post. New member problem?

From what I have found the problem is the two very different designs of the car/truck.

The Jimmy has a switch on the transmission's shifter shaft. I would need to look at a factory manual to be sure, but I do not think it has park/neutral and reverse switches. The forum has one post that says that you can switch to the longer shaft and add the switch. I think these switches are for the PCM and would not help us with a swap

The other way is to add switches to the shifter or the transmission for park/neutral and reverse. Park is easy as it is at the end of the shift gate. Neutral and reverse are hard because they are close to each other. Tinkering with mechanical, proximity, or light activated switches at the shifter are my best guess.

The caprice pnp switch in the column does three things. It sends a ground signal to the PCM in park/neutral to set the correct Idle. It sends a separate signal (crank fuse)to the start motor theft deterrent relay to allow only starts in park/neutral.(All caprices had factory VATS)
A separate switch in the pnp does reverse.

The floor shift interlock is a two part. Ignition power unlocks the first one and power off from the cruise switch(backwards from the brake) will then allow a shift.

Please post the above to your thread.

I have programed a Arduino computer to sense the shift position with a throttle sensor. I have not put it on the car yet and do not want to suggest this until I have had it working for some time.
New member with info that couldnt post
This is info that I received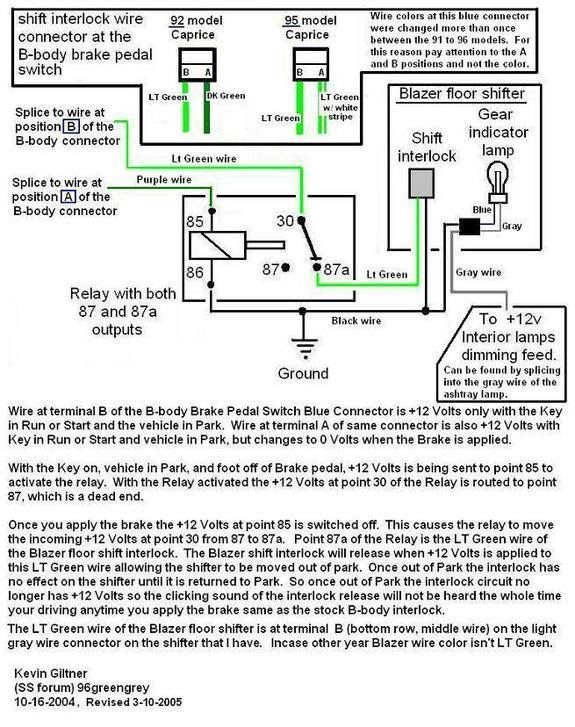 ---
96 9c1 LS
X
Swap in the works
Good instal pictures
---
If you are looking for how to pictures I think there are some good ones with Mike (96dream55?) doing the work. ImpaladaKid may be the poster.
For the cable route I think WindSSurfer posted some pictures.
The relay is good if you do not have the cruise switch (9c1?)
http://www.goldsswagon.com/diagrams/wiringindex.htm
has the passkey diagrams for the park/neutral switch. I have the factory manuals but his color diagrams are better!
---
Z09B4U