New dash gauge option
---
Looks like Dakota Digital has rolled out a new option for our cars. Looks really clean, and with the add-on modules, you can get the center-readout to show some cool stuff. $850 - that's a lot of coin.
1994- 96 Chevy Caprice/ Impala SS VHX Instruments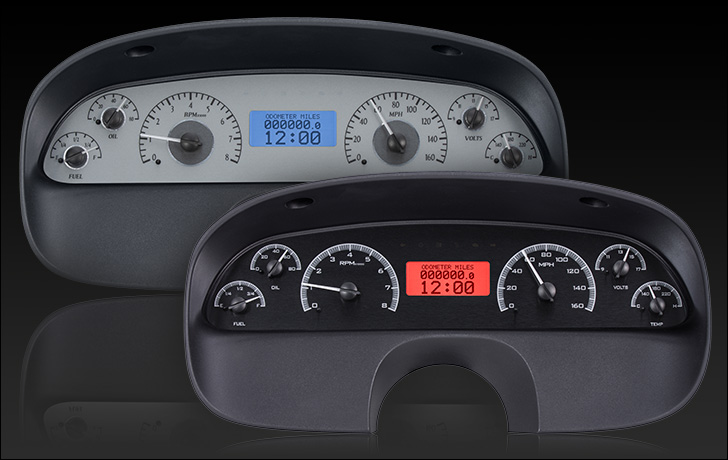 ---
1995 Caprice
ERE 383
, CIA long tubes, Dynomax VT's, RAISS, Kore3/Z06 brakes, 3.42 posi, Boss 338 20's, 12 way seats, Impala SS console, etc etc etc
Senior Member
Join Date: Jan 2001
Location: St. Louis
Posts: 7,686
Interesting
---
Interesting. And in all fairness it does say, "Only" $850 hahaha But except for the odo our dashes are not prone to breaking. So the first thing jumped out is while these look neat it would automatically prompt a batch of other dash updates to match case. And hence even "only" more $$$. IDK what the Camaro IP mod runs, but appears attractive and closer fit to oem style.
---
\'96SS SOB: SSRI, Herter Tune, Tri-Y II, , 3000 Edge, F/HO bars, METCO extendeds with CV MMC, Bilsteins, currently Vredestein Ultrac Sessanta (315/35 rear). Finally, wait for it... LT-4 knock module!
\'96FWB BUW-Butt Ugly White: PCMPerformance tune, HDFA w/ swissed filter, 1/2 SLP s.s. catback with H- and Flow Super 50s, oem opti rebuilt 3 times, SS Bars, METCO LCA, Airlift 1000, Monroe SS, PowerTrax No-Slip, CTS wheels with +1 rubber. Finally, yes again... LT-4 knock module!
why?
---
They do look cool and offer some options but the "only $850"
part is making me love my Z-Cluster conversion even more. Not sure if this new cluster is PnP either.
The 1 thing that really bothers me is that HUGE LCD Display stuck in the middle like that. Whhhhhyyyy!? I got rid of that when I replaced my Stock Cluster.
IMHHO - They should have made the LCD smaller with just Odie and Trip (no clock) then move it lower and center the speedo and tach together more.
---
================================================== =============


'95 Caprice SS conversion - Bonny Buckets - 96 Column, Shifter and Console - 3.73 Gear and Herter tune - Z/28 Cluster - Blazer OH Console - Green/Pink bushings - Chromed Impala Wheels - Eibach Springs and Bilstein Shocks - Corvette Engine Dress - the list goes on and still more to do...it never ends.
I'm probably getting this for my car. I feel like it's the perfect end cap to compliment the new drivetrain and modernize the interior a bit. It'll also work well with my stand alone harness as I won't have to fuss around with making the factory cluster work.

It is pretty pricey, and 4door, the first thing I thought when I saw it was why don't you get something better than the lame mid 2000's style LCD display in the center for that price. I really figured for 850 they could have added a digital display like on newer cars. The gauge portion of it looks beautiful though.

Again, cost sucks, but if you think about it you are adding an accurate coolant temp gauge and oil pressure gauge, it isn't just piggybacking off the factory senders. That's something I wouldn't do without on a built motor,, and you can pay $100 each for nice gauges, so for me I'm only paying another $650 for the cluster. Still steep, but not as bad when you look at it that way.
---
Last edited by SSandman; 12-04-2018 at

10:57 AM

.
I have a quote from a retailer for $765 shipped, so there are some deals to be had. I am seriously considering them myself (black face/white LED) since I don't really like the a-pillar pod, and I'm re-doing the interior anyway...
---
1995 Caprice
ERE 383
, CIA long tubes, Dynomax VT's, RAISS, Kore3/Z06 brakes, 3.42 posi, Boss 338 20's, 12 way seats, Impala SS console, etc etc etc
Posting Rules

You may not post new threads

You may not post replies

You may not post attachments

You may not edit your posts

---

HTML code is Off

---