R12 AC System Redux w/ R12 Substitute
---
1992 Caprice Wagon
The case seals on my R4 compressor were doing what case seals on an R4 compressor do best: Leak. So after 3 years of flawless performance, I decided it was time to do an overhaul.
An R134 conversion was off of the table. I have never done of these before. I have owned cars that had them done, and they positively sucked in South Florida heat/humidity, and performed better once converted back to R12 spec with R12 Substitute.
Substitute of choice? Envirosafe ES12 Industrial R12 substitute. Although a lot of people dump on propane-based R12 substitutes, I have been using this for years. The complete refrigerant package is not a whole lot more flammable than R134 itself is. When my old ES12 charged BMW was wrecked due a drunk driver years ago, my condenser was obliterated along with the first 3 feet of my car. No fire, no explosion.
Parts? Advance/Toughone New compressor with Lifetime Warranty, suction/discharge hoses/manifold, variable orifice tube, Envirosafe oil, new o-rings, and rubber suction line insulation. I also added R134 style screw-on ports so I can charge/read the system using my R134 manifold set. I also replace the high-pressure cutout switch with a switch that turns on an electric fan at 275 psi high-side, and cuts out at 210 psi. I haven't added the fan yet, but I will. Being what it is, the system pretty much never sees that kind of pressure, so maybe completely unnecessary, other than for safety.
I did not flush the system, as the compressor never had any problem with its hard parts, and the whole system was clean as a whistle when I opened it up. GM itself recommended against flushing these systems back in the day, preferring to install filters instead. I did neither, since the system was clean.
I did not install any fancy new condenser, as every parallel flow or piccolo parallel flow condenser I came across was half of the thickness of the factory one. There's no way parallel flow is so efficient that it can make up for being half of the size.
6 oz. of ES12 is equivalent to 18 oz. of R12, and 3 6 oz. cans certainly did fill my 3.4 lb. system to nominal pressures @1200 rpm with a blower fan blowing on the condenser.
I covered the metal parts of the suction line, and the evaporator line at and beyond the orifice tube with rubber insulation made for home AC suction lines. If they use them on home suction lines exposed to ambient temps, then I should definitely use it on a system exposed to 150F underhood temps. I snatched an accumulator/drier insulation jacket from a Suburban to use on my accumulator.
Results? Even when the sun is beating its hardest through the untinted windows of my wagon, the cold is absolutely offensive. It's practically racist. *:lol: *Vent temps are about 48 degrees at a dead standstill 98F/90% humidity, and drops into the bottom of the 40's when moving. Max AC must be used conservatively. It takes only a few minutes for the drain to form a large puddle under the wagon, and leave a stream running across the street.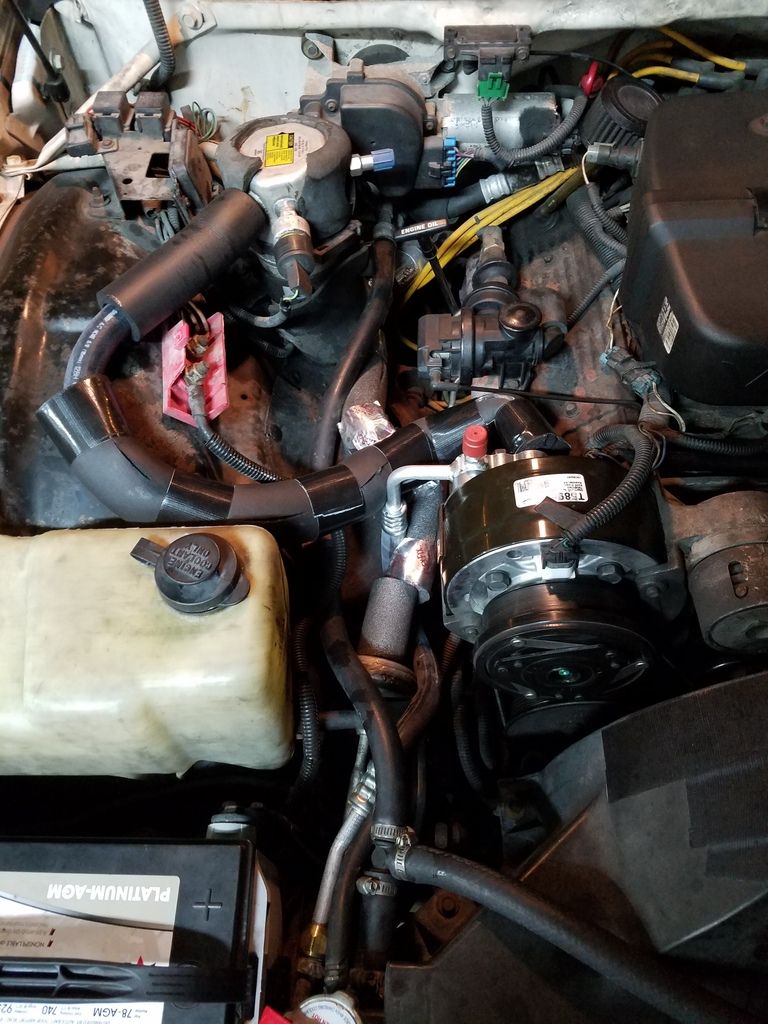 I'm going to be working on having a friend of mine fabricate a double-row parallel flow condenser, using two of the too-thin units that they sell for our 91-93 cars. At 1.4 inches total thickness, it will be very close to the 1 3/8" thickness of the factory condenser.
Overall, I'm very happy.
I did a r12 to R-134a conversion on the Custom Cruiser back in 2008, it took a few tries to get the charge perfect, If I put in about 2 lbs 12-14oz The vent temp is at highest 45* at idle, Once it gets going it or if the temp is a little less than however hot it is here, It will be in the low 40s or even touch into the 38-39 range. The charge amount is key, using a variable orifice valve helps out too. . I was going to see if a R-134a orifice valve out of a 94-6 car would fit (I think it will) if the variable orifice valve fails i will try it! I would not use the R-12 orifice valve on a converted system, I think that is one reason why the vent temp is higher on these 91-3 car after converting it to R-134a. . My reasoning for this is that my 94 truck has a serpentine condenser, same like what was used on the R-12 systems a year before but it is R-134a, it blows COLD and it has the same R4 compressor and the system is rather large at 2lbs If that system is as good as it is, Oh yea, it has the same ACD R-134a orifice valve that they used for 20 years in all their models. . A properly charged 91-3 caprice system can be pretty good converted to R-134, it just takes a few goes at it.

The first time I around I will admit the vent temp really sucked. Now it works better than most new cars . The downside in my case is that the car is dark blue on dark blue so it cooks here in the FL sun if it sits.

If I knew about the air can duster back then, I would of tried that instead of R-134a! It supposedly works great in old R-12 systems, its dirt cheap too but you need one of those old R-12 can pinches to get the gas out. .

On those new R4 compressors are a joke, A true hit or miss deal. I had my share leak from the shaft seal. Its easy to reseal it! All parts are junk today.


I think I am going to look for one of those accumulator covers! I wrapped some lines on my impala, no idea if it helps with the temp, but it couldn't hurt it

As for the condenser, I think a 94-6 Caprice condenser would fit in, The lines don't look that far off and it will be a parallel
---
Car still works MOD
---
Last edited by ghetto wagon; 07-11-2016 at

11:11 PM

.
The R134 converted systems are not automatic doom, but when sun load and humidity are hitting hard at the same time, they really just don't keep up as well as a system running ES12.

The higher head pressures of R134 are absolutely the last thing I want to throw at an R4 compressor as well.
Thought of that already. The 94-96 condensers are metric fittings. Won't work. Tube positioning is off as well.