Noise from a/c blower....? Need your help
---
Hi all. Just wanted to ask how to access the A/C blower in the Fleetwood? There is this noise coming from the glove box area when I turn the a/c on. Sounds as if the fan is hitting something (say a leaf, for example. Maybe hitting a piece of electrical tape
). It does not happen all the time. However, when it does happen this is what I notice: let's say the noise is there while driving or when I am at a full stop. If I take off quickly (accelerate) then it goes away. It also goes away when I make a turn. Is this related to the blower? Is it accessible after removing the glovebox in a Fleetwood? Having the A/C fixed now with all new components and would like to take care of this ASAP. Your feedback will be appreciated
Thanks
---
96 DCM Impala SS
96 Cadillac Fleetwood, Triple Black w/ Sunroof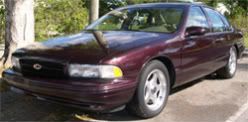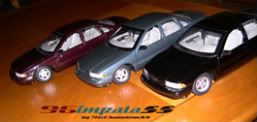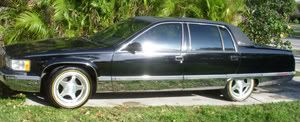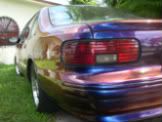 Senior Member
Join Date: Jan 2001
Location: St. Louis
Posts: 7,705
You won't need but the last pic here for reference to the orientation of 3 little screws you're hunting for, to drop the housing with motor and blower.
https://www.impalassforum.com/vBulle...wer-stays.html
To get at them you'll remove the kick panel, lower dash conceal and maybe the sill plate. All easy screws. The housing screws are gonna be 5.5, 6 or 7mm head, and you'll find as I have anything from a square block of foam, leaves, twigs, dead mice (lucky if no babies or too much poop). Lysol the whole thing and give motor 2 drops of 3-in-1. There's a little foam donut around the motor cooling tube - usually rotted or gone. Make up a new one to optimize volume/velocity.
---
\'96SS SOB: SSRI, Herter Tune, Tri-Y II, , 3000 Edge, F/HO bars, METCO extendeds with CV MMC, Bilsteins, currently Vredestein Ultrac Sessanta (315/35 rear). Finally, wait for it... LT-4 knock module!
\'96FWB BUW-Butt Ugly White: PCMPerformance tune, HDFA w/ swissed filter, 1/2 SLP s.s. catback with H- and Flow Super 50s, oem opti rebuilt 3 times, SS Bars, METCO LCA, Airlift 1000, Monroe SS, PowerTrax No-Slip, CTS wheels with +1 rubber. Finally, yes again... LT-4 knock module!
Thanks
---
Thanks 96 Black, I will tackle that this weekend
.
---
96 DCM Impala SS
96 Cadillac Fleetwood, Triple Black w/ Sunroof