Senior Member
Join Date: Jul 2014
Posts: 142
Fleetwood in dash tablet
---
I got the tablet mounted. Tasker app has it powering up when the usb port gets power and sleeping 15 seconds after power is removed. That needs tweaking, but good enough for now.
I am not sure how to hook it up to the factory speakers. Audio noob. Here is what I have.
http://www.crutchfield.com/p_161OVER..._plus&skipvs=T
http://www.crutchfield.com/p_161ACR1...rol-ACR-1.html
http://www.crutchfield.com/p_130GMA4....html?tp=35782
I know how to hook up the power, which wires are which in the trunk, etc.
3.5 mm adapter from tablet to rca jacks to the input of the line driver. rca jacks out to the amp. That's it, lol.
I need both a and b channels on the amp, correct? So I need an rca splitter? A and B is front and back?
Its the 6 factory speakers. Thanks for any help.
Here is a shot of the nexus 7 in the dash. Fits perfect.
wow, that's awesome...I might look into this...I was looking for a double din unit to get over the winter.
---
1996 Impala SS - 65K miles
CCW, Hotchkis, Magnaflow, Corbeau, Pioneer, Viper, Yakima, Personal, Lloyd Mats, etc.
Senior Member
Join Date: Jul 2014
Posts: 142
Quote:
wow, that's awesome...I might look into this...I was looking for a double din unit to get over the winter.
Thanks! When I bought the car it came with some alpine aftermarket head unit. Installed by the previous owner very poorly. Even had the radio bezel hacked to get it in. Open the glove box and the stereo would shut off. So I fixed all the wiring and started looking for a new bezel and stock head unit.
Then was trying to figure out where to put some gauges as the fleetwood has none. Started reading about the torque app for android and here we are now.
So now I will have gauges, navigation, and music player among anything else a tablet can do.
Shot of the gauges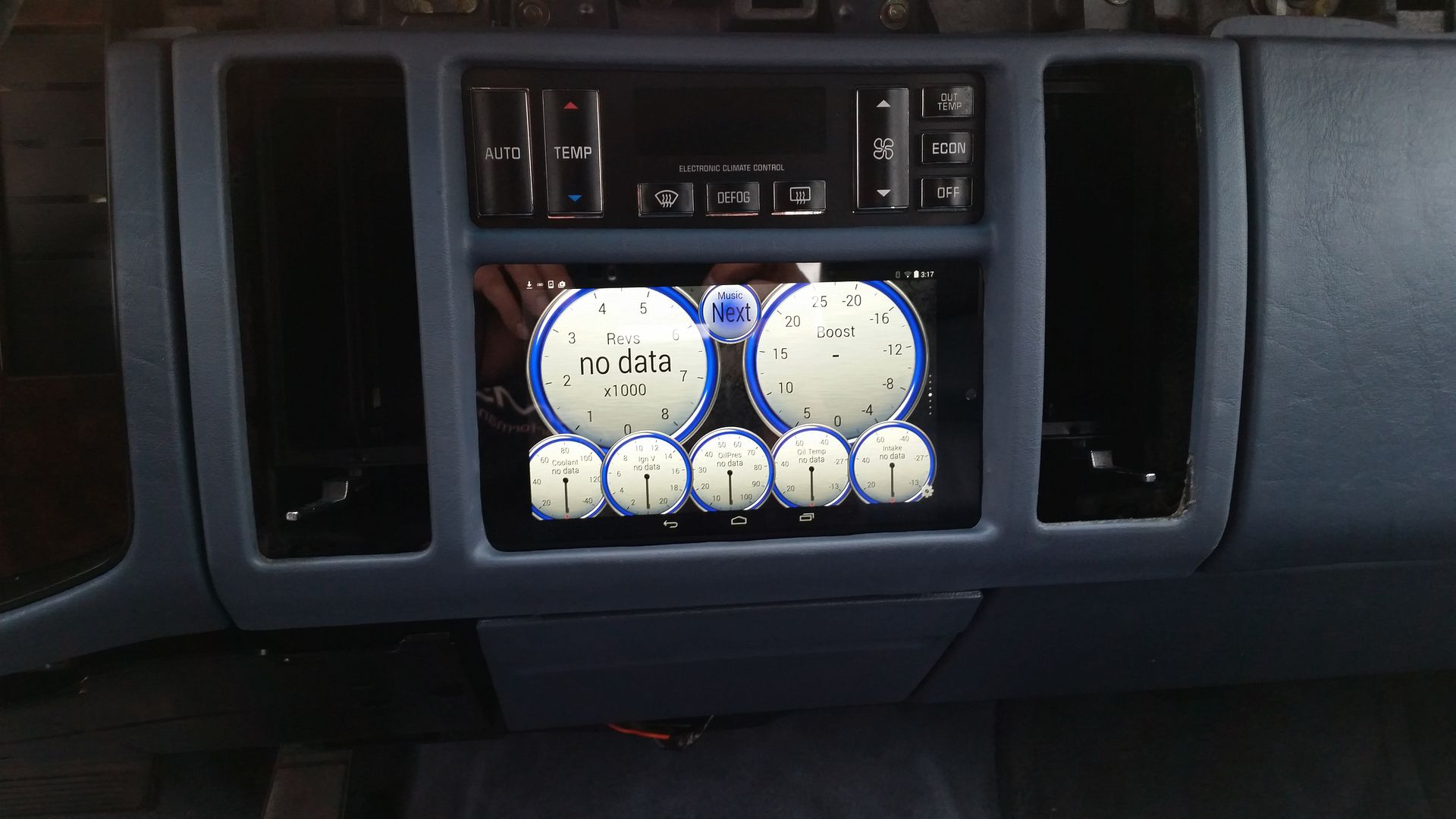 Back to the audio. So I temp hooked everything up. Like I thought I only have front speakers with the amp set on 4 channel. Move the rca cables to channel b and rear speakers only. Set the amp to 2 channel and have front and rear, but can only hear the front. So I do indeed need rca splitters to use both a and b channels so I can set the front and rear gains where I want them?
Senior Member
Join Date: Jul 2014
Posts: 142
I split the rca outputs at the line driver and it sounds pretty damn good. Looking at possibly adding a powered sub like the infinity basslink. How would that get hooked up? Split it again?
Senior Member
Join Date: Apr 2011
Location: Chandler, Az
Posts: 238
I am looking at a Fifield Fabrications I Pad mini custom mount and a Secret Audio hidden stereo. I want to replace the woodgrain dash panel with brushed aluminum and put the control unit in the slide out tray. It has a rf remote small enough to mount on the back of my steering wheel and a hideaway main unit. I haven't played a cd for years (had a Kenwood music keg in my truck 10 years ago) so I don't even need the old radio space in the dash. I am looking for a backup camera app or converter, then I will have everthing I want.
---
[/SIGPIC]92 RMS, daily driver, project car, Eibach springs, Bilstein shocks, BMR rear upper and lower control arms, BMR front and rear sway bars, Dick Miller braces, Spohn spherical ft end links, fabricated ft sway frame support, ROH wheels with Nitto tires, replaced upper and lower control arms and all steering linkages and reman box. reprogramed ecu, tb spacer, adj. fp reg, cold air intake, electric fans, pully kit, SS rear with posi 3:73's Next big brake kit!
Senior Member
Join Date: Jul 2014
Posts: 142
Anybody got info on getting a powered amp hooked up.

I will get a pic of how I mounted the tablet. Made some aluminum brackets and glued the back cover of the tablet right to them. Got another back cover off ebay so I can pop it out and use it outside the car if i ever wanted to.
Posting Rules

You may not post new threads

You may not post replies

You may not post attachments

You may not edit your posts

---

HTML code is Off

---