---
Like the topic says. What's hot and what's not in these styles? What to look for? I'm thinking Nav would be nice, provisions for my ipod and the ability to incorporate a cd changer. Monitor sizes seems to be either 6.5" or 7". I'm thinking 7" would be preferred.
Here's what I've found and I'm sure there's other mfg's out there.
Panasonic's
CQ-VD6503U
Kenwood's
Excelon DDX8017
Clarion's
MAX675VD *7" monitor*
Pioneer's
AVIC-D2
Vehicle Dynamics
Shows gauges on your speed, acceleration g's, lateral g's, slope etc...
Pyle's
Manual PL2DNTV7 *7" monitor*
What do you all think? The Pioneer piece is pretty slick.
E
---
Have had good things with the Kenwood, Pioneer and Panasonic. Not a big fan of the clarion and would recommend you stay away from the Pyle. Everything we have installed from Pyle we have had to take out and replace with one of the above name companies because something went wrong with the pyle unit. You should be good with any of the others.

My choice because I have always had a kenwood in my car I would go with that unit.
---
Pioneer or Panasonic hands down E-Dizzle snacks!
Jayo<---- Pioneer 4 life!
EVO<----- Panasonic 4 life!
I'm gonna put the AVIC-D1 or D2 in the truck!
---
Dont forget about the eclipse double din its my favorite by far
---
E...dont forget you have a fully metalized tint that will interupt the Navi signal. Something you will have to take into consideration that the signal wont be all that strong.

Im looking at both Alpine & Eclipse right now. Looks like my plans for 10" indash arent gonna pan out.
---
E look at the Eclipse units.
---
Good input fellahs - keep 'em coming!
The Eclipse joint looks pretty solid and used a 'dual dvd' system which is pretty slick.
My flip out is a 7" monitor and to me,....there's a pretty big difference between a 6.5 vs. 7" screen.
Eclipse
AVN6600: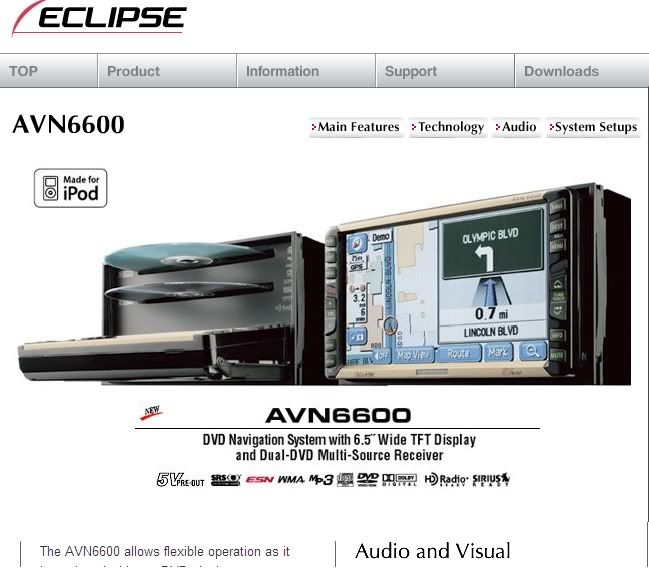 Don't laugh - just throwin' this out since it's probably the cheapest I've seen.
Boss
BV9250
---
E...

Eclipse, Pioneer or Panasonic only. I have GOOD accounts with all of em, let me know if you need somethin for that lowski wowski
---
In my opinion the kenwood excelon is a very good head unit. I have never had any problems with any of their h.u. and I have a unit still working for about 4 years. My only question is how are you going to install the double din. If you could show how to do this it would help me out alot since I will be getting the ddx-8017.
Posting Rules

You may not post new threads

You may not post replies

You may not post attachments

You may not edit your posts

---

HTML code is Off

---