---
Hey Everyone,
Well, being out of the game for 2 years was really hard, sold my White 95 9C1 back in 2005.
Commited to getting out of debt, then saving up enough $$ to buy mint SS and thought this x-mas would be perfect! I found a couple that were so so then stubbled across this one...WOw, what a beauty i tell you.
Now for my challenge:
I appologize in advance as I know very little about sound systems, amps, or subs
Add simply said "custom sterio" which didn't phase me as i thought it was only a new head unit that played MP3 or something like that. Was I ever wrong when i went to see it and what a nice "custom" system it is!! Original owner of this ride was the owner of many expensive cars who basically kept them as toys, shined them once in a while as he barely drove them and for this one, he decided to have some fun and install a system in it.
when I went to see the car, the head unit worked (turned on) however none of the speakers in car or subs would work. Not to sure what it was (I think a "relay" maybe or the breaker was off possibly?
when I went back to purchase car, all was running unbeleivable and sound was sick, bass thumping like mad and clear inside car. The GM dealer who sold me car bought it from original owner and best client dealership has, bad part is that he does not have any of the spec on this system, I know nothing of what's in this car!!!
All dealer told me was that if i was not using the car for a while, I should flip the little breaker switch to cut the flow of power to sytem as it will kill battery. I asked him how long "a while" meant and he replied a few days.
I got home with car first night i bought it and parked it outside around 10pm with switch "open" as I was going out next day. Went to take it out around 4pm next day and all i got when i went to turn key was "tick", nothing else at all. No crank, no attempt to roller over and start, nothing at all. Battery was full power.
We went under hood, closed switch, then reopened it and car fired up right away, no problem at all. Drove it around for a few minutes then parked it around 5pm for rest of night.
24 hours later (with switch left open) I went to start car and the battery was completely 100% dead. Outside lights barely come on, dash light barely visable and car wont even try to crank. Something is drawing insane power from this car and I don't know how to fix this
I don't have any idea what kind of system I have, meaning if it's good or not, how much power it draws or how I should move forward.
I like the system so I want to keep it, just want as much feedback on your thoughts after looking at images attached below.
For starters, this is what the system looks like with the trunk open. As you can see, there is also mirrors in the trunk lid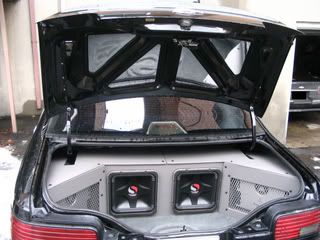 This is the flooring in the trunk, all custom done and gorgeous!!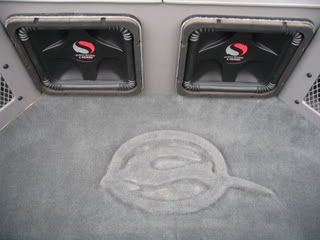 [ 02-03-2007, 10:51 AM: Message edited by: DREAMSS ]
---
Ok, the subs seem to be 12" Kickers, I have no clue how powerfull they are at all...not even sure how to find out. Everything is solid in trunk and doesn't move much???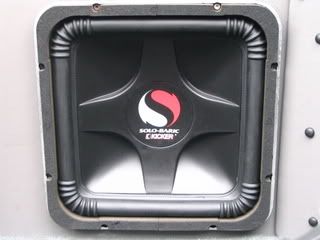 Back doors both have this exact setup, 2 speakers on each side, again, no idea how powerfull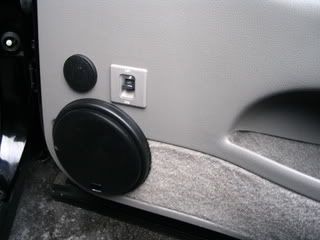 Back door lower speaker brand is MB Quart??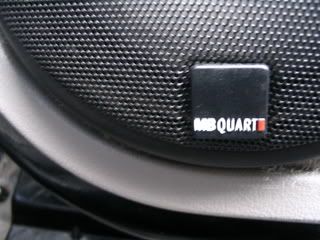 Front door has 2 speakers each as well??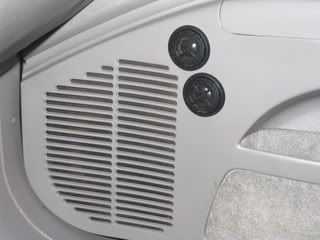 ---
System seems to be powered by 2 Phoenix Gold ZX600ti amps? They are apperantly a special edition amp i read on net? From what I gather, it was one of the top models by this brand?
This is the setup on my battery?
Red Wire is connected to this breaker which in turn powers the amps (I think).
[ 01-01-2007, 02:30 PM: Message edited by: DREAMSS ]
---
One of the Black wires seems to be connected to a breaker next to fuse box?
Out of the 4 wires on Positive terminal, 1 goes to breaker, 1 to altenator, 1 to fuse, other one i cant find end yet, cant get under car yet to follow line.
Any light you can shed on this would be really really appreciated. I have no idea what I'm working with and fed up of car not starting everyday.
Some interesting notes in case this helps...
When the breaker is off, the head unit (clarion DXZ715) still powers on. Only thing is that there is absolutely no sound. Every speaker in car will only work if breaker is on with juice flowing through amps.
I wonder if a quick and easy fix / solution is whenever i park the car for more than 4 hours to shut the breaker off, do you think this will really help any? I can always do this until i figure out the best way to get pasted this.
Thanks in advance for your help, [img]smile.gif[/img]
Tony
[ 01-01-2007, 02:27 PM: Message edited by: DREAMSS ]
---
Well first off the breaker is there to protect the amps from blowing up when there is an excess of 140 amps going to the amplifiers. So the red wire going to this is going to the amplifiers in the trunk. That is why when you turn the switch the amplifiers will not turn on nor the speakers, since the amplifiers run all the speakers.

The head unit is totally seperate and is connected to the ignition switch to power on.

One question I have for you is, when the car is totally off does your radio still turn on. If it does it may be draining your battery just enough til it does not start.

Second question is have you tried to get the battery checked. The battery may be faulty and may not be holding a charge. If it is bad I suggest you get a good battery that has alot of CCA and CA. (Cold Cranking Amps and Cranking Amps). If it is not your battery than it may be your alternator but I doubt it since the battery dies overnight.

Third question is have you checked to see if your amplifiers are turned on when the car is off. If so this could also be the problem.

LMK what you find out. Hope this helps.

Also I don't know why that black wire is connected to the fuse box. Maybe someone can chime in on this.

[ 01-01-2007, 09:47 PM: Message edited by: Silver & Black ]
---
Thanks for the reply [img]smile.gif[/img]
These are great questions and I will be answering them all the best I can. Unfortunetly I am leaving on a business trip tomorrow and wont be back before this time next week and have already stored my car off at my parents house so I can't run and check on certain stuff
I wanted to get the ball rolling with my "problem" and see how much info I can get.
I can tell you for sure that when the car is totally off, no, the radio will not come on at all.
Unfortunetly I haven't had the chance to check the battery out yet. This is something i will be doing once i get back as weel. I also thought the battery may be old, however it looks fairly new and starts up very quick with little effort when system not in use.
What is the biggest battery I can put in this car? I know the room is there and I have heard something about light truck batteries fitting in this car? What kind of CCA and CA do you recommend?
Your 3rd question is key and I am curious to know this myself.
As I wasn't sure exactly what to test, I didn't play around much with it myself. I will do test # 3 once I get back and send you a PM to let you know that I have replied.
I also plan on going to a professional sound system installer and paying him to tell me exactly what I have in my car and how I can fix this once and for all. Who knows, I may even have a battery behind my subs and not know it lol [img]graemlins/
.gif[/img]
As for the wires, the Red wire goes to the "breaker box" or the thing that has the flip switch, this does not go to the fuse box after. There is a totally separate Black wire going to this fuse box and seems to end there? How would this protect the system?
Again, thanks for the suggestions and I'll get you those answers shortly.
Tony
[ 01-01-2007, 10:03 PM: Message edited by: DREAMSS ]
---
I know the red wire goes to the fuse breaker, the breaker protects the amps from blowing when the current is to high which from what I can see your breaker is set to 140 Amps. Now if the current goes higher than this the breaker switches off, saving the life of the amps.

Now what I was saying is I don't know why the black wire goes to the fuse box cuz I have never hooked up a system that way. I doubt you have another battery hidden in the trunk since the battery under the hood has all the connections on it.

As far as the battery goes what you can do is go to AZ and see which one will fit. I usually go for the duralast gold and I believe it has 1100 CA and 800 CCA which should be more than enough power. This is the cheap route. You can also try the red optima battery but they are a little more pricey. Either will work.

Hope this clarifies what I said earlier.
---
It does, thanks [img]smile.gif[/img]
I will try to find out why the Black wire from the battery is going to the fuse box, this fuse box was certainly added on afterwards. I will look and see if something comes out the other end and if so, where the heck is it going lol.

Tony
---
The breaker should be to protect the car from catching on fire in the event of a short, not to protect the amplifiers. Any fusing for the purpose of protecting the amplifiers should be installed in-line right before the amps, in the trunk, or on board the amplifier itself.

Not a big deal. Just saying.
---
Bro.

You have a cool set up. It's not cheap. The solobaric kickers pack a serious punch. MB Quart mids and highs are very good drivers for the money. I have systems similar to that installed by my buddy in all of my cars.

Obviously something is staying on and draining your system. I have a similar problem in my Rivi that will drain the battery after it's been parked for more than 2 or 3 days. In my case the problem appears to be a relay that is staying constantly on. My interim fix for this is to disconnect my battery when I am not driving the Riv.

With regards to batteries. I would strongly suggest and recommend that you get a yellow top Optima battery. These bad boys have hich CCAs and a good battery reserve. They won't leak and are built to go the distance. I have Optima yellow tops on three of my 6 cars. I am replacing them as the existing batteries begin to wear out.

As stated earlier that heavy duty relay is there to protect your amplfiers and rest of the system.

Next time you are in your vehicle sit in the vehicle after you power it down and listen for any humming or buzzing eminating from the speakers. That would be a strong indicator of something staying on.

As suggested earlier start by checking out your battery then charging system. A sound shop or auto electric shop is going to charge a pretty penny to figure that out as they will be charging an hourly shop rate to trouble shoot your system.

You might as well eliminate a few of the obvious possibilities before you start paying the hourly shop rates.

Good luck.

ps how about some pics of the rest of the car? Thanks.