Senior Member
Join Date: Jun 2011
Location: Dayton , Ohio
Posts: 6,724
NOVEMBER 2014 Winner Jking1118! Again!
---
You gotta admit,it's a hell of a ride...
---
Winner 2001 Road Course (prep. class) Detroit,MI
Winner 2006 Drag race (SS class) Indianapolis,IN
Quickest event reaction time .013sec. (final-round)
Class Winner 2014 Charlotte,NC. 2016 NOLA car shows
Winner 2019 Road Course (prep.class) Pittsbugh,PA
Senior Member
Join Date: May 2010
Location: Indiana
Posts: 984
JKing is officially banned from IOTM
Quote:
You gotta admit,it's a hell of a ride...
Thanks for the props 1slow96. You need to enter your car. It's got more/cooler stuff on it than my car. I hope I have mine fixed by July, IYKWIM.
Quote:
JKing is officially banned from IOTM
LOL. Banned from IOTM? Maybe i need to enter my Caprice next time.
Thanks everybody!!
---
Jonathan
96 Impala SS, DGGM, 2nd owner, 101k miles, #39736 of 41934, Build Date 22 November 1996
96 Caprice Civi L99, bought it new for my Uncle, recently re-acquired
92 Honda Accord 2 door, 353k miles, daily driver
06 Honda Accord 4 door, wife's car
06 GMC K2500 CCSB, 6.6 Duramax/Allison
84 Chevy K10 regular cab, SWB, 305 w/4 spd granny, family truck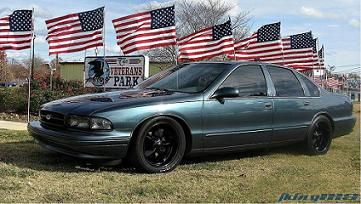 December watch out!
---
I can't be mad I lost to a beautiful SS, but believe I'll be back every month til I get 1 ROTM under my belt. Thanks to everyone who participated. My pictures are only gonna get better so stay posted for that new December thread to begin!
---

96 Caprice 9c1 bagged lambo doors 24s(SOLD)
92 Caprice L03 white on white custom system 24s(SOLD)
96 Caprice L99 24s (SOLD)
96 Caprice L99 DGGM Impala clone dropped custom system 24s (SOLD)
94 Caprice B4U custom system lifted 26s(SOLD)
96 Impala SS DGGM on coil overs
Congrats Jonathan!
Gotta love a full size sports car
---
Stock bottom 350, Built by B-Body Performance
NA: 10.98 @ 122
100 shot: 10.35 @ 128
2012 ISSCA SSuperPro Champion
2013 ISSCA SSuperNatural Champion
2013 ISSCA Roadrace Runner-up
2014 ISSCA SSuperNatural Runner-up
2014 ISSCA Autocross Runner-up
2015 ISSCA Roadrace Champion
Senior Member
Join Date: Dec 2004
Location: Fishers, Indiana
Posts: 1,252
I like the fact that GOOD GUYS do WIN!!

Great car, great person!!
---
LTX Aluminum LT1 block engine
Most HP from an OBD1, 1900 plus horse power
Only TH400 with lockup and shifts from factory GM computer
Fastest Impala with everything still in it, 4520 pounds no weight taken out. ? in the ? MPH
Posting Rules

You may not post new threads

You may post replies

You may not post attachments

You may not edit your posts

---

HTML code is Off

---