The King of November is....
---



Jking!
The combination of utilizing our theme well AND a sweet ride made him unstoppable.
(just imagine how well he coulda done with some tire shine!
)
---
_______________________
My S10 gave its life to bring me back home to a B body!
91 Caprice with 108, 800 miles!
Almost every wheel and tire can be answered by clicking here!
---
Last edited by Firewood; 11-21-2012 at

12:02 AM

. Reason: Quaker State is no longer a sponsor
Member
Join Date: Nov 2011
Location: inglewood ca
Posts: 69
CONGRATS. CAR LOOKS SWEEEEEETTTT. I hope I can get mine to be some what as nice as this one.
congrats! again aswell
wecome to the club
Thank you ces, Mike, and bbody. I appreciate it.
---
Jonathan
96 Impala SS, DGGM, 2nd owner, 101k miles, #39736 of 41934, Build Date 22 November 1996
96 Caprice Civi L99, bought it new for my Uncle, recently re-acquired
92 Honda Accord 2 door, 353k miles, daily driver
06 Honda Accord 4 door, wife's car
06 GMC K2500 CCSB, 6.6 Duramax/Allison
84 Chevy K10 regular cab, SWB, 305 w/4 spd granny, family truck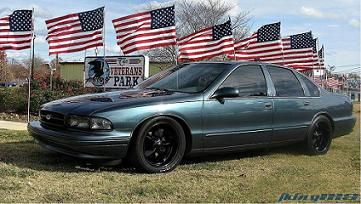 Congrats Jonathan - Car / Pic is awesome
---
CarISSMA
(Carolinas Impala SS Motor Association)
President
1991 White LSX Wagon
- (HIS) A.K.A "The Abomination" / Reaper
1991 White SS Wagon
- (HERS) SS Nose-SS Wheels-3.23 POSI-Clear Corners-Silverstars-Tinted Windows
ISSCA Member
#2499
Quote:
(just imagine how well he coulda done with some tire shine!
)
Firewood, actually, there is some tire dressing on the tires, but it was a couple days old. I usually wipe off the excess so it doesn't sling all over the car. So even the shiniest stuff I have tried doesn't really shine that much even when just applied. Thanks man.
---
Jonathan
96 Impala SS, DGGM, 2nd owner, 101k miles, #39736 of 41934, Build Date 22 November 1996
96 Caprice Civi L99, bought it new for my Uncle, recently re-acquired
92 Honda Accord 2 door, 353k miles, daily driver
06 Honda Accord 4 door, wife's car
06 GMC K2500 CCSB, 6.6 Duramax/Allison
84 Chevy K10 regular cab, SWB, 305 w/4 spd granny, family truck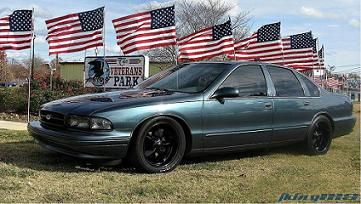 ---
looks goode
---
evil T-47 seatbelt bolts and cutdown ZQ8 bumpstops, Kore3 front brakes, TB bypass, Dynotech DS, F-body EGR, Meziere WP, Comp Cams 1.6RR/CM springs, trans by Moi Industries, Yank 3600, Earls trans cooler/rad cooler delete/Derale t-stat, RAISS, SLP headers, SLP injectors, pypes X-pipe/magnaflows, Borgeson shaft, Hotchkis springs, PPM front stuff, Metco rear arms, Clear Image DS loop/trans crossmember, 3.73s, eaton posi, Hypertech for smog
BH tuned PCM
Posting Rules

You may not post new threads

You may post replies

You may not post attachments

You may not edit your posts

---

HTML code is Off

---