October 2012's winner is....
---
EKM1190!
EKM has been taking some of the highest quality photos this forum has ever seen. And I knew...One day...He was gonna cinch this thing! He kept at it, and kept honing his skill...And then He lowered it and it was over! Congrats, bro, you beat some monsters this month!

---
_______________________
My S10 gave its life to bring me back home to a B body!
91 Caprice with 108, 800 miles!
Almost every wheel and tire can be answered by clicking here!
Senior Member
Join Date: Jan 2001
Location: St. Louis
Posts: 7,701
Hell, 38 Views -
---
- I'll go first. Very clean looking ride. The wheels tipped in for parking safety sends mixed signals for such a ballsy looking ride.
Seriously, a great shot of a kept-stock-looking rig.
---
\'96SS SOB: SSRI, Herter Tune, Tri-Y II, , 3000 Edge, F/HO bars, METCO extendeds with CV MMC, Bilsteins, currently Vredestein Ultrac Sessanta (315/35 rear). Finally, wait for it... LT-4 knock module!
\'96FWB BUW-Butt Ugly White: PCMPerformance tune, HDFA w/ swissed filter, 1/2 SLP s.s. catback with H- and Flow Super 50s, oem opti rebuilt 3 times, SS Bars, METCO LCA, Airlift 1000, Monroe SS, PowerTrax No-Slip, CTS wheels with +1 rubber. Finally, yes again... LT-4 knock module!
Nice
---
nice! btw how much did you lower? and how?
Congrats. AWESOME picture and nice, clean looking ride. I'm feeling the drop.
---
Jonathan
96 Impala SS, DGGM, 2nd owner, 101k miles, #39736 of 41934, Build Date 22 November 1996
96 Caprice Civi L99, bought it new for my Uncle, recently re-acquired
92 Honda Accord 2 door, 353k miles, daily driver
06 Honda Accord 4 door, wife's car
06 GMC K2500 CCSB, 6.6 Duramax/Allison
84 Chevy K10 regular cab, SWB, 305 w/4 spd granny, family truck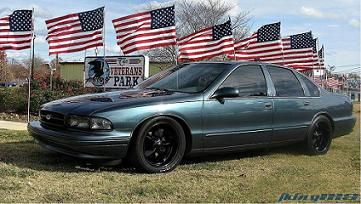 Congrats brother I knew u had this 1, if u are ever in Houston hit me up ill swap u wheels, but u got to help me get that killer stance!!!!!
---
---
Congrats bro! Very well deserved for a very well done car! Love that stance! Clean and Classy just how I like to see them!!
---
congrats bruh, it was only a matter of time, ride is looking tight and that stance is awesome
---
95 DCM Impala SS, G2 Cold Air Induction,G2 power pulley kit w/ v-belt ,G2 throttle body plate, G2 air foil,G2 Valve Cover Breather,pcmperformance tune, 160 thermostat,Borla Full Stainless Steel Exhaust, tri-y headers, 12 way Bonnie, air pump delete, 91 Caprice tailights SSittin on TIS 06's 22's
# 3,683 of 18,365
http://www.cardomain.com/ride/229728...ellville-ga-us
Congrats my brother! A very well deserved win, great pic, beautiful car!!!
---
Las Vegas Impala SS Club - SSincitySS.com
1996 Impala SS, Powerdyne Supercharger 6 psi, 3.73s, Snow Performance water/meth injection, Borla catback, F-Body MAF, Grotyohann long tube headers, Magnaflow cats, Hotchkis springs/front & rear sway bars, Bilstein shocks, Vigilante 3000 stall TC, Wilwood brakes, 20in Budnik Fontana's, and a couple of polished items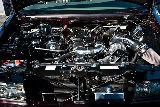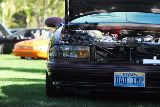 Congrats Evan!
---
Brian
96 BBB
07 Tahoe LTZ
Senior Member
Join Date: May 2010
Location: Indiana
Posts: 984
Thanks for the kind words guys!

SS Weet, it's about 2.5-3" lower now. Smaller tire size, 1" PPM daily driver series springs cut in the front (~1 3/4 coils). I'll be ditching the front springs soon for a much stiffer rate spring.

Big Lou, no problem! I'd love to hit a road trip to houston and meet with you guys. I'm sick of this cold weather!
Posting Rules

You may not post new threads

You may post replies

You may not post attachments

You may not edit your posts

---

HTML code is Off

---